Extreme Makeover: Home Edition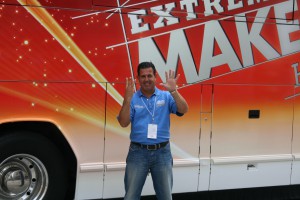 Alure has been building dreams for homeowners for decades, and many of those dreams have come true on TV. Through our work with Extreme Makeover: Home Edition, Alure has changed lives for many deserving families. The experience has been nothing short of amazing. Of course, it's a tremendous amount of work, "nobody said making dreams come true was easy." However, the challenge is worth it, and we're proud to be 8 time extreme makeover builders!
"It's been an incredibly satisfying and wonderful experience. It has helped to fulfill a couple of my dreams. I've always had this desire to give back and the show has given me an opportunity to do that on a platform where we can inspire others to give back. I feel blessed to be where I am today, growing and running Alure. We are very fortunate to have the local community support, experience, teamwork, extensive resources, leadership, infrastructure, manpower and industry partners to pull it off while inspiring others to get involved and help show the good in our Industry." Sal Ferro, President/CEO, Alure Home Improvements
Click here to see our journey and explore below to relive the history and the stories of the families whose lives we've touched through our involvement with Extreme Makeover: Home Edition over the years: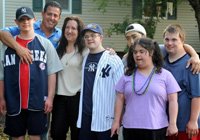 Unable to have any children of their own, loving couple Grace and John Lutz gave their hearts to 18 adopted kids in all, including seven with Down Syndrome. After the couple passed away, their daughter Kathleen gladly gave up her career and came home to take care of her six Down siblings who currently range in age from 20 to 25 years old. Kathleen unexpectedly had a grand mal seizure and was diagnosed with inoperable cancer. Her brother John Jr. sacrificed his successful career as a gymnastics coach to move home and care for his sister and other siblings. But the crumbling condition of their 40-year-old home had become a concern to the point where minor repairs were no longer an option. Click here for more!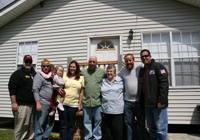 Brad and Laura Usea were fortunate to have their family survive their first battle with natural disasters when Hurricane Katrina hit, but their home took a nasty beating from the brutal storm. Not only was their home severely damaged, but Brad¹s mother Grace¹s house was completely destroyed leaving her, Brad¹s older brother Chris, and Brad¹s twin brother Chad all homeless. Brad and Laura took in their family without hesitation. Then, in February of 2007, tornados struck Westwego in the middle of the night causing more devastation to their already fragile home and destroying the trailer in the backyard where Chris had been living since the hurricane. That night, Brad and Chad, both volunteer firefighters, came to the rescue of not just their family, but their neighbors who were trapped in their own trailer. Local heroes to many, Brad and Chad continue to work to rebuild their community that has been devastated by natural disasters, while living on top of each other in a single family home. Click here for more!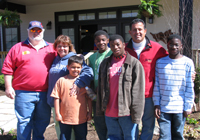 In 1987 Debbie Oatman became a very untraditional single mother when she adopted an HIV positive baby. Together they faced an unsympathetic community, discrimination and even death threats. Yet, when she learned that another HIV positive child and his biological brother needed a home, Debbie didn't hesitate to bring them into her family. Over the years, through her activism, the community has come to embrace Debbie and her boys. Now this single mother with four sons (she has one biological son) is facing a challenge that she cannot tackle alone. The safe and happy home that she has tried to provide these boys is literally sinking into the ground. Built on a shoddy foundation, their home has become a death trap to Debbie's sons' delicate immune systems. As the foundation sinks beneath them, the walls of the house shift and crack. Click here for more!
Jimmy "Jimboy" Arena changed an entire community forever. Diagnosed with an inoperable brain tumor at five years of age, Jimboy stayed strong. He inspired hundreds of neighbors, community members, several fire departments, officials and his own family with his infectious smile and spirit. Everyone in town knew Jimboy and prayed for him. They held fundraisers, birthday parties and even a parade to welcome him home from the hospital. But on September 28, 2005, shortly after his sixth birthday, Jimboy died and the Arena Family lost their only son. Click here for more!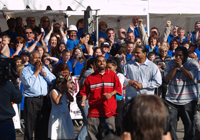 Winston and Hardai Peter left their homeland of Guyana in 1996 and struggled long and hard to make a new home for their family in America. They were on their way to achieving the American dream when tragedy struck. In December of 2004, their tri-level colonial house burst into flames, depriving them not only of their home but all their possessions. Penniless and without other recourse, the Peters were forced to move back into their burned out house. Click here for more!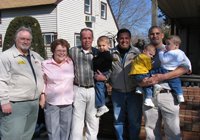 John and Anne-Marie Vitale of St. James, New York were a young, happily married couple with three beautiful boys. Their family was growing quickly, so they decided to move out of their small, two-bedroom home and into Anne-Marie's parents' house while they added on to their tiny home. Click here for more!

When her boys were infants, orphaned by a crack-addicted mother, Lucy adopted them. As the now-healthy boys approached adolescence, she wanted to add more space to her one-bedroom, one-bath house and was grateful when she was approved for a home improvement loan. She gave the contractor a large sum of money to begin the renovations, but the contractor never finished the job, leaving a gaping hole in her roof. The unfinished second level was exposed to the elements, robbery and foraging animals. During one of her periodic visits to her ruined, uninhabitable house, she was alarmed to even find squatters. The Ali house sat without a roof as Lucy, a retired finance manager, struggled to keep up with the monthly mortgage payments. Click here for more!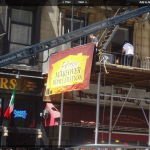 Extreme Makeover: Home Edition, known for taking on huge remodels in only 5 days, had an even crazier idea: renovate an entire New York City apartment in 12 hours on live television for two FDNY firefighters. Click here for more!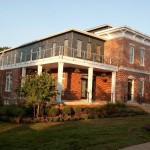 When Sal got word that the largest EMHE at the Boys Hope, Girls Hope in Baltimore, MD needed assistance, just 19 days after completing the Lutz family new home, Sal and John Doyle (Director of IT & Social Media) posted a message on Alure's Facebook Fan Page. Within 4 hours, Sal had a crew of 28 skilled laborers on their way to the site in Baltimore. Click here for more!