What Alure's Experience Means To You
Philosophy of Specialists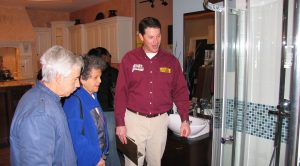 We recognize that homeowners want design help and remodelers that are experts in their field and our specialist approach offers our clients these important benefits. Each of our departments has designers that are talented and trained in the art of listening to what our client's lifestyle dreams include, and helping them achieve those dreams within their budget.
At Alure Home Improvements, Sal goes outside the conventional wisdom that being a "specialty contractor" is the only way to operate a large and profitable business. We know that homeowners want design help and contractors that are experts in their field. We also know that once a homeowner finds a contractor that they like and trust, they do not want to start the search for a new contractor. Our specialist approach offers our clients both of these important factors.
Our Culture
We all work together to achieve the same goals–a lifelong relationship with all of our customers. We strive not only to satisfy our customers, but also to create "Raving Fans." We are very proud of Alure's culture and team approach to doing business.
Alure recognizes that it is people that make all of the difference in the quality of design, installation, service and the complete client experience. We foster a strong team environment and we include all 90 plus of our employees in our profit sharing plan, ensuring that every employee has a vested interest in the company's success.
Sals understand the value of repeat and referral business and leveraging Alure's customer base of over 40,000 completed projects. Because of this, Sal created an innovative program called "Partner Points;" when our clients amass 200,000 points from their own business and their referrals, they earn an 8 day trip to an all-inclusive resort in the Caribbean. To date over 120 couples have earned this all-expense paid vacation compliments of Alure! To learn more visit our Partner Points page!
Quality Products and Manufacturers

Alure only carries quality products from respected manufacturers, who often seek us out and provide us with their "exclusive and innovative products" because they have the confidence that Alure will represent them well. Manufacturers have found that partnering with Alure is a win/win proposition and that we enhance whatever they are doing. Respected manufactures we work with include Owens Corning, Kohler, CertainTeed, Ultracraft, Moen, Cambria, LP and more. To learn more about the products we carry visit our Exclusive Products and Manufacturers page!
Service and Warranty

In an industry where 95% of businesses are out of business within 5 years, Alure's customers can rest assured knowing that in addition to the comfort of knowing we've been around for over 74 years, we also have a dedicated service and warranty department employed exclusively to service our existing clients. This means quick turnaround time for any service related issues and a 24/7 emergency line. For more information visit our Service and Warranty page.
Awards, Recognition and Reputation
Alure has received several industry awards and has been repeatedly recognized as a leader in the remodeling industry. Alure has been nationally recognized as Remodeler of the Year by Professional Remodeler Magazine (2005) for our continued leadership in the industry and consistent growth while continuing to provide superior customer service. Visit our Awards and Recognition page for more information on humbling recognition Alure Home Improvements has received!
Community
In addition to performing eight renovations for Extreme Makeover: Home Edition, Alure also supports and is active in several annual fundraisers for many other charities and organizations, including The Clark Gillies Foundation, Family Service League, The INN (Interfaith Nutrition Network Soup Kitchens and Homeless Shelters), The Long Island Fight For Charity, The Farmingdale College Foundation, The Huntington Townwide Fund, The Salvation Army (Angel Tree Program), March of Dimes, Habitat for Humanity ReStore, The Boy Scouts and Girl Scouts of America and many others. For more information visit out Community Service page!
Alure Online
Specials
View A Complete List Of Our Specials
Some restrictions apply, click the button below for more details.