Walk-In Bathtubs By Jacuzzi® For Your Bathroom Remodeling With Alure Home Improvements
There is nothing like the simple pleasure of taking a warm bath. The cares of the day seem to fade away with the aches and pains of everyday life. We have a walk-in bathtub that offers more than just safe bathing, peace-of-mind and independence, it can actually make you feel better. Benefits of the Jacuzzi® walk-in bathtub include:
Low-threshold entry leak-proof door
State-of-the-art acrylic surface
ADA compliant seat height
Controls are within reach for added safety
1.5″ drain for fast water removal
Inward or outward swinging doors
Easy side access for bariatric users
Slip-resistant flooring
Lifetime limited warranty
Easy installation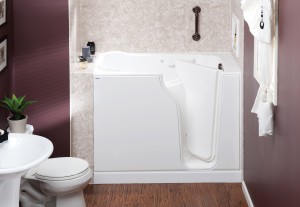 Solutions for your current and future needs can be satisfied with a Jacuzzi® walk-in bathtub. It can improve your quality of life, increase circulation, reduce aches and pains, relieve muscle soreness and stimulate good-feeling endorphins. It helps with arthritis, back problems, inflammation, muscle cramps and osteoarthritis. Best of all, this lavish and affordable tub fits in your existing tub's space. Transform your bathing into a relaxing, personalized home spa experience.
Click Here to See Our Custom and 5-Day Bathrooms