Benefits of a Walk-in Tub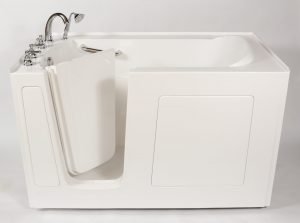 Planning a bathroom renovation is an exciting time for most homeowners. However, it can also end up being stressful. After all, if you're spending a significant amount of money on a project, you want to ensure you're making wise investments. Well, there is one bathroom upgrade that you definitely won't regret — a walk-in tub. Walk-in tubs have been popular products for many years because of the litany of benefits they offer to homeowners. Here are a few of the benefits of adding a walk-in tub to your home:
Easier Aging in Place
Aging in place refers to remaining in your own home as you age. This is an increasingly popular lifestyle choice among older Americans, and it is made easier with the addition of a walk-in tub. Slip and fall accidents can be extremely dangerous for people of any age, but older people have an especially high risk of serious injury. Walk-in tubs have low threshold doors that reduce the risk of falls. Plus, they feature slip-resistant flooring and easily reachable controls. All these features combine to offer a much safer bathing solution for those aging in place.
Better Accessibility
Walk-in tubs are ideal for anyone with limited mobility. Walk-in baths use low threshold doors, ADA compliant seat heights, and easily reachable controls to allow anyone to easily use them. They also offer easy side access for bariatric users.
Enhanced Relaxation and Wellness
Americans are focusing on their mental health now more than ever. And because of their inherently calming nature, baths are frequently brought up during discussions of self-care and wellness. A relaxing soak in a walk-in tub can do wonders for anyone's stress level and the simple act of treating yourself to a bath can improve your happiness.
Improved Physical Recovery
If you live an active life, a walk-in tub will be your new best friend. Walk-in baths provide an unmatched ability to soothe sore muscles and tired bodies. You'll love having the ability to step into your walk-in bath after a gym session or a long day at work.
Increased Home Value
These days, everyone is paying close attention to the housing market. And if you're looking to sell your home, installing a walk-in tub can go a long way towards making your listing attractive to buyers. This is especially true if you live in a retirement community or a city with an older population. The accessibility and safety benefits of a walk-in tub can be a big draw for multi-generation families and homebuyers who are planning to age in place
Get a Walk-In Tub From Alure Home Improvements
Alure Home Improvements has been serving New York residents for more than 75 years. We always strive to offer our clients exceptional products and stellar customer service. So, if you're in the market for a new walk-in tub, you're in the right place. Just give us a call and a member of our team will answer any questions you have about our bathing products.