AGING IN PLACE – HOW CAN ALURE HELP
Aging in place means living in your home independently regardless of your age or ability. When making aging in place modifications to your home, it's important to make sure you select an experienced remodeler that is ADA (American Disabilities Act of 1990) certified and compliant.
At Alure, our Kitchen and Bath designers are ADA certified. We understand that every situation is different, so the first step would be a free consultation with one of our certified designers to assess the needs and wants for your specific situation and needs.
For example, some details that would be important to incorporate into the design might be:
Are you confined to an specific area of the home?
Do you require the use of wheelchair, and if so, how often?
Do you utilize a walker or home aid?
Are there any illnesses or physical limitations that might also require special design consideration?
Discussing your individual situation will ensure our designer can provide you with the most logical and efficient design ideas.
Two important components of an ADA compliant bathroom are the CONSTRUCTION SCOPE and the DESIGN & MATERIAL SELECTION
Construction scope may include:
Converting a tub to a walk in shower
A roll in shower if confined to a wheelchair which requires special flooring set up with a 2nd drain
Adding a grab bar in the shower/bath
Allowing for additional space if room for an aide is necessary
Expanding doorways
Adding ramps
Design Materials could include:
Contrasting colors for those who are having trouble with colors or delineating shades
Textures on the floor to prevent slipping
Seats in the shower
Automated doors controlled by foot button if necessary
Hoyer Lift if needed
Wrapping plumbing for safety if homeowner needs to wheel up to the sink area in a wheelchair
ADA height toilet
Secure grab bars
Hands free faucets and cabinets
Brighter lighting
Electronic cabinetry
Space clearance for wheelchairs or walkers
Rough services to avoid things sliding on them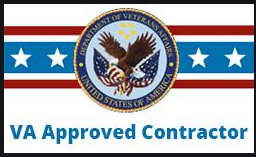 If you are working with the VA or another occupational organization providing a grant for the modifications, we'll also assist you and facilitate all the paperwork with the VA or other organizations. Alure is a VA approved contractor.
We also discuss plans for the future, in the event you might plan to sell the house down the road, to ensure that the modifications don't make the home "unsellable" by lowering cabinets or other modifications that might need to be adjusted for a new homeowner.
Our goal to help those in need keep their quality of life, by making their home as comfortable and as accommodating as possible.
To learn more about aging in place, for you or a loved one, contact us today.