NYC Firefighters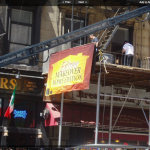 Extreme Makeover Episode : Home Edition, known for taking on huge remodels in only 5 days, decided to take the madness to another level during season one. The task was similar, renovate an entire New York City apartment for two FDNY firefighters, Pete and Joe, who lost comrades in the September 11, 2001 terrorist attacks. Only this time, instead of the typical 5 days, the crew had only 12 hours to complete the build. The team also had to watch every step more than ever because this Extreme makeover episode was on live television! In order to complete the renovation the Alure team had a few stars on their side, literally! This Extreme Makeover episode was also a bit more star studded than usual, as Regis Philbin and members of the NHL's New York Rangers also lent a helping hand during the renovation.
Photo Gallery
Video
[/tab]
[tab title="Press"]Professional Remodler
GE News[/tab]
Alure Online
Specials
View A Complete List Of Our Specials
Some restrictions apply, click the button below for more details.