The Peter Family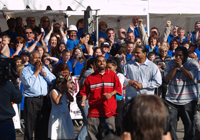 The Peter family was featured on Season 3 of ABC's Extreme Makeover Home Edition. Winston and Hardai Peter left their homeland of Guyana in 1996 and struggled long and hard to make a new home for their family in America. They were on their way to achieving the American dream when tragedy struck. In December of 2004, their tri-level colonial house burst into flames, depriving them not only of their home but all their possessions. Penniless and without other recourse, the Peters were forced to move back into their burned out house.
One of the moments on Extreme Makeover: Home Edition that we here at Alure Home Improvements always love is the reaction on the faces of the family during "The Reveal". The moment the Peter family "moved that bus" will be forever remembered by us here at Alure because of their incredible reaction filled with overwhelming joy.
Take a look below at some of the behind-the-scenes photos that we took of the family, the home prior to the renovation, the progress we made, and the final dream home. You will also see some photos from above the home that will give you a much clearer understanding of the space itself.
Gallery
Press
Alure Online
Specials
View A Complete List Of Our Specials
Some restrictions apply, click the button below for more details.