The Vitale Family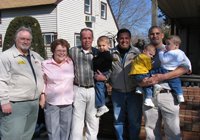 The Vitale family was featured on Season 2 of ABC's Extreme Makeover Home Edition.
John and Anne-Marie Vitale of St. James, New York were a young, happily married couple with three beautiful boys. Their family was growing quickly, so they decided to move out of their small, two-bedroom home and into Anne-Marie's parents' house while they added on to their tiny home. But soon after they moved out, tragedy moved in. Anne-Marie, at only 28 years of age, was diagnosed with an aggressive form of leukemia and died in August 2004. She was buried on what would have been her 29th birthday.
Since the show aired in 2005, John Vitale has remarried. He and his second wife, Jessica, have added two girls to the family, Jaydan, 3, and Delaney, 18 months. Those additions to the family called for further alterations to the dream home to accommodate the bunch.
The big reveal of the Vitale Family home was a one-of-a-kind moment and truly showcased the community spirit that Long Island is all about. In addition to neighbors and friends who traditionally welcome the families home, the Vitales were greeted by bagpipers and drummers from the Suffolk County Police Officers' Emerald Society Pipe Band!
Gallery
Videos
Press
Alure Online
Specials
View A Complete List Of Our Specials
Some restrictions apply, click the button below for more details.