How to Design a Travel Themed Room
How to Design a Travel Themed Room
Travelling changes people, broadens the mind and opens the gateways to new knowledge, ideas and opinions. To travel means to learn about the world and about oneself in an attempt to find deeper meaning of life. It gives you the opportunity to understand your history and find your place in the future.
Travelling is also an excellent teacher and the education you receive in this way, stays in your mind forever. Once you get back to reality, you can take time and reflect upon this valuable experience. And what better way to do that than in the comfort of your own home, in a haven you create inspired by your life-changing journeys?
Here's how you can create a travel themed room in your home where you can meditate on your past travel adventures and find inspiration for new ones.
Don't get too caught up
The best approach you can take in order to avoid a hoarded look or a travel agency showroom is to allow things to develop naturally. Let your most memorable moments come spontaneously and guide you when it comes to decorating. If you get too caught up in the theme, you'll be at risk of stifling the décor and making the room seem too stuffy and rigid.
An overly themed look can be easily dodged by opting for a more relaxed approach of a casual collector, which will give the space a more authentic travel feel. Decide on one or two main colors that will carry through the entire space and pick items with a subtle travel note. Everything else will evolve around those two and create a well-defined, wholesome look.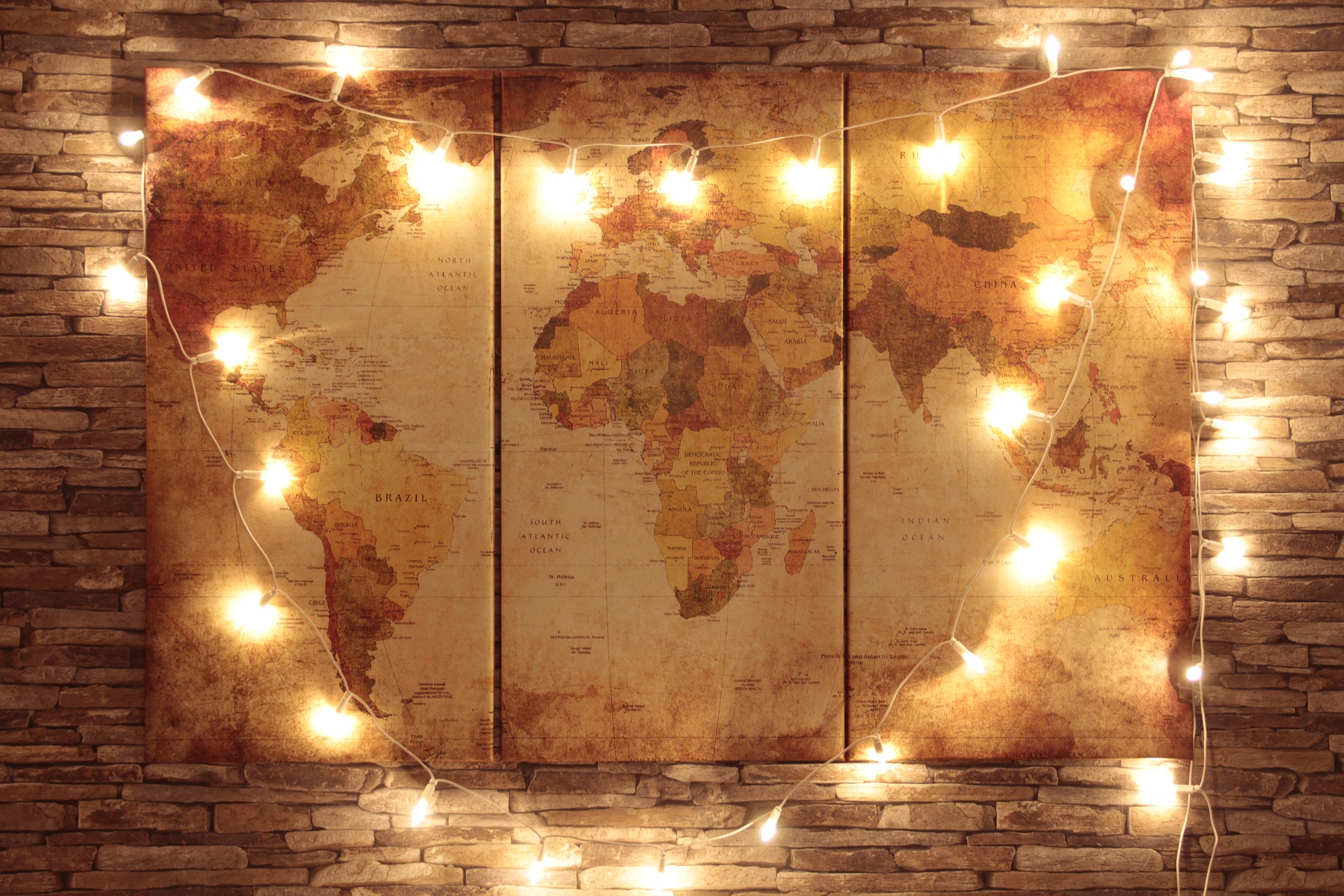 Pick a travel-inspired color palette
The choice of the right color palette depends on your fondest travelling memories. It will differ whether you want to reflect back to the Mediterranean Sea or evoke the memories of the Middle East, so you might opt for a variety of blue tones of the sea, golden sandy shades of the beaches or deep rich reds, greens and violets of the bazars.
Allude to your favorite destination using particular colors and objects that will trigger your memory of a place. Those colors do not have to be restricted to walls but can be incorporated into furniture pieces, window treatments, light fixtures and various ornaments. Together, they'll make it whole and if the room can evoke the feeling you had while travelling, you'll know you've done it right.
Pay attention to details
Details are a sure way to integrate travel-inspired design elements into your space so they don't seem disconnected. A few strategically placed souvenirs can be focal points but they won't take away from the overall décor.
For instance, you can decorate with potted plants that originate from the area, treasures you have collected along the way, such as stones, fossils, pressed flowers and sea shells can be put into glass jars and your favorite photographs from travels can be framed on the walls. Another great way to bring back memories and introduce rich textures and playful forms of your favorite destination are gorgeous Persian rugs that will infuse any mundane décor with an air of mystery of thousands of years of ancient eastern cultures.
Clocks are also very symbolic of travelling and the valuable time you have invested into your adventures, so you can make a unique collection of individual clocks and label them with your favorite cities from around the world. With every glance at them, you'll be reminded of your experiences there or if you haven't visited them yet, they'll give you new ideas and inspirations.
Accessorize with vintage pieces
With lessons of history and ancient times making up a large deal of travelling and sightseeing, you can introduce the flair of old ages into your room with various vintage pieces. Authentic historic or antique items will automatically give the room a collector's vibe and make it seem as if it has a story to tell.
For instance, vintage suitcases are not only indicative of travels, but can serve as excellent storage for extra blankets, cushions or any other knick knacks that need to be hidden away. They can be used as coffee tables, side tables and even as shelves. With their unique look and charm, they'll add a rustic and shabby chic element to your décor.
Nothing speaks travel more than vintage postcards, maps and globes. However you decide to display them, they will surely add a timeless touch to your space.
With your own, one-of-a-kind travel-inspired room, you'll have a true retreat where you can relax and reflect upon your amazing wanderlust memories and contemplate new ways of satisfying your urge to travel and explore.
Author Bio: Cooper Klein is an entrepreneur with a degree in Marketing, based in Sydney. He's interested in business and home decor. In order to spend more time with his family, Cooper decided to take a break, and he's currently working from home as a blogger for SmoothDecorator. You can find him on Twitter.