9 Exterior Trends for Pool Owners in 2019: What's Hot This Summer?

Summer is finally here, and it has brought a whole new season of hot weather and even hotter backyard pool trends. Every pool owner wants the latest and greatest pool area to celebrate summer nights with their friends, which is why we have curated a list of the top nine exterior trends this season. Don't be surprised if your renovation project list gets a little longer and you find a few new ideas you want to incorporate into your backyard.
Tanning shelves
The summer sun brings more than just longer days and beautiful weather, it also brings the rays that give us glowing skin. This summer, pool owners everywhere are looking to incorporate tanning shelves along their pools. Tanning shelves are areas of the pool in which a ledge is built into the pool basin high enough to place lounge chairs in a couple inches of water so that you and your guests can recline in a cool environment. Most people design these areas to fit two or three chairs, a table, or maybe even near a built-in pool bar for the ultimate rest and relaxation.
Pool bars
Who doesn't love relaxing in the water with a cool drink in their hand? Many pools are now being designed with bars that you can swim up to. Some even have stools installed in the water so you can sit and enjoy a cocktail and snack without ever having to leave the pool. Many people install their pool bars next to a grilling area as well, so that they can enjoy a nice barbecue meal while cooling off in the water. Talk about a backyard oasis!
Dark interiors
Pools are traditionally white or use light colors, both internally and externally. This year, pool owners are diving into new color palettes. These darker tones are usually reserved for hotels and spas, but by incorporating them into your pool, you can make your backyard the most relaxing place to spend your day. Pool owners tend to choose from navy, black, and dark gray colors to achieve this look.
Oversized spas
After a long day of work, sometimes all you want is to relax your muscles in a hot tub with some friends. Oversized spas are all the rage these days. In addition to installing a spa in the pool area, some homeowners are also incorporating elements such as waterfalls, plants, and more.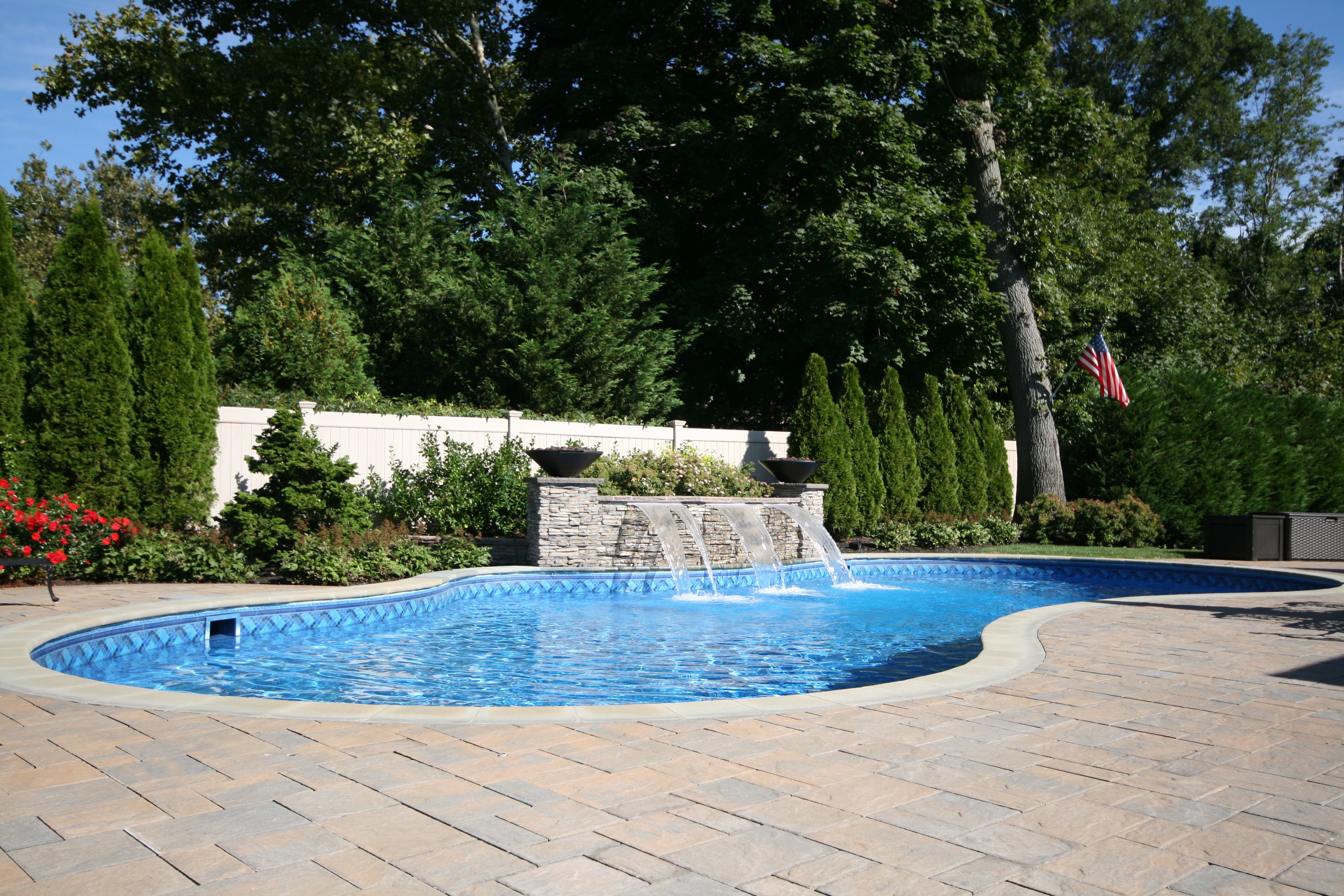 A song of ice and fire
For a unique place to gather with friends, try incorporating a fire pit in the middle of your pool. Many people are designing fire pits for the dead center of their pools, complete with lounging seats, pillows, blankets, and, of course, s'mores. If you are having a late-night swimming session, it can be a great way to take a break from the cool water. The natural lighting also provides a great mood-setter for your evenings.
Deep-water doozies
For those who love playing games in the pool and diving in every time they get the chance, sports pools are the way to go. These types of pools are perfect for swimming laps, having friends over for water polo, or for experiencing the sensation of floating in the Mediterranean instead of your backyard. Rather than a large shallow area and a long incline into semi-deep water, the majority of the water is deeper with only a small shallow end.
Landscape lighting
As kids, we all loved to run around in the dark catching lightning bugs during the summer months. And now as adults, we can trade running through the grass holding bugs for patios and yards featuring twinkling lights. Many people are opting to place energy efficient lights on the outskirts of their pool and in more natural elements like pool waterfalls, surrounding plants, and trees.
Multi-level designs
Everyone loves to have the kind of unique backyard that makes summer nights extra special. A multi-level setup can help make that happen. These days, more and more people are accentuating their in-ground pools with raised hot tubs and spas. Not only can such an effect create a beautiful aesthetic in your yard, but it can also provide you with lots of extra space in the pool area for activities, cooking, and entertaining.
Natural elements
If you are looking for a rustic or tropical escape, you may not have to go beyond your own backyard. By incorporating natural rocks, plants, and colors within the pool area, you will feel as though you are on the vacation of your dreams. Doing this will also make your pool area more relaxing so you can rejuvenate all summer long.
Having a great summer is easier than ever when you incorporate some of these trends into your own backyard. Mix and match these different options when designing your pool for the most fun under the sun and the ultimate relaxation for a perfect summer season.
Author Bio: Anna covers pool and backyard safety for All Safe Pool to help parents and homeowners understand how to reduce the risks and danger of water, and promote safer environments for children and pets.