Best exterior home renovation projects to tackle this summer
With the warmer weather of summer officially in session, you might be finding yourself spending more time outside – perhaps noticing some parts of your home's exterior that could use a little rejuvenation. Whether it is something you have been meaning to get around to for a while now or have only just started to consider, there are many advantages to starting a home remodeling project in the spring or summer.
The exterior of your home is extremely important – not just for aesthetic reasons but for safety ones as well – so it is crucial that you make sure the structure is always properly maintained. Now that the heavy snow of winter and frequent rainstorms of spring have passed, you can get a more accurate assessment of exactly what kind of work you need done on your home. For example, maybe you notice that your roof is missing some shingles or that the siding is looking a bit deteriorated.
Scheduling your exterior remodeling project during the spring or summer months makes all the sense in the world. Inclement weather and snow make assessing and doing this type of work a little more difficult so you can take advantage of this season like most of your neighbors and consider that upgrade now!
Siding upgrades
Below are the four best exterior renovation services to consider in the summer.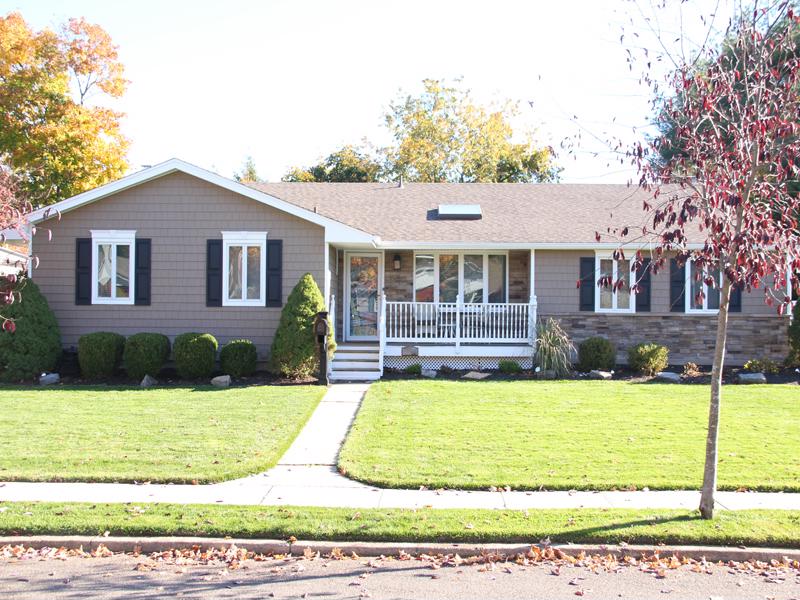 Siding contributes to the overall stability, comfort and appeal of your home. Siding replacement is a great outdoor renovation service to take advantage of this summer because it allows you to ensure a structurally sound and safe layer of protection on your home before the tougher weather rolls around again.
Depending on the siding and insulation material you choose, this project can also help you significantly enhance the energy efficiency of your home – which, in turn, will save you money. When you work with a home renovation and contracting company, you will be able to pick the material that makes the most sense for your specific needs. For example, if you enjoy the look of wood siding but don't have the time, money or patience to deal with its upkeep, vinyl may be the best solution. Another option to consider is stone veneer siding, which HGTV recently named as one of the top exterior siding materials.
"The right window installations can improve both the value and energy efficiency of your home."
Window installations
Another great exterior home renovation project for the summertime is installing new windows. Every now and then, you should be checking your windows to make sure there are no water or air leaks present. But even if they are working as they should, there are many benefits to upgrading your windows.
With the right glass and framing materials, not only can you increase the energy efficiency of your home, but you can also enhance the overall value of it. Consult with a contractor who specializes in window installations to learn more about the innovative technologies and processes available that can enhance how your windows both look and work.
Roofing replacements
The roof of your home has to withstand a lot of harsh weather conditions and natural elements throughout the year. Over time, it's not uncommon for the structure to shift a bit. Temperature changes can cause materials to expand and contract and, subsequently, that can create little gaps that allow water into your home, and additionally winds can loosen or completely tear off shingles from the roof.
"Considering the critical role a roof plays in your home's structure, its improvement is worth investing in."
Even if you haven't noticed any necessary repairs to be made, perhaps you have been thinking about upgrading your roof for other reasons. Considering all the functions a roof serves for homeowners, it is worth investing in its improvement – even if you just want to enhance the visual attractiveness of it.
Either way, if you are thinking about a repair or replacement this summer, it is highly recommended that you call a professional roofing contractor. Not only can trying to tackle a project on this area of your home put your safety at risk, it can also compromise the structure itself. If you don't know what you're doing, you may end up doing more harm than good.
Gutter repairs
Your gutter systems play a pivotal role in your home, so you'll probably notice fairly quickly if the water isn't draining correctly. However, one of the more overlooked aspects of gutter inspections that many homeowners forget about is making sure they are not collecting debris. When there is too much build-up, it can lead to costly repairs, since improper water flow can result in roof damage and interior flooding. Plus, improper damage can make the gutters heavier than necessary, making them sag or break. If you notice your gutters slanting at a weird angle or any other indications of dysfunction, it is important you call to have them inspected and repaired as quickly as possible.
Whether there is a repair requiring immediate attention or you just finally have some time to get started on that long overdue renovation project, spring and summer are the perfect time to schedule a service for your home's exterior.