Tips to Consider While Buying Outdoor Storage Sheds

Are you thinking about buying an outdoor shed?
If yes, then you have made the right decision. An outdoor shed can help you tackle your storage needs. You can re-organize your home and free up some space by shifting the unwanted stuff into an outdoor shed. There are many other functionalities, like vehicle parking and equipment storage, for which you can use your storage shed.
So, your decision is wise, but getting a shed is a significant investment, and you should choose the right outdoor shed to fetch the top ROI from your storage building.
Let's discuss some tips that you must consider while buying an outdoor shed to support your wise decision with the right building.
Choose The Right Building Material
There are many building options you can pick from like metal, wood, and plastic. You should buy the one which can meet all your requirements and safeguard your assets against local weather effectively.
Metal sheds are gradually gaining popularity. Earlier metal sheds had limitation of rust and corrosion, but now steel is used as a building material which has anti-corrosive properties. Moreover, galvanized steel is employed for building manufacturing to provide commercial-grade strength with the best performance.
Additionally, the price of the metal buildings is comparatively lower than the wooden sheds.
If we consider wood buildings, then wood sheds are also good, but you have to pay high upfront, and sheds are prone to rotting and warping along with fire accidents. Plastic sheds are affordable but can't provide you the ample strength and longevity.
Know Your Budget
Deciding your budget will help you filter your storage shed from a variety of options. You should pre-decide your budget so you won't face any financial difficulty in the future.
Consider other expenses like foundation cost, utility connections cost, and permit fee, so that you don't lack budget during installation or some other stage.
So, decide the budget and choose the outdoor shed accordingly. Just make sure you don't compromise quality for the budget, and budget for the quality or size you don't need.
Plan Your Building Customization
You should list your needs and evaluate whether the standard outdoor storage shed fulfills them or you need customization. Outdoor sheds can be used as Storage shed, Garden shed, Equipment storage shed, ATV home, Car parking, Boat garage, She-shed, Mancave, etc.
So, examine your building uses and select your building with the required customization. Building dealers and manufacturers provide several customization features to meet your specific needs.
You can transform the size and design to fulfill your multiple functionality requirements and the color to gel up with the surroundings aesthetically.
Moreover, you can buy a customized building to host your upcoming shed needs, so that you don't have to spend again after some time.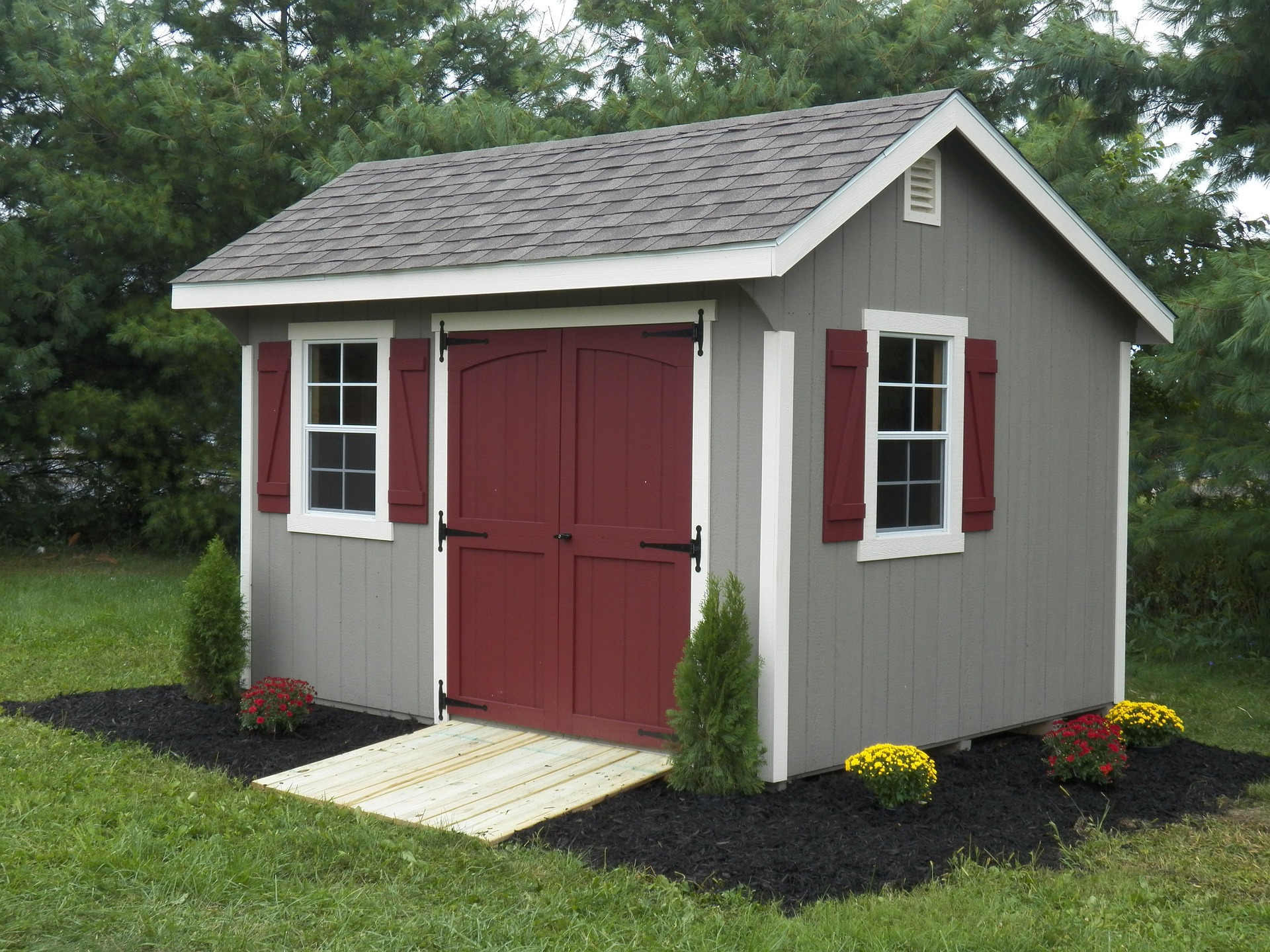 Decide Building Installation Method: DIY or Professional
You can save a substantial amount on your building prices by self-installing your storage shed if you have any construction experience. If you are confident about your skills, then you can buy DIY building kits. Metal shed DIY kits allow DIY installation, and you can erect construct your building with the help of the engineered plan and instruction included in the kit.
However, if you don't have any construction experience, then you shouldn't try your hands on DIY kits. If you construct your building without any knowledge, then you might face several difficulties during the process. Furthermore, you have to bear extra maintenance and repair charges due to poor building.
So, if you fall into the latter, hire a professional to install your building. Many shed dealers provide free delivery and installation which comes with workmanship warranties, and you don't have to worry about installation and any mistake in the process.
Perceive Your Local Building Codes
There are some building codes and permit provisions in some counties that you'll need before adding a building to your property. These codes are to assure the quality of your building against local weather conditions. Building codes are variable depending on the location, and you should know yours to avoid any legal difficulties in the future or during installation. Speak with a shed building professional who should know whether you need a permit or not. If the answer is yes, then learn about the required paperwork and approach your local authorities for the permit approval process.
These are the top 5 tips that you should consider while buying a storage shed. You can avoid the most prominent construction issues by following these useful tips. So, become a smart buyer and employ these tips to enjoy trouble-free shed purchase.
About The Author: Chris Egg is Content & Marketing Manager at Viking Steel Structures. He has substantial experience in the metal buildings industry and also writes enticing content about it.