Backyard Design Ideas to Help You Transform Your Green Space

Are you completely underwhelmed by your backyard's look and feel? Now is the perfect time to do something about it and give your outdoor space some charm you and your family deserve. Here are some of the best ideas to help you transform your green space into a private oasis.
Provide shelter
If you want to make better use of your outdoor space, spruce it up and provide it with some cozy shelter from the elements. Pergolas are definitely the most popular solution because they provide shade, yet feel airy and open. You can also install it to your finished patio or build it in a private little corner. If you want to build a structure on a budget, there are DIY kits with pre-cut lumber you can erect in a day or two. Or, if you want to boost the charm of your space, opt for a classic gazebo. It's a perfect place for enjoying your morning coffee or having afternoon tea in the summer.
Get cookin'!
Outdoor kitchens are all the rage right now. As more and more people rush to spend time outside, these backyard additions are a perfect solution. You can go small with a simple grill and a cooler for your drinks or go all out with a full-on kitchen accompanied with a sink, food prep area and a grill-smoker combo. If you have enough space, make sure to fit a dining table into your backyard. After all, every bite tastes better when enjoyed surrounded by greenery and fresh air! To ensure maximum coziness during your al fresco meals, invest in comfy chairs that will encourage you to stay outside for a cocktail and conversation.
Add some fun to the space
No matter if you prefer to relax or love to be active outdoors, every backyard needs a note of fun. If you have young children, you can add a few playful elements to your space. Think a sandbox or a classic swing set. If you have plenty of space in your backyard, why not opt for a golf course? This is a great solution everyone in your family will enjoy. Golfing will keep your family active and you're going to spend a lot of quality time together. Plus, it's a perfect activity for a lazy Sunday afternoon with friends—everyone loves some friendly competition! If you don't know anything about golf, check out Hombre Golf Club where you can find plenty of info on gear and other golfing accessories. And who knows, maybe you have a new Tiger Woods in your family!
Be the entertainment star
If you love to entertain, you can easily be the star host of your neighborhood with a super cool outdoor cinema. Bring movies to your backyard with a projector and screen and a few cozy theater seats to get that full multiplex experience. Just invite your family and friends, pop some popcorn and get ready for a night of fun. Or, if you prefer a more adult kind of fun that involves a lot of cocktails, build a private bar as an extension of your outdoor kitchen. They are great for entertaining during the warm summer evenings.
Light it up
If you prefer to spend more intimate outdoor evenings with just your family, bring a little touch of camping to your backyard with a fire pit. The best thing about these features is that they are small enough to fit into any space and they add instant coziness. Surround it with some comfy chairs and you're ready to roast marshmallows and share stories deep into the night. Or if you live inland and miss the beach, cover your fire pit area with sand and you'll get that summer coastal vibe right in your backyard!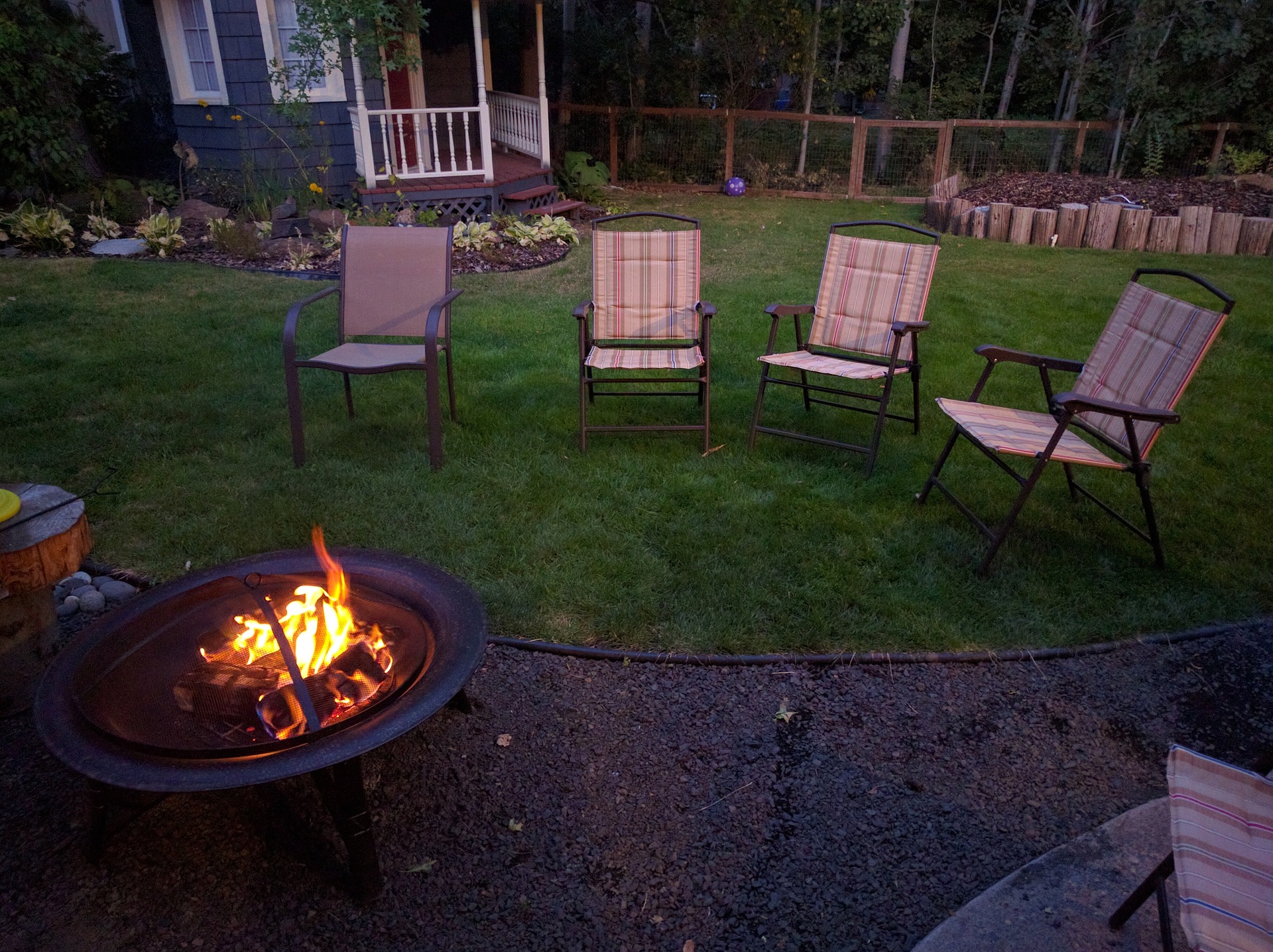 Take a dip
If you're more of a water kind of person, you can treat yourself to a private spa experience. Today, you can find a wide variety of outdoor spas, hot tubs, swim spas and plunge pools, you just have to take your pick and you'll always have a perfect place to relax after work or just chill on lazy Sundays. There are all kinds of models from two-seaters to 10-plus-seaters, so no matter how big or small your family is, you can all enjoy relaxing water therapy.
Zen out
If all that stress at work is draining all your energy, try to transform your backyard into a real Zen oasis. Find a little secluded corner in your garden and make it your "me-time" zone where you can come to meditate, contemplate or just relax with a good book and a cup of tea. Grab a cozy chair or a hammock and your little private nook is ready!
Healthy living and outdoorsy lifestyle is all the rage right now and for all the right reasons. So, give your space a little makeover and you and your family will love your new and improved garden.
Author Bio: Ian Lewis is a proud owner of a dog named Eddard. He's interested in camping, reading, and all things DIY. You can find him on Twitter.