Outdoor Trends That Are Going to Be Huge in 2019

Outdoor Trends That Are Going to Be Huge in 2019
The outdoor space has become an integral part of home design, with a great number of homeowners implementing numerous creative ideas to improve it. In 2019, new outdoor trends will emerge, bringing plenty of inspiring décor possibilities. You'll be able to design the perfect outdoor haven filled with a sense of peacefulness and true elegance. Therefore, if you're ready to give your outdoor space a 2019-inspired uplift, start gathering inspiration.
Patio furniture that brings functionality
Furniture is always the most dominant piece in any space, be it interior or exterior. Furniture designs will provide you with an elevated level of functionality and convenience in the upcoming year. You'll have an opportunity to furnish your outdoor haven using modular pieces that you'll be able to adjust easily and effortlessly. Versatile patio furniture will be quite enticing, yet still subtle, accentuating multi-functionality and convenience. Therefore, when choosing your furniture, you should go with lightweight, modular pieces that will be easy to move, store and adjust depending on your lifestyle and needs.
Lighting diversity
As one of the most crucial elements of any design, lighting will help you create a charming outdoor ambiance in 2019. You can expect to see a range of lovely lighting fixture designs that will enable you to merge function with aesthetics. Not only will you have a vast selection of designs and styles at your disposal, but you'll also have different placement and arrangement possibilities. Even the simplest solutions, such as solar lamps illuminating garden paths, will look completely mesmerizing, especially when paired with other lighting fixtures. Whimsical light decorations will be scattered around, helping you create a dreamy, magical atmosphere. Of course, string lights placed around your outdoor sanctuary promise intimacy, coziness and romance.
Let's get crafty
The outdoor areas will exude authenticity due to the return of craftsmanship. You'll be able to give your outdoor space your personal touch and express your unique sense of style. For such a personalized look, you just need to turn to handcrafted decorations and custom-made solutions that will give your outdoor oasis a one-of-a-kind appeal. You can either stop by a thrift shop or express your own creativity and try making something on your own.
A soothing spa retreat
Although the modern lifestyle is quite hectic, it seems that people try to bring a feeling of balance into their lives. Therefore, it's no wonder that they strive for a sense of serenity and tranquility through design. Outdoor spaces, in particular, are seen as the perfect relaxation zones where homeowners can escape from their daily worries and obligations and have some time for themselves. In 2019, outdoor spaces will become truly soothing spa retreats. You'll be able to create a truly tranquil oasis by introducing a functional and comfortable swim spa into your outdoor haven. This simple, yet effective solution will provide you with a perfect spot for relaxation and rejuvenation, bringing an enriching home experience. Whether you're in need of an energizing swim or a soothing float, you won't have to go further than your own backyard.
Comfort as a constant
While certain trends come and go, comfort is a constant that everyone strives for when designing an outdoor area. In 2019, a variety of solutions will be implemented to create a comfortable, cozy outdoor space with an inviting look. Since this is your place for relaxation, it's only natural to try to make it as comfortable as possible. So, get ready for plush, comfy furniture embellished with cozy cushions. You'll also need to provide your outdoor haven with enough shade for an enjoyable atmosphere. Of course, fire pits will also continue to enjoy their popularity in 2019. Adding one to your outdoor space will also make it comfortable and relaxing by filling it with a flickering glow.
Colorful positivity
Although 2019 outdoor areas will feature simple, modern looks, you'll still be able to experiment with different colors. This will help you create a positive vibe and enticing visual appeal. Whether you choose to introduce just a few colorful accents or let color dominate your outdoor sanctuary, don't shy away from bold and vivid hues. Of course, numerous inspiring palettes are at your disposal depending on the effect you want to achieve. For a serene, yet rich flair, you can go with different shades of purple. On the other hand, if you want to energize your outdoor space, red should be your top choice. Blue and green will also be popular in 2019, helping you create a sense of harmony by combining them with the environment.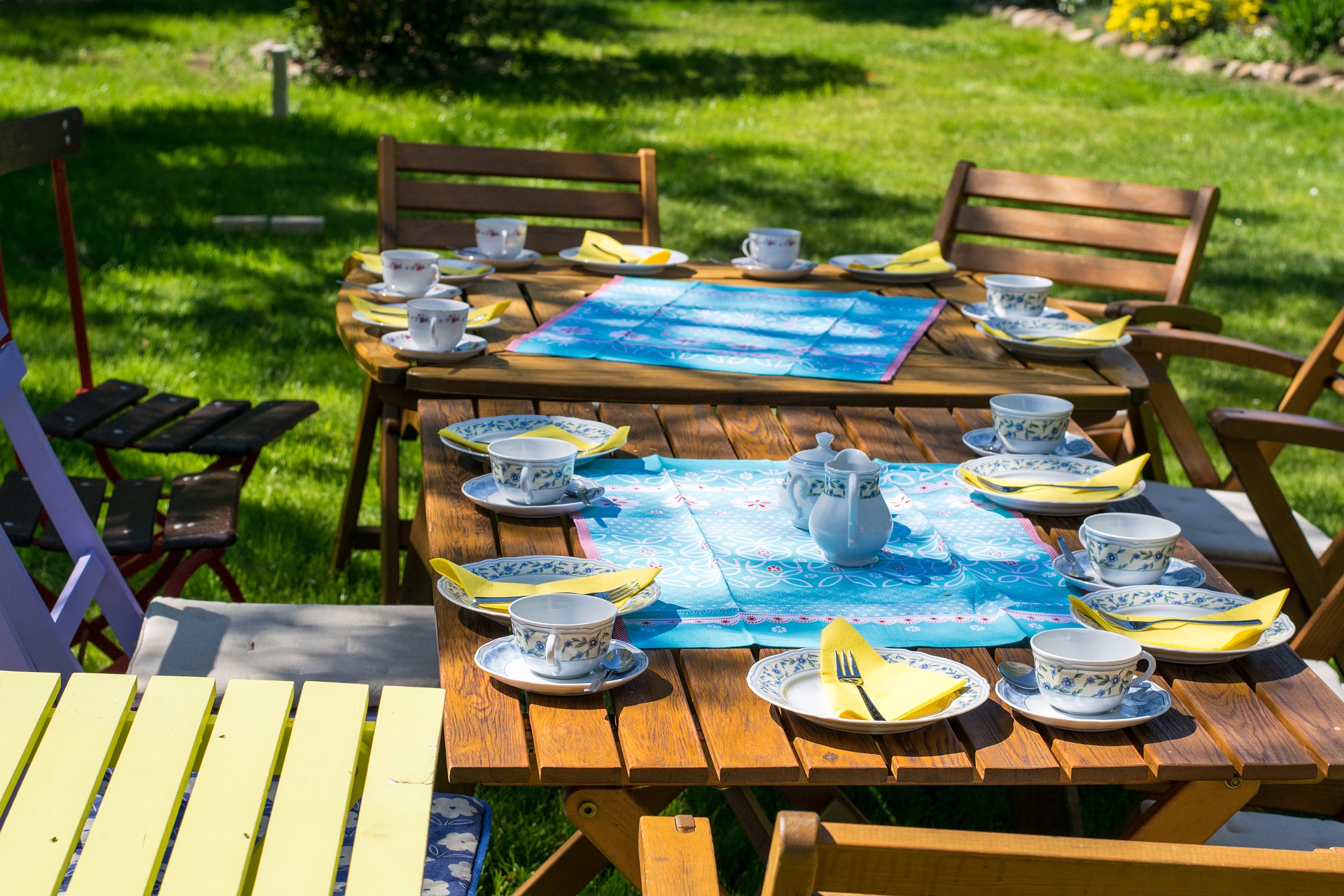 A touch of antiquity
If you're a fan of vintage style, you'll be glad to hear that it will definitely have its place under the spotlight. You'll be able to introduce vintage details and furniture pieces for a unique sense of antiquity. This will also provide you with an opportunity to give a new purpose to your old items or implement pre-loved pieces. Either way, your outdoor space will have a distinct retro charm that you'll love.
In 2019, you'll have an opportunity to design a beautiful outdoor oasis that will reflect your personal style and bring a feeling of tranquility into your life.
Author Bio: Cooper Klein is an entrepreneur with a degree in Marketing, based in Sydney. He's interested in business and home decor. In order to spend more time with his family, Cooper decided to take a break, and he's currently working from home as a blogger for SmoothDecorator. You can find him on Twitter.