Garden Decoration Ideas: Incorporating Home Decor into Your Backyard

For a while now, landscaping designers have been talking about harmonizing the interior and exterior space. The idea that you can expand your home to your backyard and garden brought all sorts of styles and décors to the exterior with refreshing results. The key is to use the right features which will highlight your interior décor and transfer its fundamental essence into the exterior.
Adapting a garden is a task that can be challenging and fun. You have an opportunity to turn the extra space around your house into a unique area to enjoy and feel comfortable. Moreover, your house will gain curb appeal and look amazing with new landscaping décor.
If you want to redecorate your exterior space, here are some ideas how to turn your garden into a perfect part of your home.
Pay attention to colors
The easiest thing to start from is the color scheme. Use the same ones you have in your home or accent the main shade that dominates. For example, if you have a stone fence around the property, paint it in the color of your walls to create a visual continuation of your interior.
Pay attention to the flooring in your home, and use the same colors for the porch or patio. The green of plants will certainly be a contrast, so add some potted plants to your home if you don't have them inside. That will bring the natural colors into your home and make the connection even more obvious.
Don't neglect that the way your house looks on the outside is also the part of your garden and you should pay attention to details there as well. Sometimes, all you need is to paint a few details like window frames and the doors to open up the bond between the exterior and interior space.
Plants in your garden
When you plan your garden, choose the plants that perfectly describe your home décor. Vivid flowers and colorful plants go well with Boho style interior, like wildflowers and fruit trees for example.
Minimalistic style leans more to the geometrically trimmed hedges and evergreens. It's perfect for tidy lawns and succulents along the pebble pathways. However, different shades of greenery will add texture which will create interesting layers for your garden.
If you want to create a rustic garden that will match the organic style of your home, plant lavender and herbs, among other things. Add an old wooden cart in the center of the backyard with some potted flowers to highlight the naturalistic theme of your overall household.
Backyard entertainment areas
Summer is a great time for parties and spending time with your family outside. One of the ways to creatively incorporate the home décor outside is by creating areas that will be an extra room of your house.
One of the popular structures of this kind is summer kitchens which you can open up on one side completely and make them parts of the backyard. They are perfect for BBQ parties and cooking while watching the kids playing outside, as well as for big dinner parties.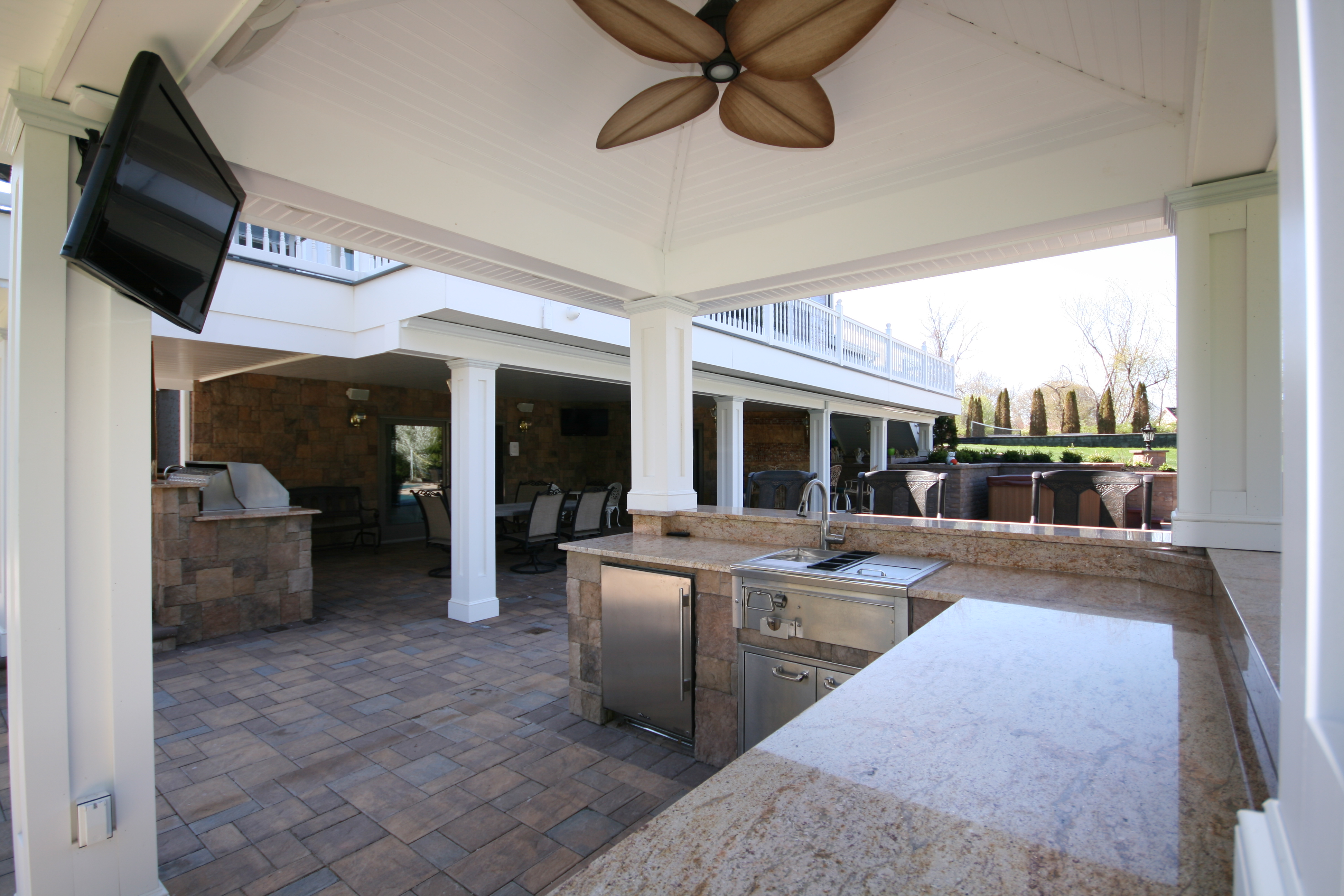 If you have a swimming pool, connect it to your home with the same stone tiles which you can use on the facade as well the backyard floor. This will create not only the balanced look but also add luxury to your home and make your estate look bigger.
Create a seating area in your garden
With all the effort you put into your garden, it's only fitting to create a space where you can sit and enjoy it. This is also the best way you can connect the outside and inside space. Use glass doors to open up the side of your home facing the garden and create a patio area right in front of the house. Install retractable shade awnings and add furniture with the same upholstery color you have on your seating set inside.
If you want to place the seating area directly in your backyard, then use the greenery to integrate the interior furniture style. Pay attention to materials and respect décor lines and principles. For example, if you have minimalistic style inside your home, transfer it outside by respecting the basic rules for lines, geometrical shapes and natural materials.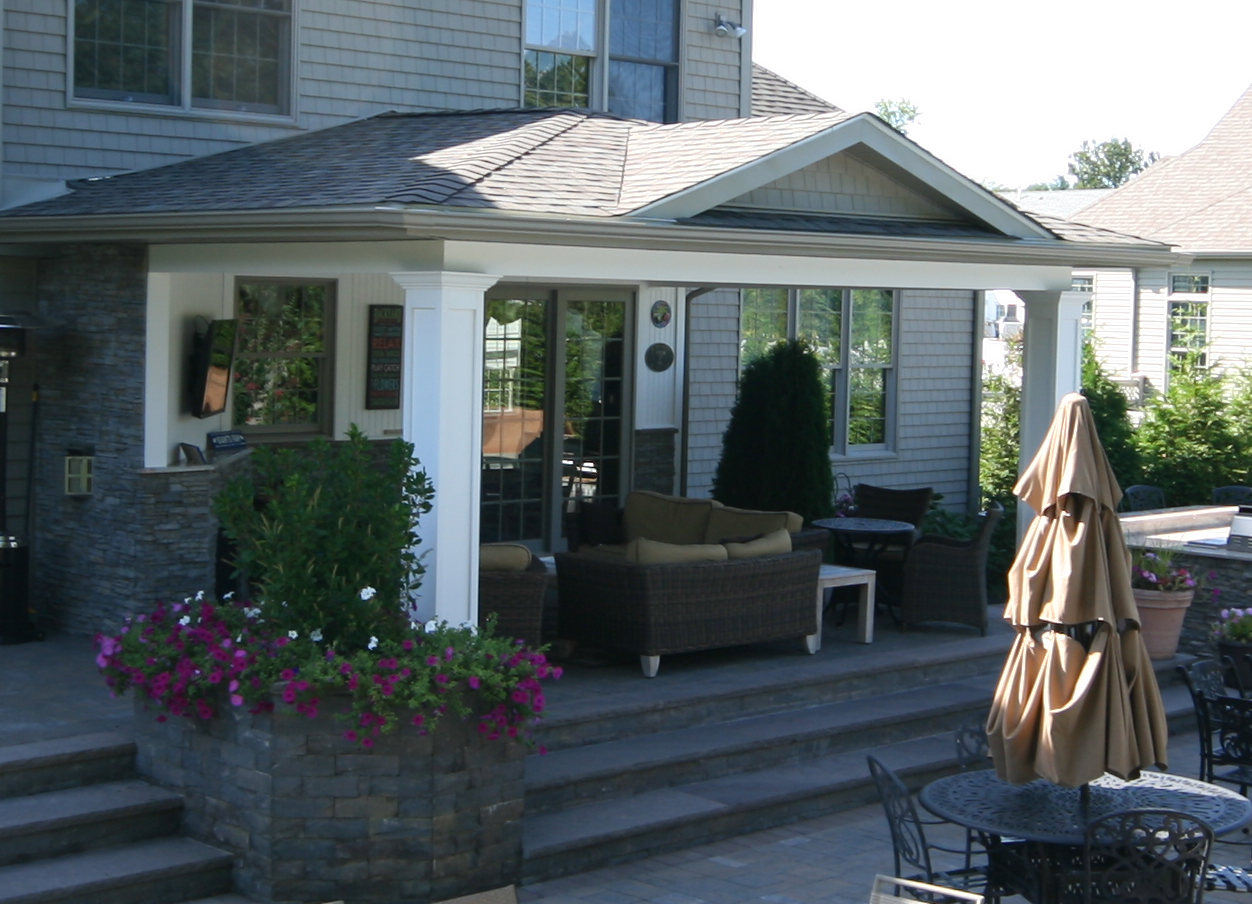 On the other hand, if you want to use bamboo garden furniture, then concentrate on the details that can help you harmonize the two spaces. Use the cushions in the same colors as you used in your home, add a fireplace outside if you have one in your living room and mimic the shades of your carpet with colored stone tiles.
You may have to add some renovations in your plans to incorporate home décor into your backyard, but it will be well worth it in the end. Just respect the colors of your home and materials dominating your interior design and you will have no trouble at all to match that décor in your backyard and garden.
Author Bio: Ron is studying to become a civil engineer by day and a blogger by night. His first contact with construction and home improvement was when he worked with his father during summer breaks at his construction company in Australia.