Adding A Bit Of Chic To Your Bedroom? 8 Simple Ways How
Let's face it; everyone would love a bedroom which looks like it fits right into the glossy pages of Better Homes and Gardens or Real Simple or on Pinterest pinned all across decorating boards.
Chic bedrooms not only easily impress but also look current, sleek, and simple. Plus, they promote a sense of calm, and therefore, a good night's sleep.
If you are like most people whose finances refuse to cooperate with your lofty dreams, don't lose sleep over it. You can easily achieve a room with a dash of style that's a tour de force of polished design, full of soft bedding and cloud-like pillows.
Just like with other things in life, it's all about the small details. Here are eight simple ways to add a touch of chic to your room without breaking the bank.
1. Bid farewell to clutter –
Although this isn't an object or accessory, it's an essential step if you want a room that's great looking. After all, how many gorgeous bedrooms have you seen on Pinterest or Instagram that are messy? A cluttered or dirty room does not give off an expensive vibe – or attractive for that matter – no matter how much you spend on furnishings. It's time to clean the clutter. Do away with unnecessary stuff like piles of folded clothes, bundles of unread books, or unused exercise equipment. This is a good start to a luxurious looking space.
2. Shine a light on it –
For a chic and expensive looking bedroom, ditch the cheap ceiling fixtures, and instead, replace them with a trendy, statement-making hanging light or a glamorous chandelier. You can pick between a drum-shaped fixture, pendant or small chandelier. Just ensure that the one you choose complements your other furnishings and is in scale to the rest of your bedroom. You don't need to spend too much money; there are plenty of options which add ample romance and drama for an affordable price.
3. A touch of green –
Adding greenery is the easiest and quickest way to upgrade from an 'average' room to a 'chic, expensive looking' room. Get your best-looking vase out, set it on your nightstand, and fill it with a bouquet of fragrant, vibrant flowers. Next, pot a green plant in a small metal or ceramic container. If you have a green thumb, try ferns else stick to houseplants like pothos, dracaena or Chinese evergreens. You can set this on your dresser which will instantly spruce up your room plus, purify the air – a win-win!
4. Make a blanket statement –
With the help of a thick, luxurious blanket, you can instantly add uplift the look of your bed. A low-cost microfleece number is perfect for watching TV and cuddling, but it's not going to lend a chic look to your room. Preferably opt for a blanket made with velvet, silk, fuzzy wool or faux fur. Leave the crazy patterns for your accent pieces; for your blanket stick with a subtle design or solid color. A blanket coupled with a pile of fluffy pillows makes a drool-worthy bedroom which will take you to heaven and back every night. Now, your bedroom looks ultra-luxurious while also keeping you warm at night.
5. Dress your walls –
Bare white walls in a bedroom can feel starker than luxurious; they don't work unless you're going for an ultra-minimalistic look. For a warmer, more designed look, embrace a little wallpaper or paint.
Also, artwork is a great add on. Artwork is made to be seen and don't restrict this only to the living room and other social areas of the house. You can hang some of your favorite pieces in your bedroom, think of hanging a statement piece over the headboard of your bed for maximum impact.
6. Make an impact with a statement piece–
Give your bedroom the oomph that it needs with an impactful statement piece. This could be, like discussed, adding a piece of artwork, a quilt on your bed, a rug or carpet which doesn't take style lying down or a fine collectible on your dresser. Be it anything, ensure that it reflects your personal style and taste. It's not about spending bundles; you can scour a bargain store or even work on a DIY project over the weekend!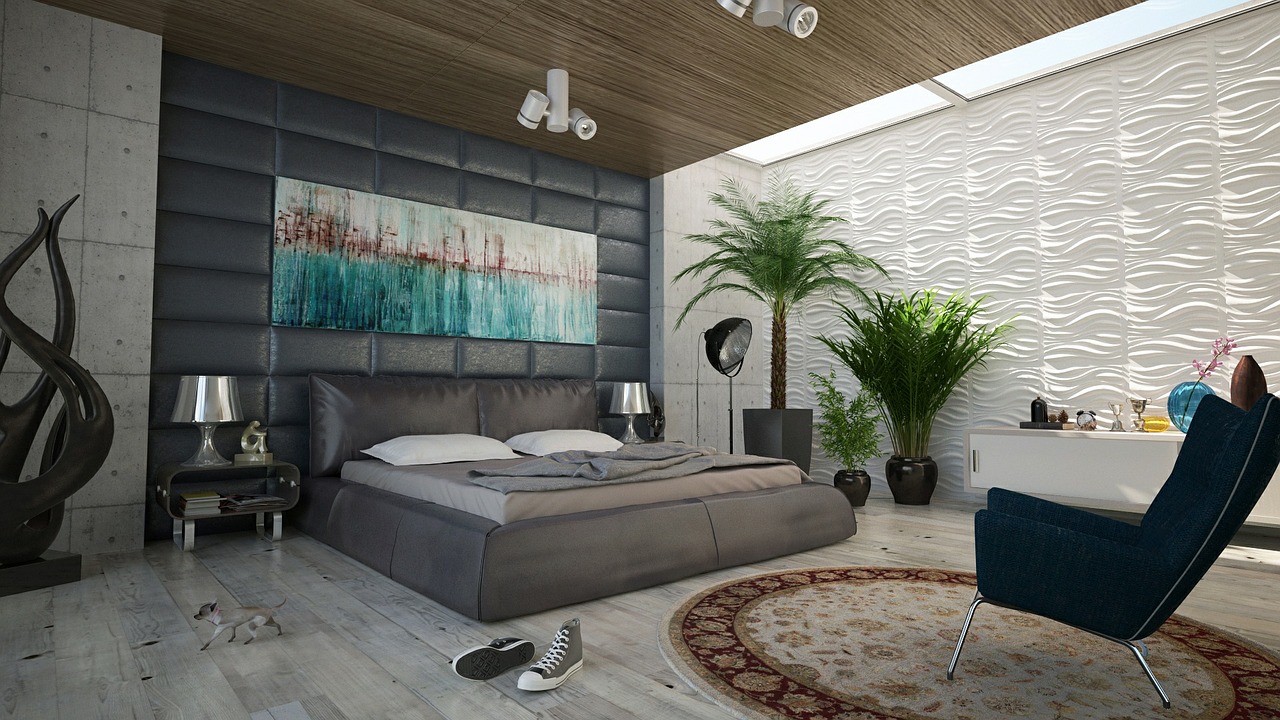 7. Dress the windows too –
A curtain's role goes far beyond than blocking light in a room. They can dress up or down a room and add an exciting element to a space and make a huge impact.
Those with short windows can add curtains which drop all the way down to take away from the ordinary look and make it opulent.
Sheer curtains add a luxurious look, and they let plenty of sunshine flow through even when they're drawn during the day. You can use them if privacy isn't an issue. A second layer, such as a blind or a heavier curtain, will further elevate the look.
8. Sink your feet and body –
When was the last time you walked into a hotel room and felt the icy cold, hard floor? Never! The moment you walk into a hotel room, there's nothing better than feeling a plush carpet under your foot, plus, it looks luxurious. You can get this melting feeling at your own home too!
Carpets are cozy, warm, and an inviting way to finish your floor and lend a relaxing feel to your bedroom. Besides, it's a great welcome relief for tired feet after a long, hard day. If you have timber or tiled flooring, soften up the overall look by adding a soft, inviting rug.
Adding a comfortable mattress which you can sink into after a long day is also a good way to make your room look chicer. Get the perfect mattress by following the bed dimensions guide by Mattress Insider. The perfectly sized mattress will complete your bedroom's look.
Over to you
Before you invest in a pricey dresser, think strategically; spending a fortune doesn't guarantee a chicer looking bedroom.
The thoughtful and minute details are what make a bedroom look like a million bucks.
Whether you want to keep it simple, factor in florals, magnify with mirrors, add a dash of romance, decorate in pastels, create a tranquil setting or add a touch of vintage, you can easily turn your bedroom dreams into reality. Regardless of which camp you fall into, chic bedrooms have stirred the interior design world and today, this style is more popular than ever. Millions of homeowners all over the world are trying this style, if you want to too, your bedroom is the perfect place to start.
Hope the above ideas give you the inspiration to create your own plush and inviting space.
About The Author: Written by Lilly Norman an optimist from California who talks as well as writes about healthy lifestyle and getting more out of this journey through life. Lilly Norman has published articles on a lot of popular health related websites. Her articles focus on how sleep and the choice of mattress are critical to overall well being.