Contractor Of The Year Award- Kitchen Remodel
Alure Kitchen & Bath Designer Sherry Gossett was awarded the Silver Winner of Residential Kitchens at the 2013 NARI Contractor of the Year Awards held by the NYC/LI Chapter of the National Association of Remodelers (NARI). The winning project was for a kitchen remodel that would be functional, spacious and beautiful. The design was based on Sherry's clients cooking needs, desire to gather around the table, enjoying a view of the backyard and watching television. The scope of work included gutting the kitchen, all new electric, plumbing, lighting, sheetrock, supply and install cabinetry, tile, countertops, new windows, doors, a skylight and installation of new appliances.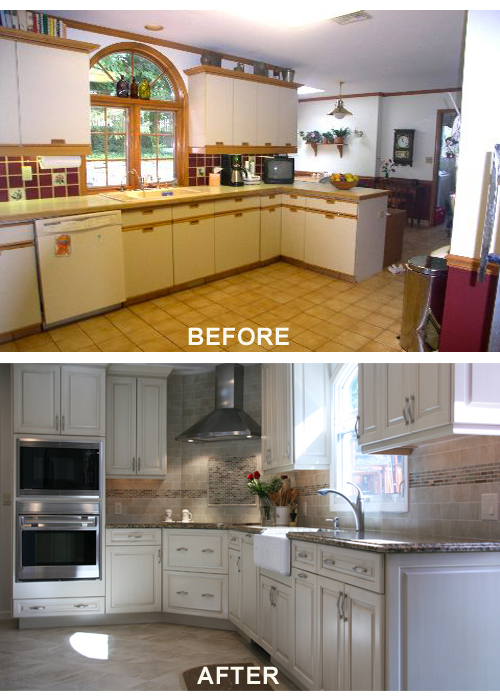 Responding to challenges and finding creative solutions is what sold the job. Creating three separate, functional spaces allowed for practicality and flow. Relocating gas and water lines enabled a very comfortable and ideal work triangle. Cooking becomes the main focus as well as being a focal point with the stove in the corner of the room. There is also a 60″ big screen television, enabling some family entertainment and allowed for added cabinetry for storage in the same area. The kitchen was finished with stunning eggshell glazed linen cabinets, porcelain and glass tiles and a magnificent granite countertop. New windows, doors and a skylight were installed to open up the kitchen with a great view of the back yard. The family is currently enjoying their new kitchen as it is their new favorite room in the house. Click here to see photos from the Evening of Excellence. Click here to see all the winners.