10 Helpful Tips to Maximize Your Garage Space

Aside from housing your car, your garage is one of the most useful parts of the home. Although homeowners don't give much attention nor credit to garages, these are important in storing your tools and other seasonal items in the home. Others might also store tons of other stuff in the garage, as well.
It is just a very convenient space in keeping items since you can stash anything there while keeping it out of your guests' prying eyes. However, doing so might lead to a very messy garage with only a little space left for your car.
If you're one who's struggling to keep your garage organized and clean, here are tips to maximize space while keeping everything in order:
1. Build garage cabinets
If your garage still does not have any form of cabinetry and you're storing items in boxes on the floor, then it's high time you build garage cabinets. These are a must for every garage. Having a formal storage cabinet will help in keeping your garage organized.
2. Install wall organizers
Your walls are great for space saving. Don't just think cabinets, you can also hang items to your walls by using hooks. This removes clutter on the floor while keeping everything visible.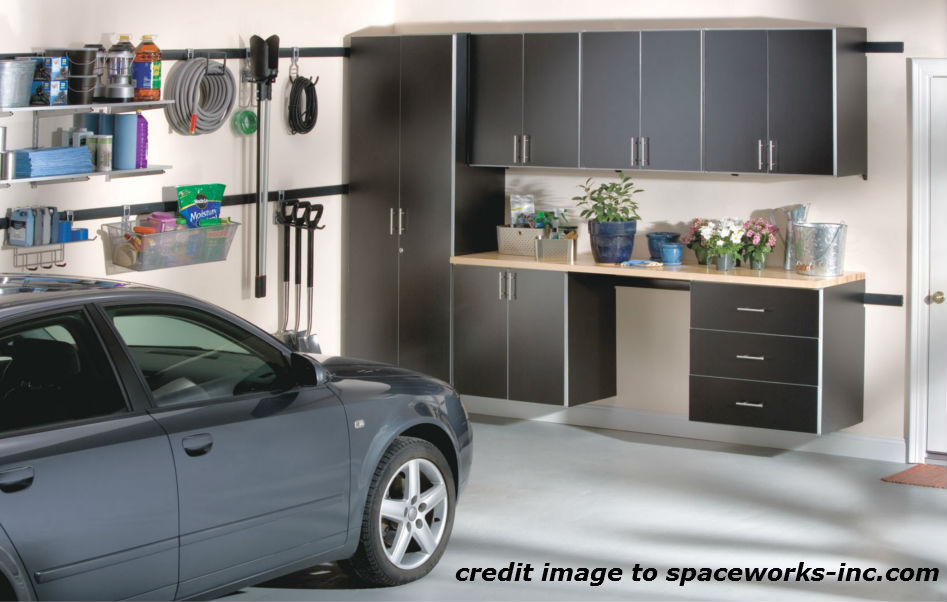 3. Add overhead or ceiling storage
When you no longer have wall space, use your ceiling. Use ceiling-mounted racks for additional overhead storage. This is the perfect way of storing seasonal items and keeping the eye-level areas in your garage clean and clutter-free. Just make sure that you're using sturdy racks or have a safety net placed under in case you're in an earthquake-prone area.
4. Create a folding workbench
If you or your family uses the garage for crafting or as a workshop, then making a folding workbench can definitely save space. Opt for those that are wall-mounted and can be folded after every use. It will look like you didn't even use that after. This collapsible workstation is easy to build and install.
5. Get magnetic boards for the small parts
If you're the type who frequently loses nuts and bolts, then a magnetic board will save you. Just have small steel and metal parts magnetize to the board, especially when you're working on something. You can also use this to keep little things organized and preventing them from getting lost in the garage.
6. Go mobile with work areas
Another idea to save on space is building a work area with wheels. Just being able to go mobile while working on your crafts or DIY projects will make things easier. You don't have to be stuck in a corner. You can also double this mobile working table as storage for keeping your most-used tools.
7. Upgrade to adjustable shelving
If you have seasonal items in your garage, like decorations and clothes, then having adjustable shelving lets you move around your storage boxes as per needed. One idea is just to install open wall shelves with wooden strips. You can place items inside large plastic containers that you can move around.
8. Install pegboards and hooks
Always use up your wall space to maximize space. Storage spaces that use up the floor will always make your garage feel full and messy. Keep rakes and other tools in place with a pegboard. You can go large depending on your needs.
9. Tie and keep wires in one place
If you have a ton of wires lying around in your garage, this can add to a cluttered look in your garage. Tie your wires with zip ties or with a paper clip. Keep everything together in one drawer so you only have to search for a specific wire at a certain place. If something falls behind a drawer, don't stress, check out this DIY 60 second fix video to see how easily you can remove the cabinet drawer.
10. Lock down power tools
Power tools that are rarely used can be kept in your most inaccessible storage. Since these also tend to take the largest space in your garage, you can keep them hidden for longer.
Don't be afraid to be creative when thinking about your storage solutions and maximizing your garage space. Use your creativity in keeping your garage organized and in maximizing your space. Aside from following these tips above, think outside the box. Think of other ways or things that you can do to save up space and that fits with your style and preferences. Find what works for you and you will be happy with your newly decorated and clean garage.
About the Author: Written by Kristy Jones of AclickAwayRemotes.com. You can also follow her here on Twitter. Photo Credit: Spaceworks-inc. and Rubbermaid.com