A quick guide to choosing the best home siding material
Siding is one of the most important elements of your home's exterior. Not only does it play a major role in its curb appeal, but it also affects its insulation and energy efficiency. If you live in Long Island or another area of New York, you are no stranger to the volatile and sometimes severe weather conditions that occur year round – patterns that, over time, can take a toll on your home. It's important to regularly inspect the siding of your home to ensure it is in good condition. Neglecting early signs of deterioration can end up causing extreme damage, compromising the safety and stability of the house.
There are some tell-tale signs to look for that indicates it is time for a home siding repair or replacement, such as:
Panels that are fading, discolored, loose or cracked.
Fluctuating energy bills, which indicates the siding and insulation are not functioning properly.
Warping, rotting, mold or mildew is present.
Interior walls are damaged.
Whether it is for functional or aesthetic purposes, once you make the decision to get a home siding makeover, you need to figure out what the best material to use is.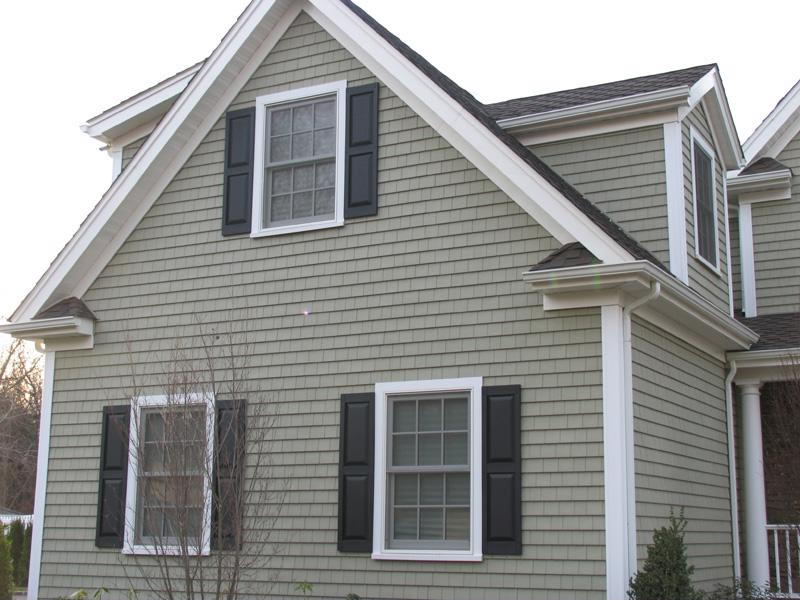 There are many factors to consider when choosing the best home siding material.
Step 1: Consider different types of home siding materials
You have a diverse range of options to choose from. However, as a New York resident, there are certain environmental factors you need to take into consideration. Wood siding, for example, is not ideal for Long Island homes because it absorbs water, causing it so prematurely swell, rot and warp. Below are some of the best choices for your home's siding.
Vinyl siding is incredibly versatile, affordable and low-maintenance. You can choose from a wide range of style options, including clapboard, beaded, dutchlap, vertical or faux cedar. The latter is molded to mimic the appearance of real wood and comes in rough split share, half round or perfection shingles. Vinyl siding is made mostly of polyvinyl chloride, or PVC, giving it impact resistant qualities. It also can be installed with various insulation products and, in turn, improves the energy efficiency of your home. Because it comes in virtually any color or texture, it is an appealing choice for homeowners who want to achieve a certain look but are also on a budget. As Michael Gervasi, Alure's Director of Exterior Sales explained, "Vinyl siding products have never been better than today's offerings. There is more selection, better engineering and richer color options."
Stone/stone veneer siding is extremely durable and, though it tends to be one of the pricier options, is a wonderful choice if your main objective is improving the curb appeal of your home. Products like Versetta Stone offer the advantage of not needing to be painted, coated or sealed. It is made of lightweight materials that are easy to install and don't require any additional footage for support.
Fiber cement siding is another material to consider. Similar to vinyl, this composite material mimics the appearance of wood, plus it is resistant to moisture and engineered to withstand inclement New York weather.
There are many factors to take into account when choosing your home siding material. There is no one-size-fits-all solution; the key is finding a product that can be tailored to your specific needs. To help you do this, it is highly recommended you consult with a design expert. They can offer you insight, tips and advice that you may not otherwise consider.
Step 2: Choose accessories and systems
Once you choose the siding material, explore the various systems and accessories available with each, such as trim, soffit/fascia and gutters. These additional products add to a completed appearance and to the functionality of the exterior siding. Again, there are certain aspects to consider based on the type of material you choose.
For example, soffit and fascia are used to complement vinyl siding. Soffits are the structures installed to your roof's overhanging section, extending from the top the vinyl siding to the roof. The profile and finish of the soffits can vary widely depending on the style. Soffits come in both ventilated and non-ventilated versions to assist in providing proper ventilation to the attic and improve the roof's lifespan. Fascia protects the outer edges of the soffits and roof.
On the other hand, if you choose a stone siding, you will want to explore different cladding solutions. One is EnduraMax Stone Siding System, which significantly enhances the energy efficiency of insulation, offers sound absorption and moisture protection. The siding system is easy to install and comes in foam installation panels that have drainage channels, as well as masonry units with stone, clay and concrete brick options that are longer lasting and more durable than stone veneer.
Step 3: Consult with local siding installation experts
If you are having trouble deciding between siding materials, use a siding contractor's design imaging tool to preview what different styles would look like on your home. Keep in mind, though, that the type of material you choose is of little importance if it is not installed correctly. This is why it is highly recommended that you hire a professional rather than trying to do it yourself. Attempting this exterior home project yourself can damage your home and lead to costly repairs.
Be selective in the contractor you choose. The home remodeling company should have years of experience with siding replacement in the Long Island, New York area. Properly installing new siding systems takes specific skills because, as Gervasi explained, "Installation methods have improved to help keep the material in place indefinitely." If the best application, sealing and installation techniques aren't used, it can take away not only from the siding's appearance but its effectiveness as well.
Finally, to make the most of your siding replacement project, inspect other areas of your home as well. Check to make sure your insulation and interior are in good working condition, as well as other exterior structures like the gutters and downspouts. Ensuring these elements are working properly before you complete a siding repair or replacement project is important, as failing to do so can lead to you having to redo it down the line.
To learn about how the right siding material can help enhance the value of your home, download our whitepaper: