How to Tell that It's Time to Replace the Siding on Your Home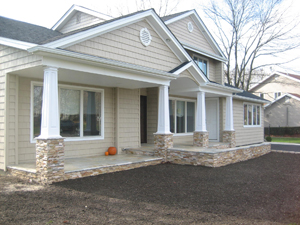 The exterior siding of your home is often one of the first things that guests and casual passersby will notice about your property. Gorgeous siding can dramatically add to the curbside appeal of a home while siding that has fallen into disrepair or outlived its lifespan can have the opposite effect. So what are the signs that it may be time to replace your siding?
Age of Your Siding & Other Factors
For starters, as a general rule of thumb, home siding should usually be replaced every 10 to 15 years. This number varies greatly depending on the kind of siding you have on your home, the climate you live in, how diligent you've been in upkeep, and other variables, but by and large if you've had your siding for more than a decade you may be a candidate for replacement. Siding can also become damaged much sooner than that, however, as a result of a defective product or a poor installation technique. If you discover that the siding is rotted, warped, cracked, dramatically faded, or otherwise blemished, you may want to consider new siding as well. The presence of water damage can also ruin siding and have a potentially significant impact on the home.
More Reasons for Getting New House Siding
You may also consider purchasing new siding for your home if you're looking for a practical way to upgrade your property, are interested in increasing the energy efficiency of your home, or you're thinking about selling and want to increase the value of your house before it's placed on the market. At Alure Home Improvements, we offer a wide variety of siding options, including vinyl, engineered wood, and cultured stone.
Alure UltraShield Vinyl Siding
We're especially proud of our affordable Alure UltraShield vinyl siding. It combines stunning beauty and proven performance, and comes in an array of visually striking colors and exquisite design profiles. Plus, it's a breeze to maintain. An occasional hose-down will remove most airborne dust and dirt, keeping your home's exterior looking fresh and clean. It's no big surprise that the all-around high-performing UltraShield is one of our more popular siding options.
Our Engineered Wood Siding
Made by the top manufacturer LP, our engineered wood siding offers both the benefits of vinyl and the rustic charm of wood. It's available in pre-primed and pre-finished options that make installation simple and cost-effective. Made from wood strands that are coated with a resin binder and then heated and compressed to create solid boards, engineered wood siding is far more durable than real wood and will resist termites and rot, and weather damage.
Learn More
Contact Alure Home Improvements to learn more about the features and options of our siding. As a leading remodeler on Long Island for over 70 years, we back all of our siding installations with a minimum three-year warranty on all materials and labor.
Extra 5% Savings + 50% off Install!
For a limited time only, save and extra 5% on your project PLUS 50% off Install AND NO money down, NO payments, NO interest for 18 Months* - Act now! *SUBJECT TO CREDIT APPROVAL. Offers are for the stated time period only and may not be combined with any other offers, promotions or discounts. Some restrictions apply. Offer not applicable in all counties due to Consumer Affairs Restrictions. Offer not applicable in or to residents of New York City. Call for details on scheduling the imaging session.