The Importance of Insulation when Installing New Siding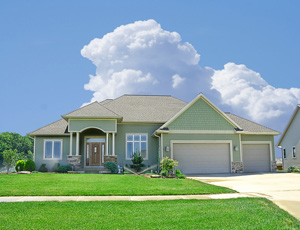 When you set out to choose new siding for your home, it is important to consider all of the various advantages of the different types of siding available. These days, many types of siding have been designed to be not only beautiful but also energy efficient, which can have a real impact on your monthly heating and cooling costs. At Alure Home Improvements, we understand how vital it is to have an energy efficient home, and we offer several different types of insulation to help you limit heat transfer into and out of the house.
One great way to address air infiltration in your home is with our exclusive UltraShield underlayment insulation system. This 11-step, state-of-the-art siding and insulation system is designed to reduce costly heat transfer and withstands even the harshest weather year round. Backed by high-density foam, breathable house wrap for lasting performance, and tongue and groove edges that create a tight seal behind the siding, this system boasts an R-Value of 4.16. Practically speaking, this additional level of insulation can help keep your home cooler in the summer and warmer in the winter. As a result, it is easier for the home's central climate control system to keep the temperature of the home regulated, which can lead to savings on monthly heating and cooling costs.
To learn about the various types of vinyl siding we offer and for more details about our highly advanced UltraShield insulation system, contact us and schedule an in-home consultation with one of our representatives. You're also invited to visit our gorgeous three-story showroom in East Meadow, New York, to see our siding options for yourself and take advantage of our Visualizer software, which allows you to see what your siding will look like on your home long before the siding installation process begins.
Extra 5% Savings + 50% off Install!
For a limited time only, save and extra 5% on your project PLUS 50% off Install AND NO money down, NO payments, NO interest for 18 Months* - Act now! *SUBJECT TO CREDIT APPROVAL. Offers are for the stated time period only and may not be combined with any other offers, promotions or discounts. Some restrictions apply. Offer not applicable in all counties due to Consumer Affairs Restrictions. Offer not applicable in or to residents of New York City. Call for details on scheduling the imaging session.