What does your new family kitchen need?

If your family is getting larger or you're getting tired of bumping into each other in your cramped kitchen, you may want to consider renovating or remodeling. This will help you create a space that better fits your needs, whether you have a bunch of youngsters causing a mess or growing teens constantly rummaging through the cabinets for snacks.
Alure Home Improvements' kitchen design expert Marilou Arcuri explained that there are a few areas that you should focus on when you're designing a new family-friendly kitchen.
Make sure there's room for the whole family 
Arcuri said that the most important aspect for a family kitchen renovation is ensuring that there's enough space. As a family grows, a smaller or closed-off kitchen design can quickly get crowded. A renovation can take down walls to open up the kitchen area, expand the footprint of the kitchen and add more storage and surfaces.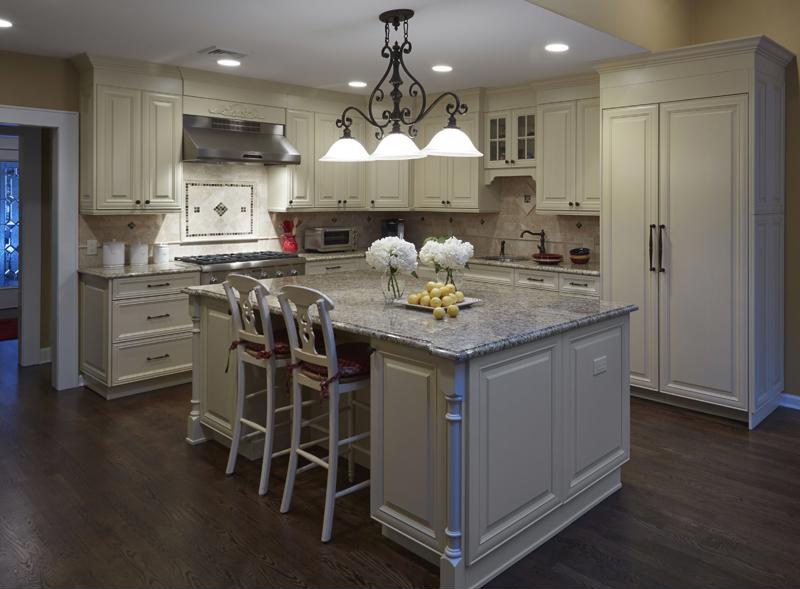 This extra room isn't just for cooking dinner – it can help you create a true family space. A large kitchen can be the center of your home, whether your family is making school lunches, doing homework, making crafts or eating breakfast.
"Family time is so precious nowadays. I think that making a central area for everybody allows for more family time," Arcuri said in an interview.
Find the right seating and eating options 
From breakfast bars to kitchen tables, there are plenty of options to consider when it comes to your kitchen's seating and eating areas. Before you settle on a seating choice, Arcuri explained that there are a few questions to ask yourself.
Do you have young children? Bar stools are a recipe for trouble with younger kids. They're too high and could be more danger than they're worth. Instead a counter-height stool or traditional table may be preferable.
Where's your dining room? If you have a formal dining area just off the kitchen, Arcuri pointed out that it can be included in the design plan and made a bit more casual. This would give you a reliable place to eat meals, and you're free to add stools or chairs to other parts of your kitchen.
Are you set on having an island? Islands are great when you have the space, but Arcuri warned against relying on them too heavily. Make sure you also have a dining room or kitchen table nearby for homework, lunch or anything your kids may need.
Go for a big sink 
Regardless of the style and type of sink you're considering, Arcuri's advice is to go big. With a family, there's bound to be a little more of everything – pots, pans, plates and food – so a large or double sink can help you manage a bit better without overloading your kitchen.
Quartz countertops don't stain, no matter the spill.
Arcuri also suggested that whoever uses the sink most should decide on the style of the sink. For example, some options work better for shorter homeowners.
Install a quartz countertop 
When you spend the time and money to build the kitchen of your dreams, you want to make sure it stays in great condition for a long time. That's why Arcuri recommended families go with quartz countertops. They're durable enough to stand up to whatever your family will go through.
Quartz countertops have the same great look that other stone counters have, but they require none of the maintenance. They're also resistant to any scratches, stains, or wear and tear that can come from normal childhood spills, parental distraction or hungry teens.
Arcuri called quartz the most "forgiving" surface, because it will let you make mistakes without anything to show for it.
Looking to find out more? Download our kitchen whitepaper here.