Some Smart And Novel Ways To Bring Your Patio Shade To The Outdoors

Using patio covers to create shades and fully enjoy your compact outdoor space during summers often becomes necessary. For shading terraces, balconies, or patio, you have simple, cost-effective solutions that are apt for small areas. They are perfect for combining aesthetics and practicality as they don't require any major expenses or complicated work.
When you've limited outdoor space, it's best to implement temporary solutions for they are easy to install, store and move. This is truer for condos where fixed protection's installation may require the receiver's consent.
Shade blinds, sails and parasols offer ideal alternatives to pergolas and awnings.
Available in different formats, you can use them as terrace, balcony, or patio covers with efficiency and style.
Additionally, the variety of colors and shapes makes it perfect to adapt to every person's environment and tastes.
The custom-made parasols can provide optimum protection with minimum space requisites.
Whether half-rectangular or half-moon, you can place these parasols against the façade.
Know the ways
Outdoor areas don't mean you've to soak in the sun. It's nice to unwind in a shady spot at times, away from the seething rays. A sail shade is definitely among the simplest DIY methods. You just need a triangular fabric and punch eyelets in its corners. Next, you need a strong rope or twine to loop the shade to the side of your house, poles, or adjacent trees.
To create a semblance of paradise, add a tiny island essence to your lawn with a little thatched roof.
Such stylish tropical awnings create excellent vacation vibes on your property.
You can also have a screened in look. Retractable, motorized awnings are costly. Instead of splurging on this material, go for screens that you easily install and adjust.
A classic and perfect pergola can keep everything shady without blocking the sun completely.
Its thin slates of wood allow the rays to poke through. You can feel the sun's warmth without feeling like its sweltering. This is called filtering Nature.
A canopy of lattice with verdant and vibrant vines can make a scintillating addition to any backyard.
You get your desired shade with the added advantage of beautiful greenery all around.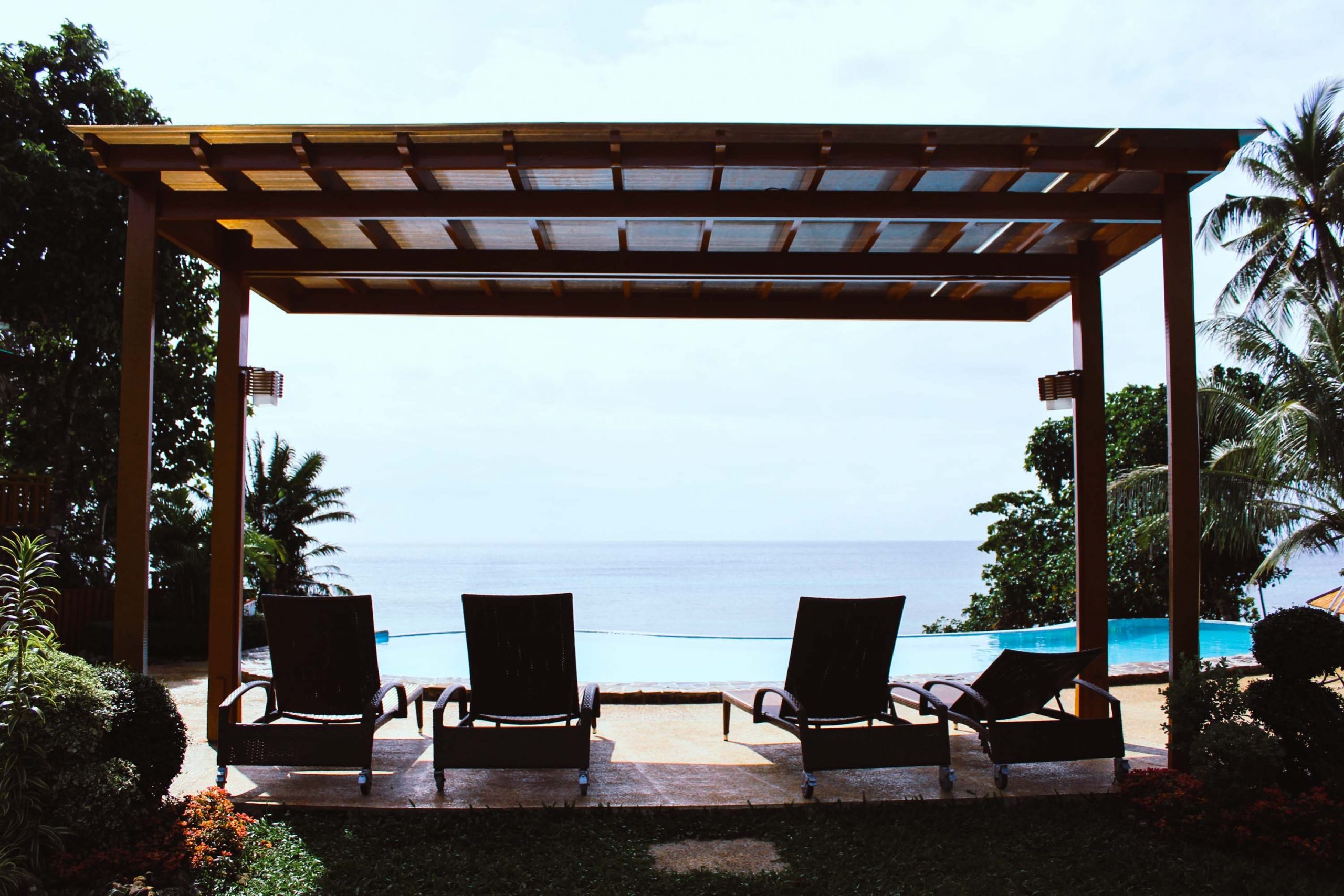 Some creative ways
Some patio covers have closed roofs and exposed roofs. It's basically a dining space with its exterior walls protruding. The covered patio is an ideal setting for dining al fresco. The marvelous exposed beam design produces a built-in appeal by integrating design elements and materials that seamlessly integrate with the rest of your house.
Pergola patio covers (narrow-slat) with wraparound screens are also popular.
Although it won't protect you from snow or rain, the narrow-slat frame is still a covered patio.
Ideal for people who enjoy soaking in the sun's rays, this patio option provides scanty shade while mischievously allowing to absorb copious amounts of vitamin D.
A patio covers with the modern metal canopy deserves special mention. Its reminiscent of home carpet from the mid-century. These are beautiful patio covers, whose simple yet stunning architectural design and framing provide the best complement to your modern outdoors and veranda.
Conclusion
Therefore use the above decorating ideas to transform your patio into a haven of relaxation and entertainment. It is just matter of investing on proper décor elements and accessories to make it come alive!
About The Author: Isabella Rossellini is a marketing and communication expert. She also serves as content developer with many years of experience. She has previously covered an extensive range of topics in her posts, including Home Décor and Lifestyle.