How to decorate your patio for the cold season
As the winter approaches, are you looking for ways to decorate your patio for the cold season? Wondering how you can brighten things up in the darker months? Maybe you want to add some color and vibrancy to give your patio a winter glow.
In this guide, we're looking at the best ways to decorate your patio for the cold season.
Add a Little Light
It can get dark and dreary through the winter months and spending time on your patio or deck may not feel quite so appealing to spend time sitting on!
Adding light can be a way to create both a nice glow and a more functional space to spend time in.
Spending time outdoors is much easier if you have created a living space, as explained in this guide. You're more likely to be enticed to sit and enjoy the crisp winter with a hot drink if there's a little more light on your patio.
Light can be a decorative feature, too. You can get all sorts of different solar lights which can run on the sun's rays they've absorbed during the day (assuming your property gets enough sun).
String lights can be used to give a little winter sparkle, or you can enjoy the warm flicker of a candle.
Having more light will show off the other decorations you've added to your winter patio wonderland!
Evergreens
Evergreen plants and trees are an amazing method of decorating your patio or other outdoor space when winter rolls around. Lush green colors always look great on a patio, porch or other outdoor space.
If you don't have any evergreens planted in the area, you can use clippings from another tree to put in a simple plant pot, or even make an evergreen wreath as a warm and welcoming patio decoration. Use clippings from your Christmas tree if you have cut it down to fit inside your home.
If you don't want the hassle of a living plant to look after, you can buy some incredibly realistic decorations. These apply the same principle as a fake Christmas tree, and with less upkeep, they're able to give the same lush look.
Furnish an Enclosed Area
Decorating within an enclosed area can keep you warm and safe from the chill in the air, but still connected to your beautiful outdoor area.
There is a variety of different sunroom and enclosed patio ideas which can be great additional living spaces.
Dark woods such as rich mahogany benches and chairs tend to look fantastic in a year-round sunroom or enclosed patio space. They perfectly complement the snowfall and icy cool winter conditions. You don't have to spend a huge amount to get this look, and upcycled or stained furniture can have the same warm look to it.
Why not kit this room out with blankets and candles? These can look lovely and cozy, but also keep you warm when you're spending time in your enclosed patio, sunroom or outbuilding.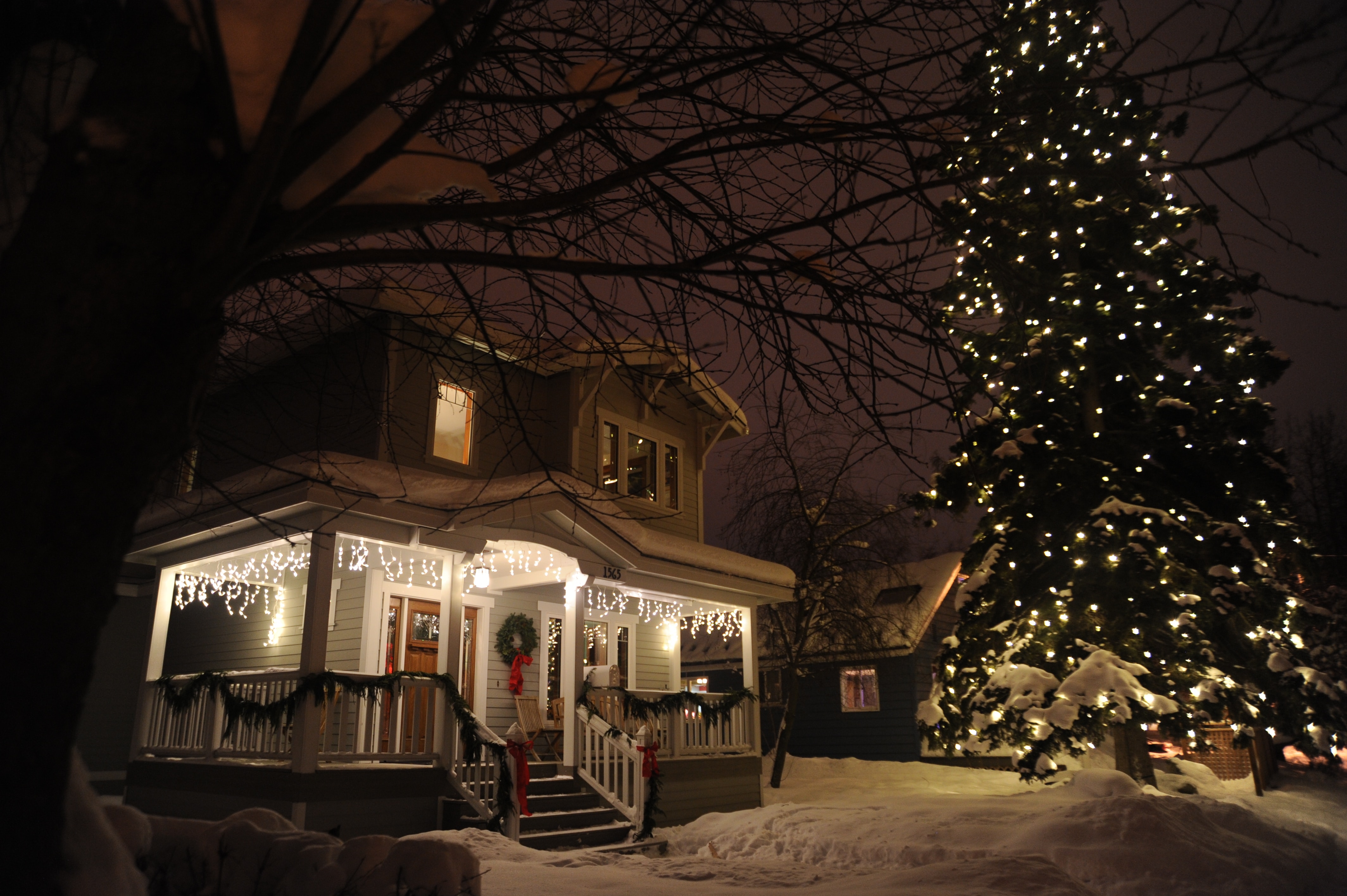 Season's Greetings
People tend to associate the cold season with the holidays. Why not embrace this when decorating your patio for the winter months?
Use decor that people associate with Christmas and bring some festive cheer. Things like evergreen wreaths, holly, and pinecones are a good place to start.
There doesn't have to be a Santa in sight for your patio to celebrate the season! Your decorations can last all through the winter and still look fantastic if you don't make them too Christmas-specific.
Upcycle Vintage Winter Gear
A brilliant way of making a cool little outdoor feature for your patio is to decorate the area with some old winter gear. Equipment such as old-style wooden sleds and skis, or even old snowshoes, can look fantastic if carefully placed around the patio.
This gear can be picked up from flea markets and you can even upcycle it to turn it into a feature. Why not turn an old wooden sled into a patio table? Or attach a wreath to some old skis?
Make it Cozy!
When the winter months roll around, we tend to love our cozy comforts. If you have a seating area outdoors, why not make it warm and cozy to tackle the winter. This can be a form of decoration as well as a functional method to stay warmer when you are outside.
For instance, decorate a patio bench with pillows, throws, and blankets, or add some firewood as a decorative feature. You can, of course, combine this with candles or a fire pit for a warm winter glow.
Conclusion
Have you enjoyed our tips on decorating your patio for the cold season? Feel free to leave your thoughts and your own tips as a comment below.
Written by Nadya J.
Photo by Wonderlane on Unsplash