Design Elements to Help You Create the Perfect Sunroom

There are a few ways you can bring nature indoors and fully enjoy its beautiful vibe, look and smell. However, there's only one true way you can really connect with nature while still being able to appreciate all the comfort an indoor space brings, and that is by designing a beautiful sunroom. Sunrooms are not a new concept, but they are as popular nowadays as they ever were. So, if you've chosen to embark on this journey, here are a few tips and tricks that will help you design a beautiful sunroom where you can sit and relax, and enjoy some peace of mind.
Decide on the location
In every sunroom – as the very name suggests – natural light plays the most important role. So, when choosing a location for your sunroom, try to find the spot that's bathed in sunlight for the better part of the day. If you are simply turning an existing room in your house into a sunroom, choose a bright room that has a lot of windows. If you don't have a separate room for this, you can always section off a portion of your living room, dining room or kitchen and transform it into a sunroom with the smart use of furniture and decoration. You can also divide your room into different areas by using some beautiful screens on which you can hang light potted plants. However, if you're building a sunroom, inspect your house from the outside and determine the side of it you should attach your sunroom to. Building a sunroom almost completely out of glass, for example, will allow you to use natural light to its full potential.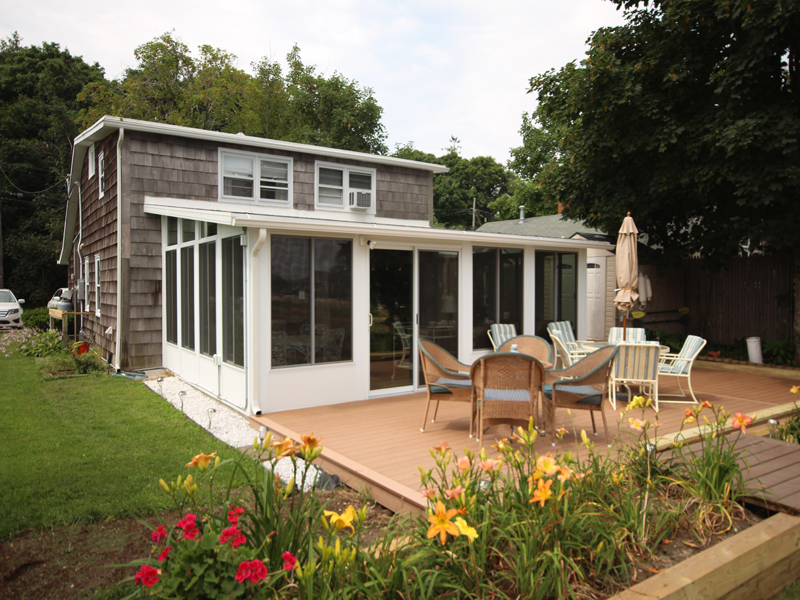 Consider the purpose
The purpose of such a room can vary depending on your needs. For example, a sunroom can be used as a place where you can relax at the end of the day, a place where you can enjoy a good book and a cup of warm tea, or a place where you can invite your friend for brunch on the weekends. However, you can completely go off-tradition and create a home office in your sunroom. This might even be the best idea, as plants are known to have a soothing effect on our minds, and a good workspace that inspires creativity requires plenty of natural light and a lot of fresh air. So, by doing this, you would basically be growing two trees from one seed.
As already mentioned, if you decide to build a sunroom, you will have enough freedom to design your office layout to suit all of your needs. And, you can even create a relaxation area in your home office, and thus give the room multiple functions. Of course, to make sure everything is done properly, and all of your wishes are met, always go for reliable project home builders, to avoid any inconveniences. Such experts in this field can even offer you some advice regarding the room's design and layout.
Determine the design and style
Once all the hard work is done, it's time to think about the design. For the floor, choose a natural material that's not only sturdy and low-maintenance but also beautiful. For example, decorative concrete floors, as well as natural stone tile floors, are some of the most beautiful options – apart from hardwood – that can be further accentuated by floor mats or rugs made of natural materials. If you have glass walls, there's really no need to do anything, but if you've created a sunroom in a part of an already-existing room, you can paint the walls in some complementary (natural or earthy) shade that will enhance the natural vibe in the room.
When furniture is concerned, always go with durable materials. For example, reclaimed wood, hardwood and bamboo are some of the most popular options. If your room will have more than one purpose (i.e. an office and a brunch area) you can go for foldable or multi-purpose furniture. Finally, if you don't have enough room to fit a sofa or a lounge, consider lining your window sills with comfortable sitting pillows. Add a few decorative trinkets and some fairy lights here and there for the maximum effect.
Therefore, when designing a perfect sunroom, think about the location and the purpose first. Once you have that figured out, the design will come to you naturally – think in terms of the things you like, your favorite style and a few bits and pieces that will make the space truly yours.
Bio: Cooper Klein is an entrepreneur with a degree in Marketing, based in Sydney. He's interested in business and home decor. In order to spend more time with his family, Cooper decided to take a break, and he's currently working from home as a blogger for SmoothDecorator. You can find him on Twitter.