What Determines How Much A New Bathroom Will Cost?
Alure Home Improvements is a full service remodeler, however more specifically as a bathroom remodeler we often get asked this question; can't you give me a rough idea of what a bathroom remodel will cost?
The real answer is no because there are so many things to consider when approaching a bathroom renovation. There are few areas of improvement remodeling where an average price or a per square foot calculation is appropriate or even possible, but one of them isn't the bathroom. Understanding how the process works can help you plan your budget and your approach to a bathroom makeover.
It is certainly understandable that given these life and times everyone is looking for practical ways to make their investments go farther. Since 1946 Alure has been dedicated to delivering quality products and services. It is clear, now more than ever, that homeowners in Long Island are choosing to hold onto their property longer and possibly even make room for an extended family under the same roof. The current trend has shown that bathrooms in particular are being updated, remodeled, expanded and otherwise made to accommodate extra use or simply to make better the additional years a family will remain in the same house.
At Alure we always offer a free design consultation with one of our seasoned industry professionals. Their knowledge and experience is there for you to rely on. You can consider them your guide as you travel through the process of home improvement construction. Even so, if you are only just beginning to think about a bathroom project, we present the following information to help give you a basic understanding of what to expect and what factors will influence the ultimate price tag.
The first consideration that will impact the bottom line going forward is to determine how much home renovating you are planning to do. There are two programs available exclusively at Alure and will accommodate the simplest of renovations or perhaps something more elaborate and customized. Our custom bathroom program is inherently going to present a different cost structure because it will also involve the movement of walls, plumbing, electrical work and bathroom design ideas. However, our 5 Day Bath Program is geared for a complete gut and remodel based upon a systemized approach, maintains the same footprint and is referred to as removal and replacement. The overall concept of the 5 Day Bath incorporates ways to make a new bathroom installation more economical.
The remaining part of guesstimating a cost is realizing there are choices to be made regarding every component in the room. Looking at the cost of a cabinet or a toilet that you can buy at the local Home Depot or Lowes does not tell the whole story and should not be used as an accurate barometer for estimating professional bathroom remodeling. All of those components weigh in as part of the whole but individually their cost will fluctuate depending upon brand choices and functionality. Cabinetry, tub vs. shower, vanity, mirror, sink & faucets, tile for flooring and shower surround, lighting and electrical outlets are all going to affect the end result differently in dollars and cents.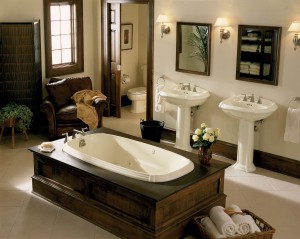 Extra's in either program always have potential to incur additional cost. It may involve a bit of extra framing, installation of something special that adds accessibility, or is perhaps related to the age of your home or something unique to its construction. The point is that some unanticipated issues may affect the cost of your project.
In every area of choice there are always affordable alternatives that can help keep your bathroom renovation project on track, but the basics for any bathroom remodel remain the same.
Is your project going to be custom or a straight removal and replacement?
– Custom bathroom remodeling will involve moving walls, plumbing, electric and will give you unlimited product selection
– The 5 Day Bath Program is a one stop shopping from home experience with a wide variety of product selection, but somewhat limited for economics
Selection of tub, toilet and sink are critical components and may involve switching out the tub for a walk in unit or a shower stall.
Any combination of tile selection for the floor, shower surround and walls (optional)
Furniture and hardware selections include the wall cabinet with mirror(s), vanity, faucets, shower head, towel racks, grab bars or johnny cabinets.
Take into consideration, the labor cost will vary between the custom and the 5 Day Bathroom
Above all, the service commitment and warranty are the same for both programs
The areas mentioned above can help you organize your thinking about a bathroom remodel and are not intended to make you feel like it is more complicated. Your trip to the local Home Depot or Lowes will give you a good idea of some raw materials cost and is a great way to begin the learning process of what is available. Understanding what factors influence the cost of a bathroom project doesn't mean that you're fully prepared to engage a remodeling contractor. Our staff of design experts is always on call in our
showroom
in East Meadow and available seven days a week.
Still curious about the process?
When you are ready, stop in and visit with our design specialists. They can talk with you specifically about your project and help you better imagine what your budget can provide. You will be happy to find that Alure can help you bring your bathroom remodeling project to reality.