4 Surprising Ideas For Any Small Bathroom
If you have a small bathroom in your home, you've probably experienced a bit of trouble trying to design it to fit your needs. This can be overwhelming and stressful, especially if you can't quite figure out a solution. Having a functional bathroom is essential to our daily lives.
When we have a smaller space, it's important that everything in that space is functional and serves a purpose. Have you ever wondered how on earth people can live in those trendy tiny homes? It's because every inch of those houses serves a purpose and function.
Today, I'll teach you four surprising ideas for small bathrooms. These aren't run of the mill tips or tactics. Below, you'll find unique and life-changing ideas for you to make the most out of the small bathroom in your home. Let's get started!
Storage Solutions
One of the most difficult things to tackle when you have a small bathroom is having enough storage. You don't want to take what little cabinet space you have and just shove everything in there. There are a variety of ways you can add storage while also improving the look of your bathroom.
One thing you could do is add floating shelves. Floating shelves are a modern and trendy addition to just about any room. It's an easy way to store things such as beauty products or prescriptions.
You could also use a storage ladder for your small bathroom. This is a place where you could fold the towels, place candles, or even add a plant. It's a great way to improve the overall look of your space without taking up too much room.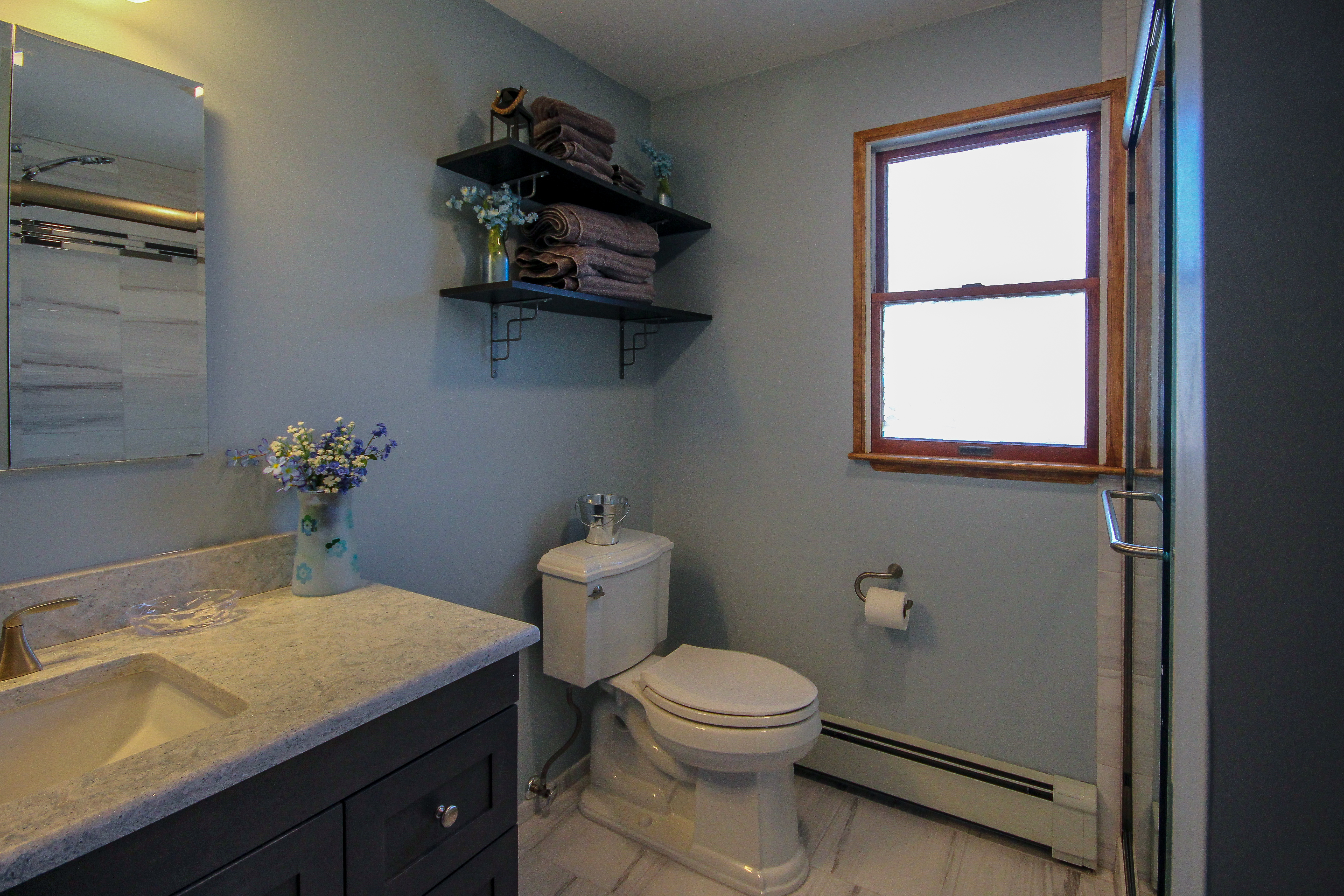 Add Color
Many people don't design the overall look of their bathroom. The majority of bathrooms have a neutral color palette. If you don't want to paint your entire bathroom, there are a few things you can do to add a bit of color and improve the general look of the space!
For starters, make sure your towels and bathroom rugs all match. Whether they all have corresponding patterns, colors, or designs, this is an easy way to add a splash of color. If you have a mirror with a frame around it, you could paint the frame your favorite color!
You could also paint your cabinet doors and drawers to add some color to the space. Lastly, a great way to incorporate color in a small bathroom is by adding plants. You can place an ivy in the shower, eucalyptus around the showerhead, or succulents on the bathroom countertop.
Factoring Functionality
The most crucial step of getting the most out of a small bathroom is to make sure that everything is functional. This is easier to accomplish than you may think. Instead of storing cotton balls and swabs in their packaging under the sink, consider using cute containers and placing them on floating shelves, a storage ladder, or on the countertop.
You could also have stackable crates next to the sink. This can be a great place to store cleaning products, extra toiletries, towels, and more. As long as everything serves a function, you're one step closer to having an amazing bathroom, no matter the size!
Shape Up!
My last secret is to use shapes to your advantage. This can be a fun way to dress up your bathroom and make it unique! How does someone incorporate shapes into a bathroom? There are a handful of ways to do so! One of the simplest things you can do is getting an odd-shaped mirror. Nearly every bathroom mirror is the same old boring rectangle. Opt for a round or even hexagon mirror!
You could also change the shape of the tile your bathroom has. At the very least, you could add in a tile that has beautiful designs or shapes on it. Another great way to add some shape into a small bathroom is to change the light fixture. This could be a simple globe fixture, switching to Edison bulbs, or even adding in vanity lighting!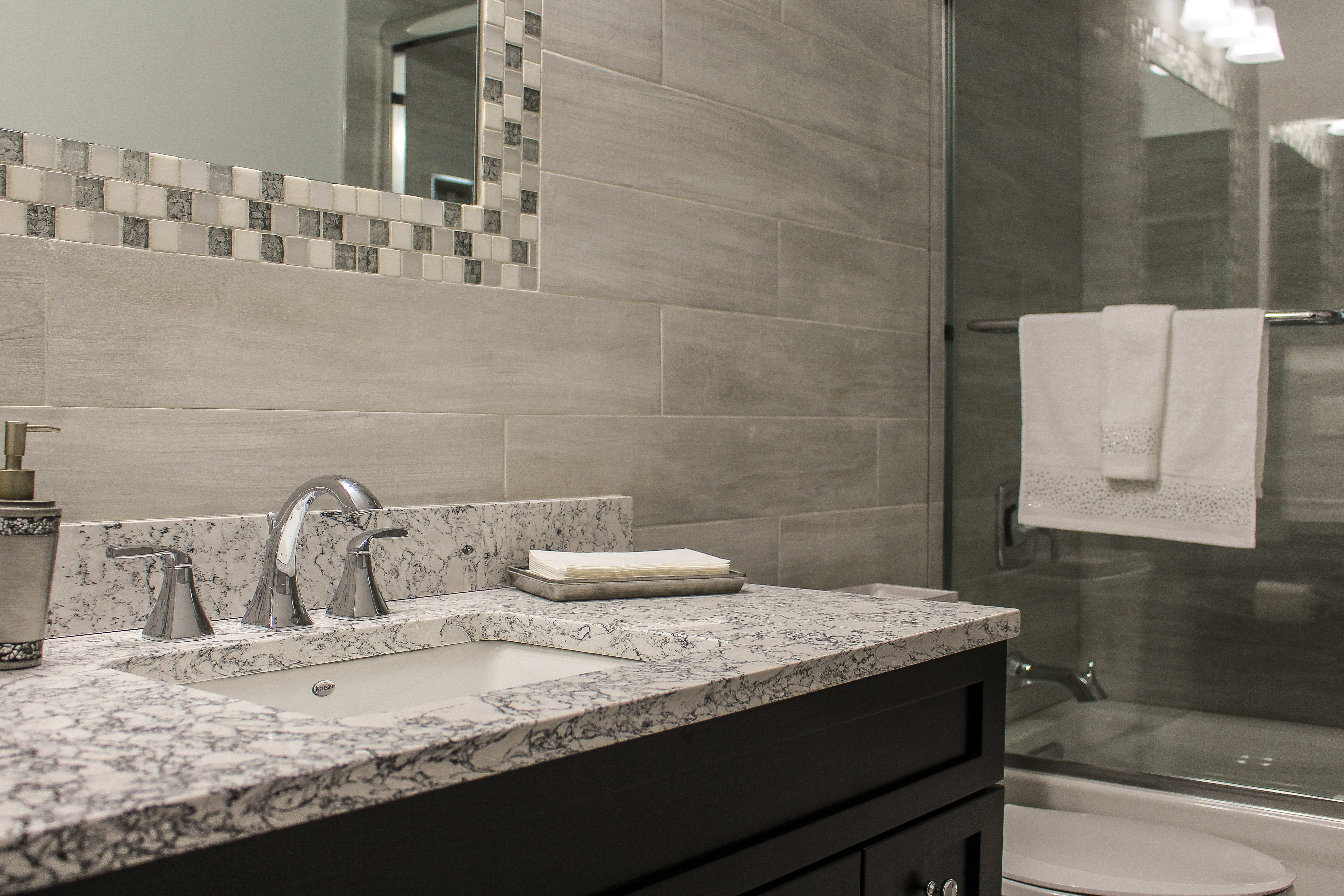 Bottom Line
Having a small bathroom doesn't mean you have to have a boring bathroom. There are plenty of surprising and fun ways to make the space your own. Whether you spend every morning getting ready in there or you enjoy relaxing in a bubble bath, make your bathroom a place you enjoy spending time.
I hope you incorporate a few of these secrets and have a good time in the process! Whether you add a pop of color or put toiletries in functional containers, your bathroom will look much better than when you started!
About The Author: Darren Robertson is a top-producing licensed REALTOR in Northern Virginia. When he's not helping his clients buy and sell homes, he enjoys going on adventures with his beautiful wife and two little ones, strategy games, movies, red wine, and traveling.