Research a New Construction Project
What you need to consider when planning an alteration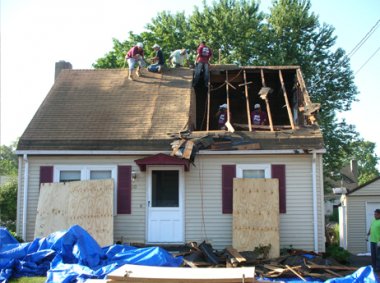 BEFORE
PLACING MODULE
AFTER
One of Alure Home Improvements qualified, experienced new home or addition designers will come to your home and discuss the options that are available to you, based on your family needs, age and construction of the home, size of the property, building requirements within your municipality and a few other important factors.
After an inspection of the homes mechanical systems and basic structure of the home, through discussion and a presentation of possible ideas a concept for the project will be established. Once that concept is agreed upon, an architect comes to the home with the designer to discuss the project details, lend his opinions and to verify all field measurements and to document the structure of the house and the planned changes. We are then able to bring the architects elevations of the proposed changes to our 8000 square foot showroom and create a digital image of your new home on a large screen to show you how the renovation will look. This is an excellent communication tool that allows you make decisions on the final product. It allows us to create the "picture perfect" version of the renovation of your new home and communicate those details to all who will be involved in making the concept become a reality.
At this point, the architect's plans are reviewed and refined to show the changes that our discussions have brought up.
Lastly, a final set of plans are drawn up that reflect the final project. After that is reviewed, those plans are used to apply for permits at the local municipality.
Get started today with a free, no obligation design consultation or call 877-44-ALURE (877-442-5873).
FAQ NEW CONSTRUCTION
Q: What's the difference between On-Site Construction & Modular Construction?
A: On-Site construction is traditional construction done right on the premises. Modular or Off-Site construction is done in a very similar fashion but the construction takes place in a factory setting, usually in Pennsylvania in a controlled environment, where the work conditions are optimum, labor rates are lower, and materials can be purchased in bulk. Lumber is stored indoors and weather is not a factor. Generally, the quality of off-site construction far surpasses that of on-site. On-Site does have one huge advantage. Some areas of the home are highly detailed and personal such as kitchens, bathrooms, sometimes flooring and decorating. On-site construction offers more customization in those areas and many more product options.
Q: What is Alure System Build?
A: Alure System Build is a systemized process that combines the advantages of Off-Site modular construction with the flexibility of on-site work for the best results. You work with an Alure trained professional to design you extension or new home and determine what portion of the work should be done off site and on. Almost every modular project will include site work, but not all site construction will included modular as some projects will not derive much benefit from off-site modular construction.
Q: How much does it cost to build new?
A: Every project is different, but there are some guidelines you can go by. Though projects are not priced by square footage, often customers and contractors will use a square foot price for a quick reference number. The larger the project the lower the square foot price due to simple economies of scale. The project details will have the biggest effect on the cost per square foot. Kitchens and baths tend to be the most expensive part of the home, so the more space you assign to them the higher the overall cost. Also, first floor work requires a foundation and sometimes a roof where second floor only a roof. A basic extension or new home usually starts around $100-125 per square foot though it rarely ends up at that price range. Most new construction projects end up costing between $150-225 per SF. High end projects can very often cost over $300 per SF.
Q: How would I know the limitations on how big an extension or a new home I can build?
A: There are many limitations by the building department on how far you can build from the property lines. Just because the house is a certain distance from the property line now does not mean that you can build that close again. As set back requirements change, "pre-existing, non-conforming" conditions are exempt, but any new structure must meet current requirements. Variance hearings are granted to determine if you can build outside of the building department requirements. Other limitations include height restrictions, lot coverage limits, septic system requirements where applicable, and much more. When working with an Alure Construction Consultant, he or she will conduct a feasibility study on the property to determine what can be built and whether or not a variance hearing is likely required. Building department requirements vary tremendously between localities and change often. Alure makes every effort to keep up with the requirements and adhere to them, but can not be responsible for approval or smooth flow through the permit process.
Q: At what point does it make sense to knock down the house and re-build instead of remodeling and adding on?
A: This question has to be dealt with on an individual basis. When most of the house is being remodeled and space is being added, it will probably cost the same or less to re-build. There are advantages and disadvantages to both. Advantages of building new often include more design flexibility, lower cost, less down time, better quality construction, Energy Star rebates, and lower energy costs. Disadvantages often include higher cost, different property tax rate, and longer approval process. You should discuss your specific options, advantages and disadvantages with a qualified construction consultant prior to deciding.
Q: Do I need to hire an Architect first or should I look for a contractor?
A: At Alure, we believe that the contractor and the architect should work together. We handle most of the design and specifications in-house and work with a registered licensed Architect to ensure structural compliance as well as utilize their design skills as a resource. This helps control design cost. Very often an Architect is hired to design a project that is never built because no contractor can build it for the budget. Architects make their living designing and selling their plans, and though most of them are very good at it, they take no responsibility to ensure that they project can be built for a pre-determined budget.
Q: How do I select all of the products?
A: Alure has an 8,000 square foot design center, one of the largest residential kitchen & bath designer team in the country, exterior designers, and software programs to make the selection process a pleasurable experience. You will be able to see a picture of your home in its proper setting and select the product and colors of the exterior right on a 50″ plasma screen using an exclusive photo layering program. We utilize Chief Architect to design the space, furnish it, and show it not only in floor plan form, but virtual reality views that make it very easy for any home owner to visualize the interior design. And we use specialized kitchen and bath design software to generate detailed 3D drawings that allow you the homeowner to not only see how it will look, but decide where to put your pots, pans, and spices. This is one area where Alure always shines. We help make the process much easier and put you in control.
Q: Is modular construction anything like Pre-Fab homes or trailer homes?
A: No! Pre-Fab and Trailer homes are perceived to be low quality homes because they typically are. Modular construction uses the same techniques as traditional on-site construction but is built to a higher standard and under a controlled environment. Also, since most modular construction for our area is built in Pennsylvania, and is shipped anywhere in the North Eastern USA, every home or extension meets the strictest building code of any of the states they serve.
Q: What should I look for in a contractor?
A: The most important attributes of a good, reputable contractor are:
Been in business for a while under the same company name
Has a good rating with BBB and Consumer Affairs
Has a physical place of business
Has the resources to handle the project even if things go wrong
Courteous service that doesn't make you feel like you have to fight for attention
Warranty on the work they do and the material they install
Is able to help you through the whole process including, layout/design, product selection, project management and permit procurement where required
Carries a substantial amount of liability insurance and worker's compensation insurance for every person that will be working in your home