A Jewel of the Isle: A New Future for New York Home Improvement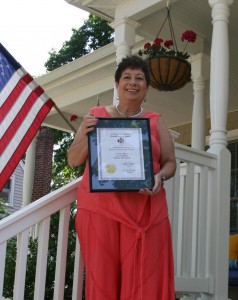 Who knew that when Patricia McDonnell made the decision to make some home improvements to her Long Island home that she would receive an award from the Huntington Beautification Council.  The whole project started when she selected a new option in home building, Modular Construction.
In short; the modular home or sometimes referred to as a System Build product, it is a method of marrying the high quality and convenience of off-site construction with the design flexibility and vast product selections of traditional on-site work.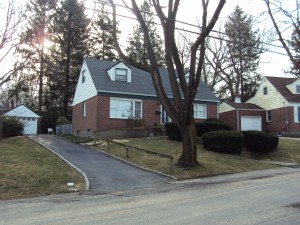 It sounds more complicated than it is, but there are several features that are worth a bit more investigation if you are considering remodeling a home.  After doing her homework, Patricia  decided that modular construction was more convenient for her and decided to choose Alure as her home improvement professionals that would bring her dream to reality.
Inheriting the house from her Mother, Patricia went about the design process with an eye towards it becoming her permanent residence.  After considering completely gutting and remodeling the home, including extensions and dormers, it turned out to be more cost effectice to just build a new home from scratch, rather than renovating.  This allowed her to design what she wants, instead of designing around what already existed.
However, typical home building can take up to 9 months or more to complete from the time the demolition starts to final inspection.  By choosing to use custom modular construction the time on site is cut down dramatically since the bulk of the construction is done off site in a climate controlled factory.
Planning a new house from the beginning that would rest on the existing foundation made things simple.  The existing footprint of the home remained intact with the only exception being the front porch which extends across the entire facade.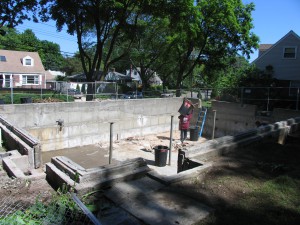 Reducing the old house to just the basement walls was the first step but was one of the few moments during the transition where the neighbors endured any of what would seem traditional for this type of home remodeling.
Modular or System Build construction allows the use of stronger materials for the around the same as cost as traditional construction, depending on the project.  The stronger building is accomplished with 2 x 6 dimensional lumber, instead of 2 x 4 studs for the walls.  The floors are built with 2 x 10's and all of the sheathing is nailed and glued to the framing members creating an incredibly strong framing system.  This type of construction helps ensure the separate components that will arrive on a flatbed truck not only make the trip down the highway but will withstand the weight load of being lifted by a crane into place and wind loads in excess of 110 miles per hour.  Each of the six modules used to complete Patricia's new home renovation was constructed in an off-site modular factory.
The factory is an ideal setting for construction for many reasons.  The buying power of the factory creates savings in raw materials that are passed along to the customer.  The factory eliminates waste issues, pilferage of materials, exposure to the elements and a host of other benefits.  Jigs and both custom and standardized plans are used by the same crews on a daily basis making for assurances that everything is built plumb, level and square.  All work is performed by professional framers, electricians, plumbers and so on.  At each step of the building process, a national building inspector is at the factory signing off on each step of construction.  This is typically done on site with traditional construction, leading to the stop and start delays while waiting for individual inspections.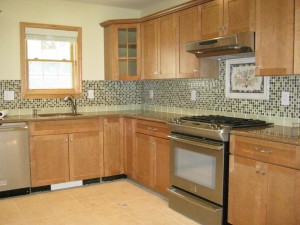 Additional savings can be enjoyed if the homeowner decide to choose products for the kitchen and bathrooms that the factory supplies.  Again, just like shopping at a wholesale club, volume purchasing is passed on to the consumer.  If you would like more custom remodeling services, Alure has an 8,000 sq ft showroom where we can customize the project to your liking.  With the modular method those amenities are already installed and are ready to use.
Patricia was able to see her completed project on both a CAD program and on Alure's custom built design imaging program.  Our CAD program can give you a 3d view of your home and a virtual walk through as well.  Our design imaging program enables you to see what your home will look like when it's finished.  All of your roof, siding , window and trim color selections are shown in a photo realistic picture on our 60 screen giving you peace of mind that you are happy not only with the colors and styles, but with the way the construction will look as well.
Once completed, either from the inside or outside, there is virtually no way to tell that any home was built using modular construction.  However the value is certainly something to consider.  Superior insulation saves you on energy costs, stronger framing system- no nail pops, faster and cleaner installation, a 10 year structural warranty and a 5 year labor & material warranty.
When you compare what was the before picture of Patricia's Mother's house and what is now her new home renovation, it is clear why the Huntington Town Board and their Beautification Council selected her house for their 2011 Residential Beautification Award.