Spare Your Wallet: 10 Kitchen Additions You Should Avoid

Now, there are many ways to distribute your budget when you are doing a kitchen remodel.   It seems we need to stretch our dollar more and more these days, but there are definitely some things that are not worth the money.  Here is a list of 10 things you should decide to forego in that new kitchen!
1. The Pot Filler –  Yes, it's really cool, and yes, your friends will ooh and aah, but seriously, if your cook top is only 2 feet away from the sink, who are you kidding!   Don't get me wrong, there are many kitchens that warrant the look and convenience of a pot filler, but for around $800 for the filler itself, and the additional plumbing labor – it may not be worth it in a typical kitchen.  Besides, you have to dump the pot of water out in the sink anyway!
2.  Convenience "Contraptions" – I'm all for pullouts and most lazy susans, but when you have a pantry that comes with a set of instructions for use, it probably isn't necessary.  You know the type; the door opens, then a row of shelves rotates out, then there's another row behind that and the whole thing pulls out.  In theory it sounds wonderful, but by the time you figure out where the can of tuna is, you probably could have ordered a pizza!  These units take up a lot of space within the cabinet itself and can be a heavy budget hit – upwards of $3,000 or more!  If you are considering one, make sure you see it in action before you decide.
3.  "Convection" Microwave – I love, love, love my convection oven.  It does everything it promises to do – shorter cooking times, succulent roasts, delicate baked goods cooked to perfection. I could go on and on.  Then, there's my convection microwave.  Initially, I bought it thinking it would be a "second" oven.  Not so much.   I'm sure you can brown something in the microwave using it, but believe me; you are not going to be making an apple pie on Thanksgiving!  It usually adds a couple of hundred dollars to the cost of a built in microwave.  You might as well put that money toward a Pot Filler.
4.  Bread Drawer – It is a drawer with a metal lid, remember? You remember.  Most cabinet manufacturers don't even offer this option anymore. It's not a big expense, only around $60, but unless you feed a lot of birds or live in 1950, you most likely won't need it.
5.  Plywood Boxes – When considering cabinetry you may hear about plywood vs. particle board boxes (not the doors or drawers).  Particle board has such a bad reputation in the industry, but you have to understand there are many different grades of particle board.    There are plenty of manufacturers out there that make a quality furniture core (particle board) product.  That's the key word – QUALITY.  Just because a cabinet is "all wood" (plywood) doesn't mean its better.  There are plenty of crappy plywood-constructed cabinets out there.  They may only be 1/2 inch thick or have skimpy drawers that are stapled and glued.  A good quality particle board cabinet will have a 5/8″ back and solid maple drawers with dovetail construction and under mounted glides. I'm not saying that a well-made particle board cabinet beat a well-made plywood cabinet, but chances are you aren't going to need to pay extra for the upgrade if the budget is tight.   The upgrade translates to about 8% of the cost. (a little too long)
6.  Pop-up Mixer – This is a very good idea when you think about it.  You keep your bulky Kitchenaid Mixmaster in a cabinet on one of these and with the touch of a button it pops up so you can bake until your heart's content without taking up precious counter space.  It may be worth it if you; a) bake more than twice a year, b) have the precious cabinet space to give up, or c) have the extra $800-$900 to drop for the convenience of it.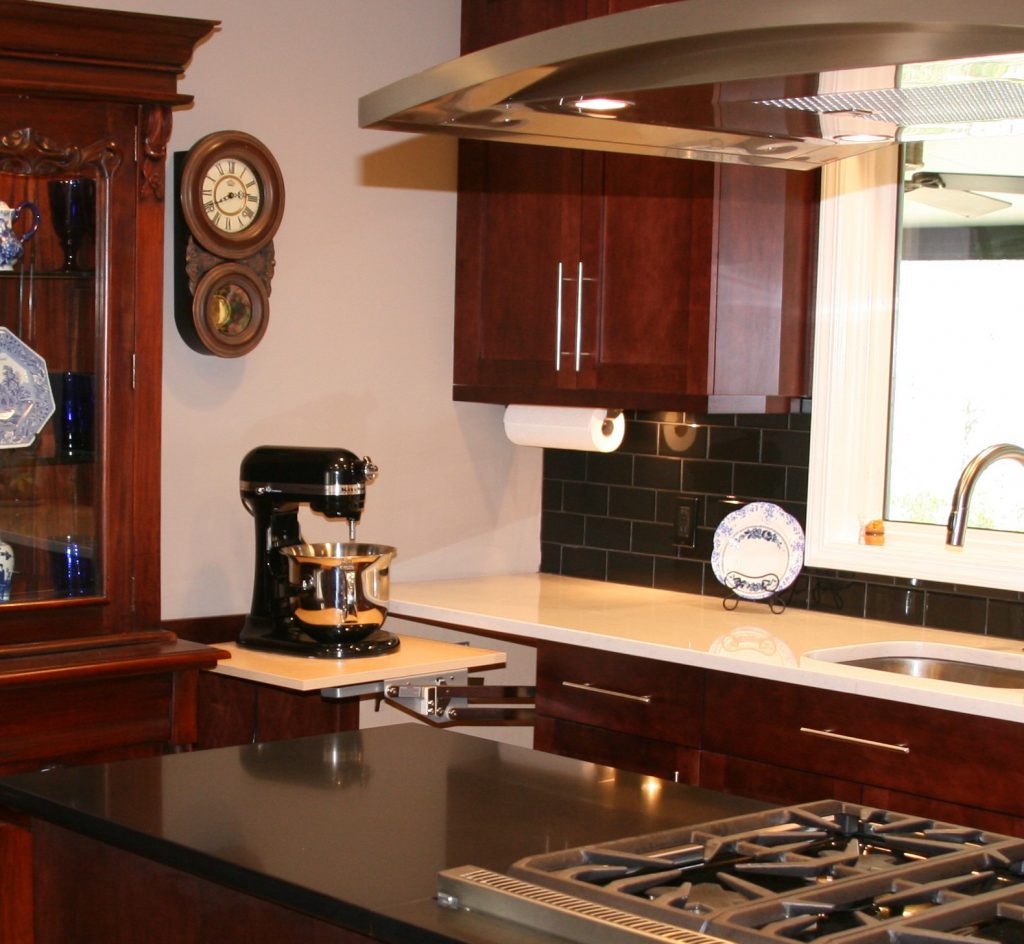 7.  Toe Kick Lighting – Sure this looks great at first.  But if you live in your kitchen, I mean really "live" in your kitchen, look down at your toe kick right now.  Do you want to add some light to those English muffin crumbs and that rogue dog food nugget?  Toe kick lighting looks fabulous in a showroom, but may not be worth the $800-$2,000 in a well-used kitchen, unless you keep your vacuum in your swing out pantry!
8.  Tambour Appliance Garages – These are the corner cabinets that have a "roll top" door where you can hide your appliances and clutter.  Love the idea, don't love the look.  Tambour is a bit dated and can break easily.  Consider instead, appliance cabinets with pop up doors or even deep drawers that give easy access to some small appliances.  The appliance garage is a specialty cabinet that can add hundreds of dollars to your cabinet order.  Use some of that dough to buy a new cool-looking coffee pot and toaster and leave them out on the counter.  You'll have more counter space to boot!
9.   2nd Prep Sink – Again, I am all for having a main sink and a prep sink in the kitchen; especially if there are multiple cooks and if the size of the kitchen calls for it.  If the kitchen is really small or counter space is lacking to begin with, it will work against you to have a 2nd sink.  In smaller kitchens with multiple cooks it is more beneficial to plan for a larger sink with ample counter on both sides for each user.   A beverage sink is also a nice idea instead of just a vegetable sink.  This would function as filtered water on tap with instant hot and cold water.  You could also rinse a vegetable in it if you had to.  Sink, faucet, additional plumbing, filtration is around $1,500-$2,500.
10.  Halogen Cooking Element – This is an element on your stove that heats up very quickly to boil water more rapidly.  There is newer technology out there that is more efficient, i.e., Induction cooking elements.  The induction cooks with magnetics and can boil water in 90 seconds, without burning cloth or paper if it is on the element!  Pretty cool stuff.  However, you need special pots and pans for it which conducts the magnetic current.  Technology today has us doing things more quickly than ever before.  If this keeps up, pretty soon, we will go back in time when making popcorn! Price of induction cooking elements varies depending on the model of appliance.  You can get one element or the whole cook top can be induction.
I'd love to hear what you wouldn't spend the money on again if you had it to do over – or what you absolutely wouldn't live without!!  Until next time, happy remodeling!