Kosher Kitchen Tips

One of our custom kitchen and bathroom designers, Sherry Gossett was featured in a few Newsday and Jewish Post articles for her clever tips on Kosher Kitchens.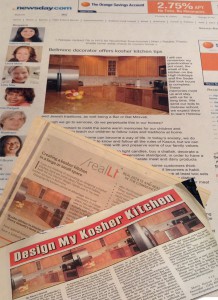 If you are thinking of renovating or designing a kosher kitchen, here are some ideas that she has found helpful:
– Enlarging the kitchen can be an advantage, but it is not necessary. In a large space, you can designate an island or actually split the kitchen in half. In a smaller space, soffits can be eliminated so that the cabinets can be installed up to the ceiling and additional drawers can be added under the sink.
–When planning your kosher kitchen, new appliances have special features that can be beneficial. Some ovens have a Sabbath setting for warming food. This will not alter the change in temperature or the light when the door is open. Other helpful appliances include a double drawer dishwasher and French door refrigerators.
Click here to read more about Sherry's kosher kitchen tips or watch the video below!