Keep your kitchen spotless with these common household materials

Whether you've recently had a kitchen remodel or you've been enjoying your kitchen renovation for years, it's always important to keep it clean. As a place where you both eat and cook, though, it can be difficult. Luckily there are a variety of cleaning tricks that you can use to keep your space sanitary and tidy with common household substances. Try them out and see which ones work best for you and your home.
1. Distilled vinegar
Normal white vinegar has a lot of uses others than making volcanoes with the kids. As Stella from Stella's Cleaning Company explained, you can use a mixture of water and vinegar to clean your kitchen's windows as well as cutting boards. It's effective at disinfecting and removing grime. White vinegar is also great to clean and mop all ceramic and porcelain tile floors. Use 2 cups vinegar to one gallon of warm water for best results.
If you find yourself with a mold problem under the sink, vinegar may be the best tool for that job too. You can also use it in appliances like dishwashers and washing machines while they're empty to clean their components. Vinegar can also be used to disinfect that garbage disposal you got installed during your kitchen remodeling.
2. Paper towels
Although paper towels obviously have a lot of cleaning applications for the kitchen, including wiping down the counters and windows, they're more versatile than many may think. Stella advised homeowners to use wet paper towels as the simplest way to clean a dirty, food-caked microwave. Just put a pile of wet paper towels in the microwave and run it on high for a few minutes. The paper towels will effectively create a steambath for the mess, making it easy to wipe down with additional dry paper towels.
Microfiber towels are also great to clean stainless steel appliances as well as polishing them. Stella also suggested using a damp microfiber towel with a little bit of Dawn dishwashing soap to wipe down cabinets. Wipe the cabinets down with the damp towel and then follow that up with a dry microfiber towel to dry and shine them.
3. Baby Oil
Another way to shine up your stainless steel appliances or your stainless steel sink is baby oil. Make sure to go with the grains, whether vertical or horizontal, and only use when the surfaces and appliances are dry.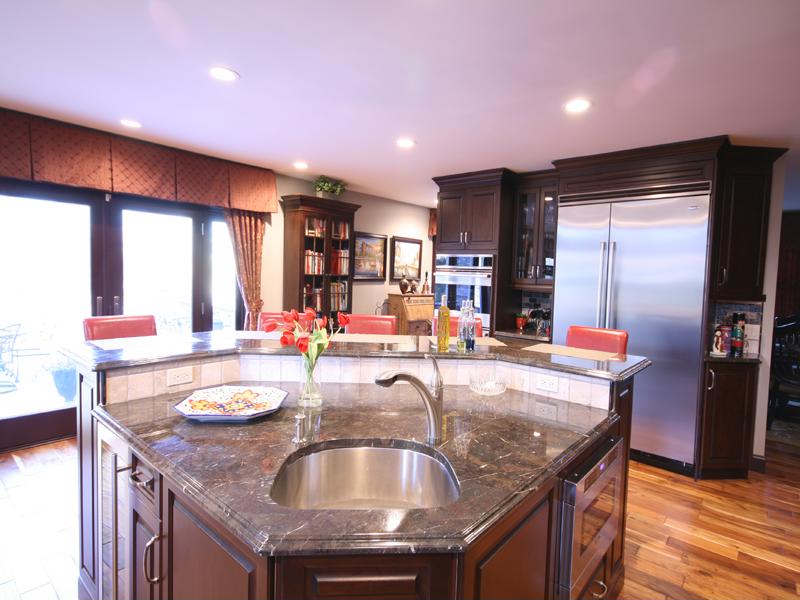 4. Lemons
It may not be a coincidence that lemon is such a common scent for cleaning products, because the acidic fruit has a variety of helpful applications. Stella explained that lemons can be used to clean your dishes. Just cut up the lemon and rub it on.
Lemon, when mixed with salt and ice, can be used to disinfect and clean your garbage disposal. Just cut them up and grind it all up. This solution, like lemons on their own, has several cleaning uses, including getting stains out of coffee pots. Lemon is also very effective at removing odors.
5. Toothpaste
You may have to go all the way to the bathroom to get this weapon against grime, but toothpaste can do more than just clean your teeth. Toothpaste was pointed out as the miracle cure for those especially tough countertop stains that you just can't get rid of. You can scrub on the minty paste and just wipe it off with a damp cloth. It should get rid of most marks. Toothbrushes can also prove useful when you're trying to scrub pots or clean hard-to-reach places.
6. Rubbing Alcohol
Rubbing alcohol mixed with white vinegar and water is great for glass, mirrors and windows. This can also be used in between cleanings for shining kitchen and bathroom countertops, including granite, quartz and silestone. Stella suggests using 1/3 of each (rubbing alcohol, white vinegar and water) in a spray bottle.
7. Dawn Antibacterial Dishwashing Soap
Dawn soap is great for not only cleaning countertops, but it is also great for your tiles in your shower or bath tub area, toilets, sinks or inside shower glass doors. Make sure to rinse after scrubbing and completely dry them for extra shine. Stella suggests using a couple of squirts of dawn soap diluted with a couple of cups of water in a small plastic container. A scotch-brite scratch free blue sponge is the perfect tool to scrub with.
If you're in the middle of a kitchen remodeling process or you've recently had a renovation, talk to your home design company or a specialty cleaning service like Stella's Cleaning Company about how to best clean certain major surfaces like custom countertops and modern kitchen cabinets.