How to Design an Eco-Friendly Kitchen for Your Home

One of the most popular trends in kitchen remodeling is designing kitchens that are intended to be eco-friendly.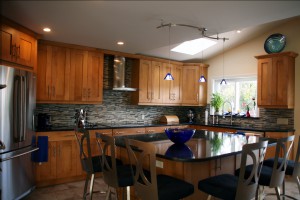 This has far reaching implications because a so-called "green" kitchen can limit household waste, help conserve natural resources, reduce the burden on landfills, and is a responsible investment into the home. So, what exactly goes into designing an environmentally friendly kitchen? In many ways, the environmentally responsible kitchen is the sum of its parts. There is no one upgrade or design choice that you can make that will turn your kitchen green overnight. As a professional remodeler will explain, there are all sorts of features, materials, fixtures, and other design choices that you can make that will deliver the results you require. For instance, here are some examples of eco-friendly options to consider:
Flooring, Many tile products are made entirely from recycled materials, including ceramic, fireclay, glass, rubber, and more.
Countertops, When it comes to countertops, you want to select an option that is extremely durable and easy to clean. Stainless steel, for instance, requires very little upkeep, is great for food preparation, and will last for years and years to come.
Appliances, One of the exciting things about kitchen technology is the leaps and bounds that have been made in designing environmentally conscious appliances in recent years. These days, you can buy a variety of fridges, stoves, and ovens that are designed to conserve energy, reduce the consumption of water and gas, and operate more efficiently than ever before.
Improve the lighting, Investing in high performance replacement windows can help reduce costly heat transfer, improve the overall lighting and ventilation of the kitchen, and make your kitchen appear more warm and inviting.
As suggested by Gina Bonura, Kitchen and Bathroom Manager for Alure, "Silestone makes a wonderful sustainable product called Eco. It comes in many beautiful colors and uses 75% recycled materials with the other 25% made from natural products such as corn oil." Designing an eco-friendly kitchen for your home isn't just a sensible option, it's a responsible one. To learn more about how to get the most out of your kitchen, and the rest of the home, for that matter, contact Alure Home Improvements today. As a full-service home improvement company, we are standing by to fully meet all of your remodeling needs.