4 Crucial Questions to Consider When Designing a Kitchen Or Bathroom For Comfort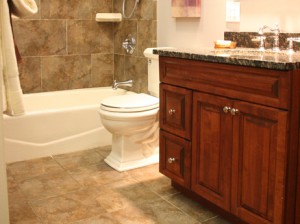 More "counter space" and "storage". As a kitchen and bath designer, I hear these two requests from clients more than any other.
While function and look are close runners up, people never seem to verbalize that they also want comfort.  I know you want it, people! I have been in beautiful, spacious kitchens that just aren't user friendly.  That's sad.
Here are some of the questions I ask my customers when taking their needs into consideration. If your designer doesn't ask you any of these, make sure you bring it up!
How Tall Are You?
This question is sometimes met with a perplexed stare – "Huh?  Why would you ask that?"  This question is so important because if someone is taller you can really utilize the vertical space.  He or she would want more of their everyday storage accessible from upper cabinets rather than lowers.
It's just the reverse for people of shorter stature.  They need lower accessibility.  Shelves in higher cabinets may be difficult or even dangerous for them.   It is a good idea to work in a spot for a step ladder if possible.   People less than 5'3″ may have trouble using microwaves above ranges.  Even if they could reach easily, they will most likely not be able to see what's going on in the dish when they look in the window.
In a bathroom, knowing the heights of the users is very crucial – in particular the shower head placement.  If there are multiple heights to consider, you may want to ask for the shower head to be mounted higher than usual, adding a hand shower on an adjustable bar so everybody is comfortable.  Also with the shower, you may want extra tall shower doors. For one, you don't want to hit your head every time you get in and out and two, if the shower head is set higher to accommodate, you will need to prevent splash-over.   Easy fix on a tub, just put shower doors instead of tub doors, but on a shower, you may need to order custom sized doors.
You can also get vanities in counter-height vs. vanity height.  These are pretty standard in the industry these days, not customization required.  Comfort-height (used to be referred to as handicapped) toilets.  Not only for handicapped access but very nice for taller people.  You should "try it out", however, if you are shorter it may be uncomfortable because your legs may dangle.
Are You Right or Left Handed?
Obviously, if you are doing a direct replacement and really have nowhere to go with the floor plan, it won't matter.  If you do have the opportunity to change things around or create something from scratch, why not take advantage of this!
Lefties tend to work to the right and righties tend to work to the left!  So, for instance, if you were right handed, you would want stove, sink then refrigerator (if you were looking at the appliances) starting from the left, left handed people would prefer refrigerator, sink and then stove.   Notice if possible the sink is in the middle because you get the food from fridge, you wash or prep the food near the sink, and then you cook the food.  The same guidelines apply to the dishwasher.
Do You Have Any Physical (But Not Handicapping) Limitations?
Bad back?  Install lots of pullouts!
Knee problems?  Consider flooring options, tile may be too rigid for people with spinal concerns and knee problems.  Wood flooring or vinyl is more forgiving.  If this is not an option there are some great professional gel mats you can get at places like Bed, Bath and Beyond to help absorb impact.
Arthritis?   Large, easy to grip hardware on the cabinets, lever faucets whether in the kitchen or bath.  Sometimes, even slow-close drawers are difficult for people with arthritis.
The microwave over the range, again, may be a concern for people that have trouble lifting their arms if they have a bad back or neck. Islands with counter or bar height stools may not be comfortable for some, including older people, and small children.
How Many People Will Be Using the Space?
You need to know this for planning comfortable seating at island or table.  Larger families may want bench style seating in a nook area.  In bathrooms, you must account for everyone's hair and other product in the shower.  Is one corner shelf going to cut it, or do you need two or three built-in niches?  Two sinks may be preferred in the bathroom as well.
If there is more than one cook, you may want to plan for separate work stations or even a secondary prep sink.  And definitely consider the space for two people to navigate work areas.
Hopefully, with a little thought and planning, you can feel right at home in your new kitchen or bath!  Let me know some of the things that you wish were considered in your kitchen or bathroom.  I'd love to hear about it.
G