Staying Abreast of Bathroom Remodeling Trends that are Driving the Industry

Being informed about the latest design trends in the bathroom remodeling industry can be extremely helpful when you're looking to upgrade the look and feel of your bathroom. Of course, this information should be taken with a grain of salt, because, ultimately, you want to invest in a bathroom remodel that pleases you, regardless of what is trendy or popular. However, knowing what is popular is often a good starting point when you're designing your dream bathroom, and this knowledge can give you inspiration to help you create a gorgeous room that you'll be eager to show off to your friends and family.
Speaking of trends, Ron Benkin: Director of Sales for the Bathroom and Kitchen departments at Alure Home Improvements shared this one with us. "For years we avoided using Chinese made products due to inconsistency in quality and design, distrust in manufacturing materials and a general feeling of faithfulness to the American worker. In the current global economy, one trend that is growing quickly is the use of American built, globally sourced products. For example, kitchen cabinetry that is made of American hardwoods, which are shipped to Asia for finishing. It utilizes German hinge and hardware technology and unique Italian shelf fasteners. The materials are shipped back to the U.S. for assembly and sale, creating a high quality, high style, low cost line that is attractive to a broad market. Other such products include faucetry, shower doors, mirrors and RX cabinets."
According to a recent style report released by the National Kitchen & Bath Association® (NKBA), here are a few more examples of the popular design trends for 2013:
The use of grays in the bathroom: As recently as 2010, only 12 percent of bathroom remodels featured shades of gray, but in 2013, this number has ballooned to 56 percent. Whites and off-whites remain the most popular option, however, with 71 percent of all bathroom remodels featuring these color schemes.
Quartz: Granite remains the most popular and traditional material for countertops, but quartz is gaining ground. In the last year alone, the use of quartz in bathroom remodels has risen from 53 percent of bathrooms to 65 percent.
Transitional bathrooms: This type of bathroom style combines the look and feel of traditional bathroom design with contemporary features and accents. For instance, a transitional bathroom might have clean colors and timeless bathroom hardware, while also featuring frameless glass showers, or a modern sink.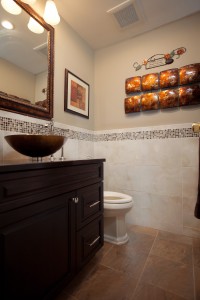 Additionally, another increasingly popular trend that we're seeing with bathrooms is that homeowners are more interested in sustainability and durability. Increasingly, people are planning on living in their homes longer and are interested in creating bathrooms that will be safe to use for the years to come, environmentally friendly, and easy to maintain.
To see bath designs from Alure Home Improvements, please visit the bathroom section of our website.