Smart Home Improvement Tips That Pay Off in Resale Value
Making improvements to your home is a smart way to protect your investment and increase the value for resale. Not all home improvement projects are created equal, though, so it's important to weigh the pros and cons before deciding which projects are worth your time and money. These are some general rules for which projects to go for and how to make sure you're improving the right way.
#1 Tackle Essential Repairs First
From small repairs like plumbing leaks to larger ones like replacing an old roof or HVAC system, these projects have to take top priority. Some of these essential repairs may seem minor, but they're things that buyers would notice and immediately think of the time and money they would have to sink into doing it themselves. Other projects, like replacing a roof, require a little more investment on your part, but the return you can expect is entirely worth the cost. Be cautious when hiring someone to install a new roof to avoid scammers. Consult a guide like Angie's List for the common roofing scams to watch out for or this homeowner's guide to see how to confidently hire a roofing contractor.
#2 Go With Projects That Consistently Pay Off
Everyone is looking for an updated kitchen and bathroom, so those are always good choices. These don't have to be complete overhauls, either. Even minor updates to kitchens and baths make a major statement that buyers will notice. Aside from these high demand rooms, there are a few other improvements that are always a good idea and consistently pay off.
Open space – An open floor plan that gives the feeling of having plenty of space is always in demand. Knocking down a non-structural wall can instantly give that open feel and make your living space seem bigger.
Fresh paint – Painting is an inexpensive and easy way to spruce up your entire home. Just be careful when choosing paint colors. Stick with neutrals rather than anything bold or bright so the color will appeal to most buyers.
Curb appeal – According to DIY Network, replacing siding and freshening up landscaping are two projects that give a great return on your investment. The exterior is a buyer's first glimpse of your home, and you want them to be wowed by their first impression.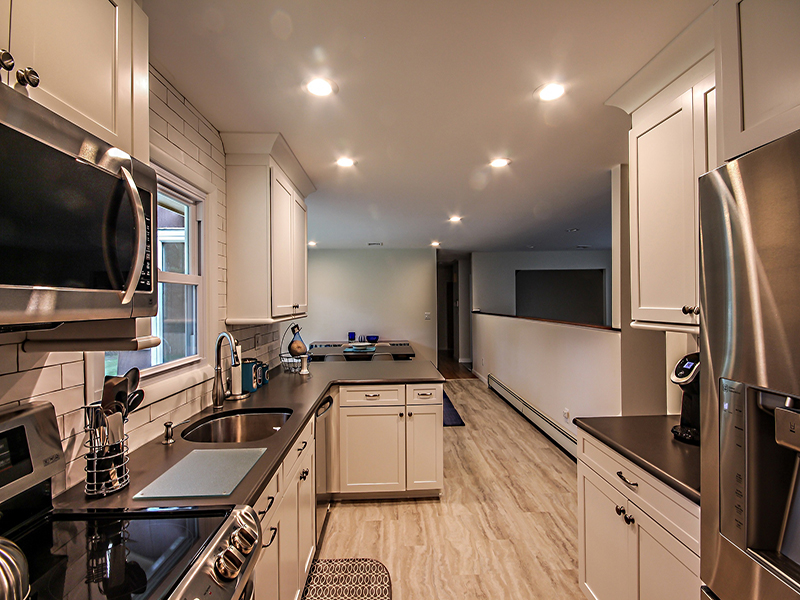 #3 Stay on Trend (But Don't Over-Personalize)
Staying on trend is really about choosing materials and style wisely. The whole point of updating a home is to make it feel current and reflect what people are looking for today. Zillow recommends a few trends that are in style and appeal to a wide variety of buyers. For example, subway tile, farmhouse sinks, and shaker cabinets are all options that give your home a high end feel without reflecting an overly specific style. The key here is to go with what's in demand rather than making design changes that are highly personal. One exception to this rule is to keep the style in line with your home. You wouldn't want to install a sleek, ultra-modern kitchen in a historic home, but that may be perfect in a contemporary house.
#4 Don't Overimprove
Deciding on a budget and the scale of a project is about more than what you are able to spend. If you're considering a deluxe remodel, do a little research to see if that's something that is in demand in your area. If not, it may not be worth your investment because potential buyers wouldn't be as willing to pay an asking price that reflects those high end upgrades. If you aren't sure which way to go you can consult cost vs. value data to get a good idea of which projects are most likely to pay off, and when to go upscale vs. sticking with midrange.
Making home repairs and updates is almost always a good idea, but choosing projects wisely is important. Start with essential repairs, and when it comes to updates, remember to keep the style current and weigh the cost compared to the value that will be added. Do this and you can be sure that you're making smart home improvements that get the best resale value.
About the Author: Written by Seth Murphy of Papadiy.com. Seth Murphy got into the world of DIY for fun after starting simply to save money. Now, he does it to share tips and advice to help others. Photo Credit: Pexels