Research a Sunroom Project

Things to consider when adding a sunroom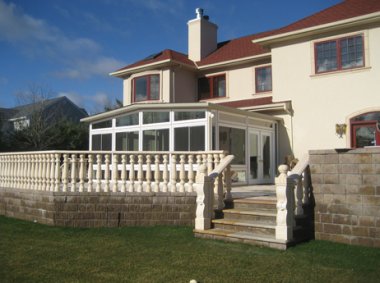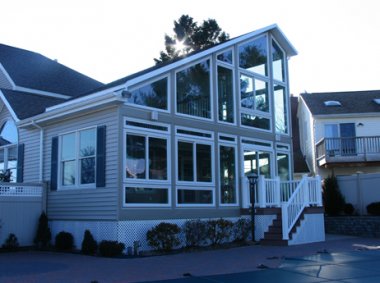 Durability- What are the pros and cons of vinyl vs. aluminum? The all vinyl Oasis® Sunroom By Joyce Manufacturing is the most durable product available. Vinyl is now the material of choice for many other building products, such as siding and windows, with the added benefit of no maintenance.
Project Management – Every sunroom project with Alure has a dedicated production supervisor for the duration of the entire project. Our dedicated and trained installation teams are familiar with all up to date products, installation techniques and town codes. As a client, you have the ability to reach out to us 7 days a week, including access to our 24 hour emergency hotline should you need it. We handle everything from design, permits, to installation, to service and everything in between. We'll show you other completed sunrooms we've done and help customize the space to best suit your family's wants and needs.
How would you plan to use the sunroom? Additional year round living space or just seasonal, each have different code requirements depending on your town. A gym, home office, playroom, living room, etc. We'll show you plenty of other sunroom ideas to help you visualize your options. We can even take you to see some other Sunroom projects we've completed in your area.
Skylight – Theres always the questions should I get a skylight and/or are they dangerous? Skylights are safe and available upon request. A designer can help you design your sunroom to see what works best for you.
Energy Efficiency – Unlike Aluminum, Vinyl does not conduct cold so even when it's chilly outside, you'll enjoy the comfort of your all Vinyl Sunroom inside. Vinyl sunrooms are much more energy efficient than aluminum and will save you money.
Customization – Can I customize to match my house? The Oasis® Sunroom is custom ordered to provide you extra living space that will match your home's dimensions, comes in a variety of colors, which will never require painting and can also match the roofing shingles to what is currently on your home.
Do I have the room to install a Sunroom in the location I want to put it? Look around at your neighbors to see if anyone has added a sunroom or extension on to their home and if so, there is a good chance your property can accommodate one. Our sunroom designers know all the rules and regulations for the towns and will be able to answer that questions when they come to inspect the property.
Do I need a permit to install a Sunroom? Yes, as in any construction, a building permit is required by each town. We will handle the permit process for you.
Why an Oasis® Sunroom by Joyce Manufacturing? Vinyl is the 21st century technology. Vinyl sunrooms outperforms all aluminum sunrooms. Should you ever decide to heat it, it will be less costly to do so.
Can I put electric in my new Sunroom? All electric will be run internally, within its construction for an aesthetically pleasing look.
Can I use my room year round? Yes, there are many ways to heat and/or cool your sunroom. You may even consider a fireplace, mini split or a heated fan.
Why a sunroom and not a conventional addition? Typically taxes are less than stick built construction; installation time is minimized in most cases to a week to install as compared to months with an addition. Sunrooms provide wall to wall glass for a panoramic view of your property.
What size of room are you considering? Try measuring a room where you spend time in now to get a good idea of size.
I have an existing deck can I build on that? This will depend on many structural issues. Usually we can re-support to accommodate any short falls.
Does the Glass matter? No matter where you live, LoE3 366 Cardinal Insulated Glass can provide a high performing insulated glass system that will help to save you money heating and cooling your home. Some window brands utilize single layer Low-E coating structures. Oasis® Windows insulated glass systems incorporate multiple layers of heat reflective metallic coatings into the panes of glass. It's one more advantage that Oasis® Windows has over other competitor products.
An Alure Sunroom Specialist can help you with all of the above questions and information and help you design your new room. Alure's designer will show you prior projects we've done and help customize the space to best suit your family's needs We handle everything from design, permits, to installation, to service and everything in between.
Get started today with a free, no obligation design consultation or call 877-44-ALURE (877-442-5873).
FAQ OASIS® SUNROOM
Q: What advantages does a Oasis® Sunroom have over aluminum sunrooms?
A: Its unique all vinyl frame stands up to higher wind speeds than traditional aluminum frames. It is all virtually maintenance free and will never need painting. You can really understand the difference when you can see and feel a sample. Call today for a product demonstration.
Q: How does a Oasis® Sunroom compare to a traditional "stick-built" addition?
A: Oasis® Sunrooms are professionally installed in less time and with less disruption than "stick-built" additions. They can also be more cost-effective than additions built with traditional materials and methods. Manufactured in a factory setting, it is then brought to your home for assembly.
Q: What is the benefit of having vinyl windows?
A: Vinyl window frames provide strong dimensionally stable windows that defy the elements and the ravages of time. The secret lies in a remarkable engineered material from Joyce Manufacturing, the company that has been in the business for over 50 years.
Q: What type of glass is used in the windows of a Oasis® Sunroom?
A: Oasis® Sunrooms feature high performance insulated Energy Star® rated glass that helps keep heat out when it's hot and warmth in when it's cold, for unparalleled efficiency and energy savings. There is a 12-layer coating with three layers of silver. It blocks 95% of damaging UV Rays and prevents fading.
Q: Can I customize my Oasis® Sunroom?
A: Yes. Customize it to match your home's dimensions and roofing shingles with a variety of color selections to match your siding. An Oasis® Sunroom allows for limitless design possibilities to express your own style.
Q: What is the warranty on Oasis® Sunrooms?
A: Every Joyce Manufacturing Oasis® Sunroom is backed by a Lifetime Limited Warranty.* Lifetime protection on the vinyl components and lifetime protection on glass breakage. It's even transferable to the next owner!
Q: How much does it cost?
A: Each Oasis® Sunroom is unique, but compared to other remodeling projects, adding a sunroom can be very cost effective and offers you a great return on your investment.