Home Improvements That Can Increase Curb Value

Home Improvements That Can Increase Curb Value
Your home's visual attractiveness makes a great first impression to not only you and your neighbors, but also potential home buyers, and can increase the curb appeal of your home. Some quick exterior upgrades can invigorate your home's facade and add value to your home.
Upgrade your garage door
When it comes to improving curb appeal, the garage tends to get overlooked. Your garage door makes up 40% of your home's exterior, and can prove to be a visual asset depending on its condition. It can make a significant impact and redefine the look of your home. If it is not in good shape, make sure to refinish or replace the garage door. A new garage door can add a sense of style to your home, so choose a style that compliments the other aspects of your exterior. Also, go for an automatic garage door opener which will not only be energy efficient, but is also more secure.
Landscaping
If you want your home to make a lasting first impression, landscaping is one of the easiest and most affordable ways. Choose plants and pots that coordinate well with the style and exterior of your home. Whether you want bright flowers or dense shrubs, tailor them into a neat and orderly fashion. Do some research before planting to make sure you are spacing them out correctly depending on how much they will grow.
Focus on the front door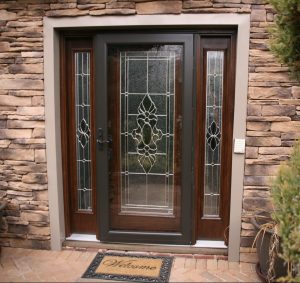 Believe it or not, a front door says a lot about you and your home. An eye-catching front door can be just the thing to give a plain exterior a big dose of personality. Front doors are not one size fits all. Nowadays, you can get a front door made of wood, metal, modern steel or fiberglass. They can range from very basic to completely custom and it all really depends on what you want. There are options where you can add decorative glass, built in blinds, sidelites, mail slots or kickplates.
Many homeowners use their front door for a pop of color on a sophisticated neutral house. If you don't want to invest in an entire new door, try replacing outdated and worn hardware. A new doorknob or a shiny knocker can make a huge difference. Also, decorating the space around your door with shrubberies, colorful wreaths or displaying fresh potted plants can help create a welcoming entrance.
Stone accents
If your siding is in good shape, adding stone accents to your home can freshen up what might be a tired-looking facade. This is an easy way to add some color and texture to your home, without having to redo the entire house. There are many options such as a stacked stone veneer, cultured stone or a vinyl stone composite.
Add a hot-red accent
Bold colors such as red or yellow have such vibrancy; making a little accent go a very long way. Putting up a bright colored bench or mailbox can add just the right amount of zing to your home.
Add lighting
Lighting up your landscape is a great way to give your home that extra glow. Incorporate step lights, hang string lights, add path lights or mount wall lights to make the home dazzle. Look into different lighting options, as there are more options than before. If you are looking to save some money on your energy bills, you can look into LED or solar lighting.
A fresh and welcoming exterior is a wonderful thing to come home to each day. There are several ways to increase your home's value and even make a decent return on investment. Some projects can be done yourself, and some may need an extra hand, but whatever you go for, make sure to have fun with it!
Author bio: Keira is Digital Marketer at https://elitetechgarage.com. She has a good sense of content marketing and loves to write. She has been writing quite a few articles lately, covering varied topics. She is an avid learner who is passionate, curious, and creative. An explorer at heart, she loves to try on whatever tickles her fancy.