Design Inspiration at Your Fingertips

Design Inspiration at Your Fingertips
When you are thinking about replacing your roof, it's important not to overlook the impact it can have as a major design element. With a typical home's roof representing up to 40 percent of its exterior, selecting the right roofing shingle color can make a big difference on the overall exterior aesthetic.
Increasingly homeowners are using color in unique ways to enhance the curb appeal of their home – including their roof. If you look around your own neighborhood, you'll probably see the move away from cookie-cutter houses sharing the same muted roofing colors and towards more high-impact color palettes and differentiated shapes that deliver exceptional beauty, style and performance.
Online Design and Inspire Tools
Choosing a shingle color should be fun and easy! That's why Owens Corning has developed complimentary online tools and resources to help you visualize how bold, distinctive shingle colors can add beauty to your home and create a style statement that reflects your personality.
"People have always incorporated the latest fashion colors into their clothing, furnishings and interiors. They surround themselves with the colors that they love. Owens Corning has multiple ways to make it easy and fun for style-conscious homeowners to apply the power of color at the highest point of their home's exterior," said Sue Burkett, marketing leader at Owens Corning.
Here's how to get started finding your design inspiration today:
Roofing Color Compass® Color Personality Quiz
You want your home to reflect your personality but maybe you don't know what that looks like translated in a shingle color. Since the outside of your home is the first impression people get, you'll want to be sure you check out all your options. The 10 simple questions of our Roofing Color Compass® Quiz lead you to a color personality answer.
For inspiration getting started and letting your color personality shine through, take this QUIZ.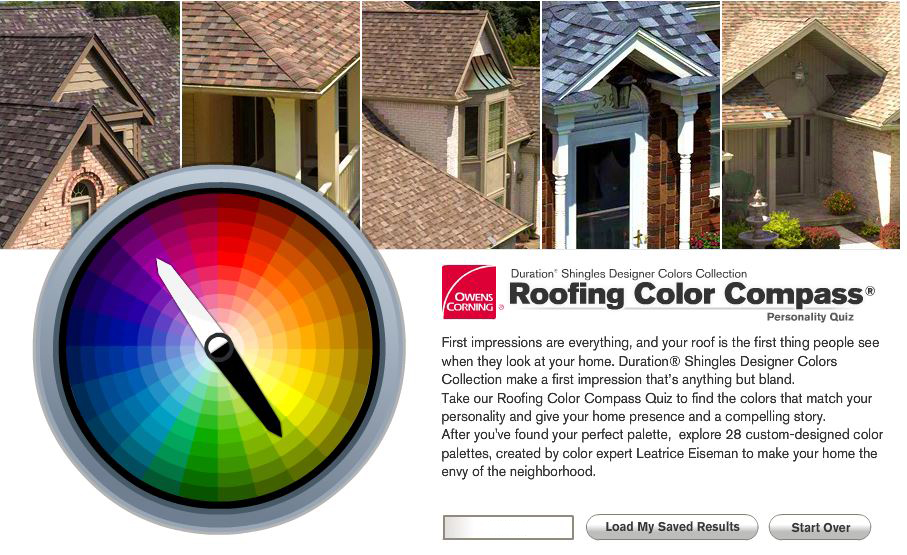 Explore Color Pairings
Owens Corning Roofing has been working with Leatrice Eiseman, global color expert and Executive Director of the PANTONE Color Institute™, to gain insight into the role of color in homeowners' lives and how color inspires their homes.
To help you integrate expertly paired fashion-forward colors color into the roof, you can explore Owens Corning Fashion Colors. You can also check out the Owens Corning Roofing 2017 Shingle Color of the Year – Sedona Canyon – part of the TruDefinition® Duration® Designer Colors Collection shingle line and order complimentary printed color swatch samples of TruDefinition® Duration® Series shingles to help choose the right shingle color for your home.
Design EyeQ® Visualization Tool
After reviewing all the expert color pairings, you can try out the Design EyeQ® Visualization Tool. This online tool makes it easy and risk-free for you to 'try on' a new roof before you commit to buying it. Just upload a photo of your home and start experimenting with roof color options! When you're done, you can print the picture for reference, share it via social media, or send it to your Owens Corning Roofing Platinum Preferred Contractor Network member.
To get a real picture of how your new roof will look before you purchase, visit the Owens Corning design tool.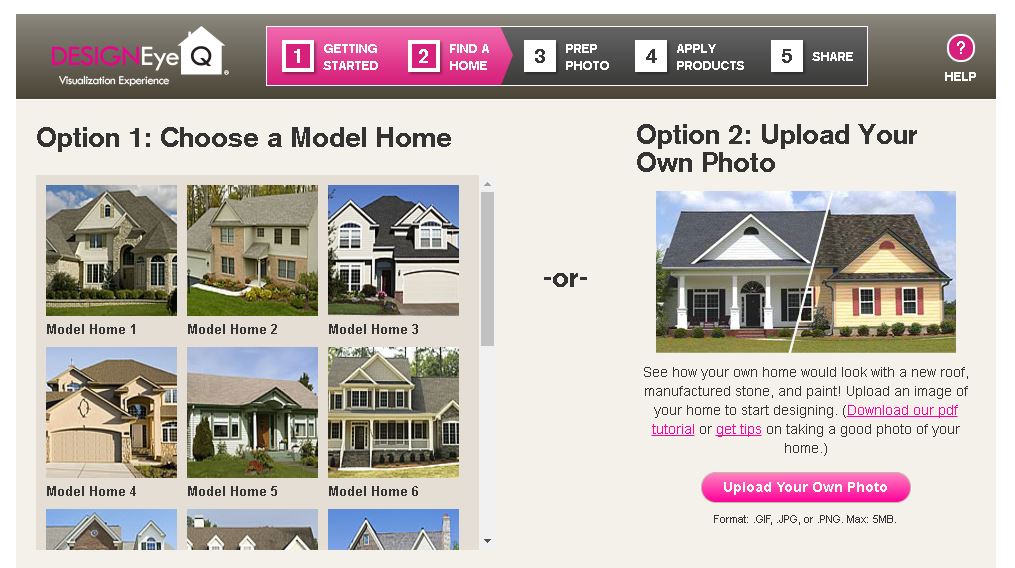 Click here to pick the Owens Corning Roofing shingle that is right for you, learn more about inspiring colors at the roof and check out inspiration boards.