How SureNail® Technology can add protection to your home

As part of a roofing system, roofing shingles serve many roles to protect the performance of the roof. This includes serving as the first layer of defense against the forces of nature. But even the best shingle can't perform right if it's not installed properly. In the event of damage, shingles may not be covered under the warranty if they aren't fastened in the right place.
So, how can you be sure your contractor is fastening your shingles correctly?
One way to gain peace of mind is knowing your roofing professional used the patented SureNail® Technology strip with the widest reinforced nailing zone available for installation.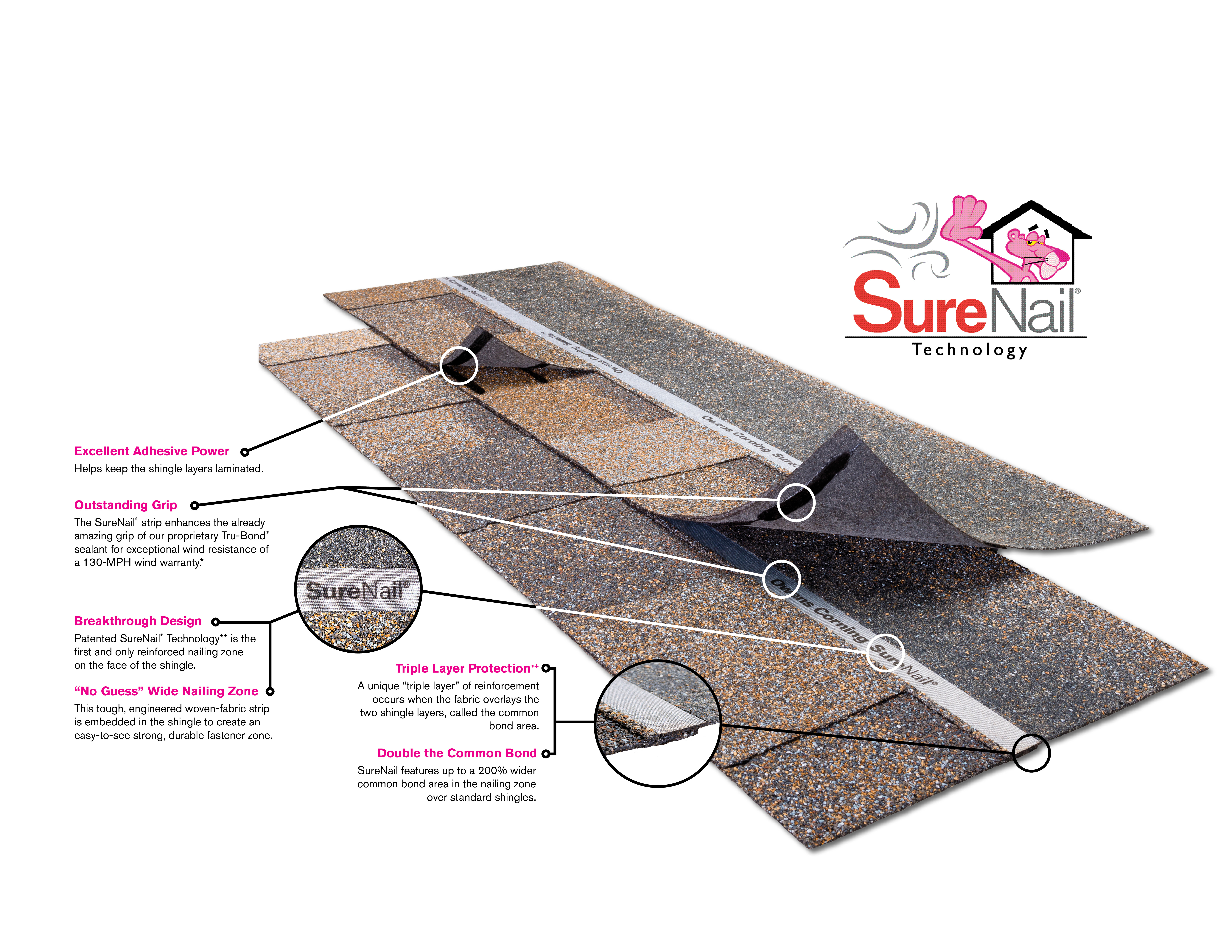 Why does this matter?
SureNail® Technology incorporates a unique, tough and easy-to-see nailing target fabric strip in the nailing area of all Owens Corning Duration® Series Shingles for added strength and durability. Here are a few more reasons why the is the difference between a good shingle and a great shingle is SureNail® Technology:
Breakthrough Design: The tough-engineered woven-fabric nailing strip is embedded in the shingle to create a strong, durable fastener zone.
Triple Layer Protection®++: A unique "triple layer" of reinforcement occurs when the fabric overlays the two shingle layers, called the common bond area. This provides increased protection against "nail pull" from the wind.
Outstanding Grip: The SureNail® strip enhances the already amazing grip of our proprietary Tru-Bond® sealant for exceptional wind resistance and double the bond strength compared to standard architectural shingles.
Exceptional Wind Resistance: The SureNail®Technology grip helps deliver exceptional 130-MPH wind limited warranty* performance
Fewer Nails: SureNail®Technology also reduces the total amount of nails used by 33 percent, reducing the risk of leakage due to rust at nail penetrations.
Click here to see for yourself why you can be sure with SureNail® Technology or watch this video for more product benefits.
* See actual warranty for complete details, limitations and requirements. ** SureNail® Technology is proprietary with U.S. and foreign protection including U.S. Patent Nos. 6, 471, 812, 7,836,654; 8,156,704; 8,181,413; 8,240,102; 8,430,983; 8,607,521; 8,623,164; 8,752,351; 8,991,130; 9,121,178; and other patents pending. Tru-Bond is a proprietary premium weathering-grade asphalt sealant that is blended by Owens Corning Roofing and Asphalt, LLC. †† The amount of Triple Layer Protection may vary on a shingle-to-shingle basis. 2016 Roofing Homeowner Brand Awareness Study by Owens Corning Roofing and Asphalt, LLC. *** SureNail® Technology is not a guarantee of performance in all weather conditions. 2015 SureNail® Technology Performance Comparison Contractor Survey, December, 2015