Home Modifications for Accessible Living

When it comes to home improvement projects, most people dream of things like a bigger kitchen, the addition of a mudroom, or a backyard redesign. For people with disabilities or physical impairments, however, home improvements require more than a new paint color. In some cases, a person's independence and overall quality of living depend on home modifications, so here are some tips to consider when making a home more accessible.
Think Spaces
Remodeling a whole house is a large undertaking, but it might be necessary depending on a person's disabilities and what they need for their living space to be functional. To break this project down into smaller tasks, try focusing on each room separately. Make a list either while in the space or looking at blueprints and determine what you need to make the space work for you.
Consider your mobility needs. Are the doorways and hallways wide enough for a wheelchair if you use one? Are there steps that should be converted into a ramp? Is the flooring conducive to a wheelchair or other mobility aids like a cane or walker?
Consider your appliances. If you have recently acquired a disability through an injury or because of a health condition, you might not be aware of the adaptive appliances available now. They now make appliances with larger handles, knobs, or buttons. If wheelchair-bound, refrigerator and freezer drawers come in handy instead of a tall standing, traditional refrigerator. There are even ovens with roll out drawers making these tasks much more manageable.
Consider the fixtures in your home. If a person has lost their fine motor skills in their hands, arms, or fingers, they might have difficulty turning on lamps, switching light switches, or rotating a faucet handle. Thinking about these small details is critical to making your home easy to use. Rocker switches, touch-sensitive faucets, and other adaptive fixtures can make small tasks doable for someone with a disability.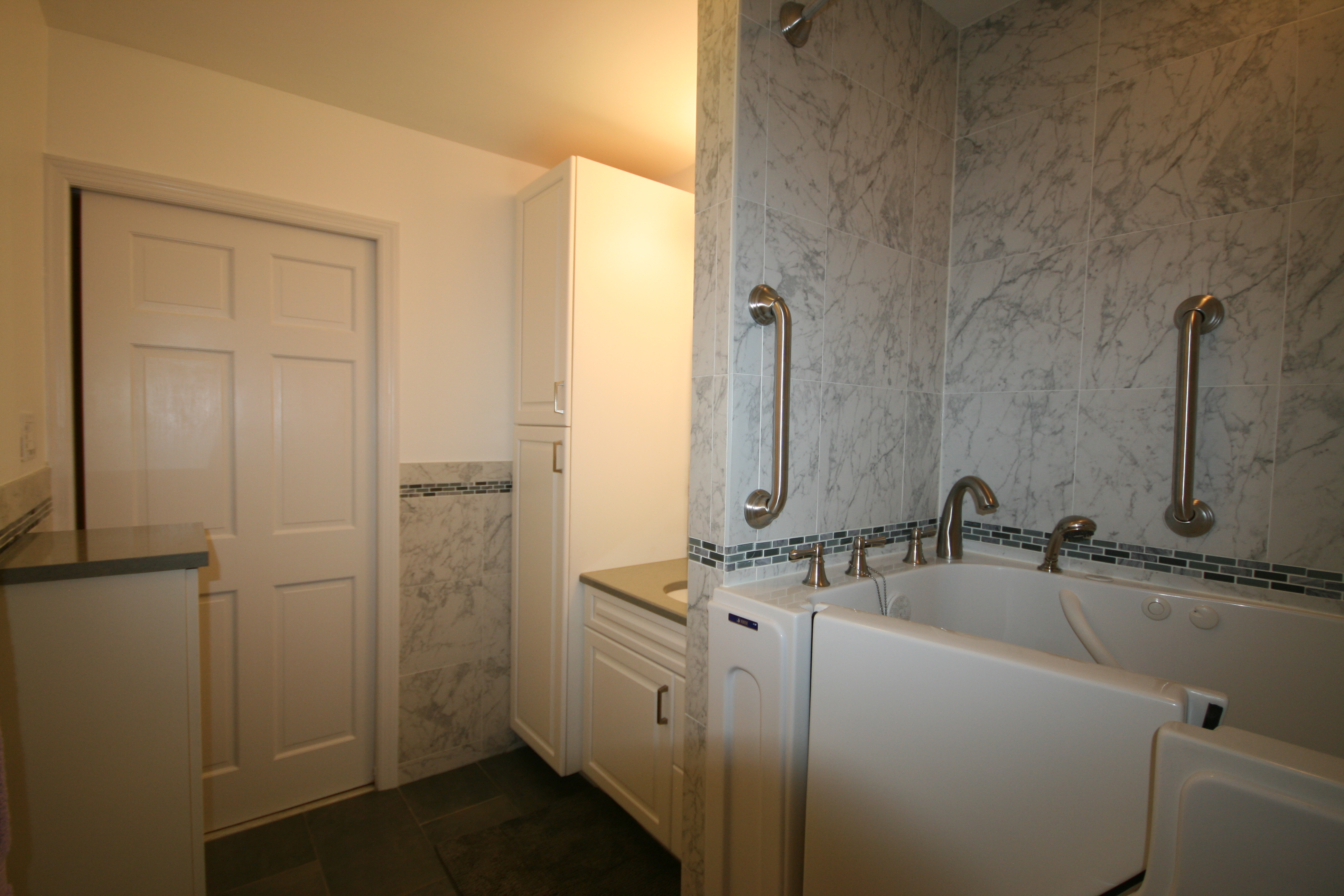 Use Technology
When most people think of home modifications for disabilities, wheelchair ramps and accessible bathrooms come to mind, but in our age of technology, there are so many other solutions available. Companies like Nest have developed technology for both home safety and home automation purposes that can be quite useful to a person with limited mobility. With the help of an app and complementary products, a person struggling with a disability could lock all the doors at night or turn on the lights when they get home with the simple press of a button on their mobile phone or iPad. Home automation can bring convenience to a person with disabilities who would otherwise find some of these tasks time consuming and hard to manage.
Consider Your Finances
Home improvement projects can oftentimes be quite costly, and accessibility modifications are no different. If you don't have enough savings or available funds to cover the improvements, there are financing options that are available specific to home improvement needs and independent living updates.
There are a few government-back loans for home renovation projects. If you are looking to buy and renovate a home (perhaps your current home requires too much work to make it accessible) you might consider an FHA 203k loan. These loans provide funds to purchase a house and renovate it. If, however, you are looking to renovate your current home, you might consider an FHA Title 1 loan. Learn more about this loan here.
While not an option for all, individuals or families struggling with a newly acquired or diagnosed disability might have grounds to seek legal action and win enough money to pay for home modifications, medical bills, and any other foreseeable costs needed. A birth injury like cerebral palsy caused by medical malpractice is a good example. These parents could seek a cerebral palsy lawsuit against the doctor or medical facility where their child was mishandled.
Another financial option you can turn to when you have limited funds for important home modifications is your nearest advocacy. Organizations like the National Council on Independent Living often leave aside a portion of their budget to help families and individuals with home modifications. Contact your local chapter or find a similar advocacy group in your area focused on independent living to reap the full benefit that their resources can offer you.
Consult Professionals
Home modifications can enhance the overall quality of life for a person with disabilities by providing them with a sense of comfort and autonomy in their own home. With such high stakes, it's important to find and utilize the expertise and experience of true professionals. Not only do you want to hire the best contractors and designers you can, but also consider consulting medical professionals as well. Your doctors, nurses, and physical therapists know your situation best and may have some of their own advice to give. They may even be able to recommend you to other knowledgeable experts such as an occupational therapist. Surround yourself with a team that understands your needs, and together, you can create an ideal living space.
Keep these 4 key pieces of advice in mind when you undertake an accessible home modification project. It can often seem like an overwhelming situation, especially when home improvements are necessary, but remember that there are resources available to make the entire process more manageable. It might take a little more effort, but in the end you'll be much more satisfied with the results.
Author Bio: Caitlin Hoff uses her background in product design and her passion for health and wellness to educate consumers. She aims to shine awareness on important consumer topics that affect people everyday. Through her writing, Caitlin hopes to guide families and individuals to make smarter decision and improve their overall quality of life. For more pieces by Caitlin and for more consumer health and safety news, follow her here.