How to Refresh Your Kitchen on a Budget

Do you ever find yourself in a room of your house and think: wow, this needs an upgrade. It happens even in the most well-decorated of homes and just means that it is time to make a change. You can do so with efficiency in mind, or with something a little more pressing: budget.
This can be true of almost any room in your house. But, it is often especially a problem in places such as the kitchen. Where often the decor can become incredibly outdated without you even realizing. And you may think that you don't have the money to make any updates, but you do! Even a small budget can make a world of difference when it comes to your kitchen space.
So, with that in mind, here is how you can effectively refresh your kitchen on a budget in 2020:
Repaint Your Cabinets
One of the most standout pieces in any kitchen space is that of the cabinets. They're line both above and below the counter, becoming the part of the kitchen which is most striking whenever you enter a kitchen. Changing or upgrading these, then, can have a real transformative effect on the space.
And if budget is an issue, you don't have to necessarily have to get whole new cabinets in order to have the best effect. In fact, all you really have to do in most cases is to repaint them. Pick a deep, lush, color for the best effect. Then simply sand down the surfaces and transform these cabinets practically overnight!
Transform the Countertops
In the same way, the countertops can also be a defining area of your kitchen. And luckily replacing them isn't always necessary in the long run. There are plenty of ways that you can cover or breathe new life into your countertops using the power of paint and materials.
For example, why not cover your old and tired countertops with tiling? It's unconventional but can be a much cheaper alternative compared to all brand new countertops. And you can also consider less expensive material options such as laminate, butcher block or concrete. Concrete may seem like something which shouldn't be used as a countertop material, but it can actually have a really attractive effect and be much more cost-effective overall.
Kitchen Art
Are you the kind of person that loves art, but almost exclusively hangs it in your living or dining space? If so, then one of the key things you should consider when refreshing your kitchen is adding art to the space. And no, this doesn't have to be Renaissance art worth thousands upon millions. Check out cheaper art sites and see what the price of their prints are, then all you have to do is invest in a frame in all likelihood!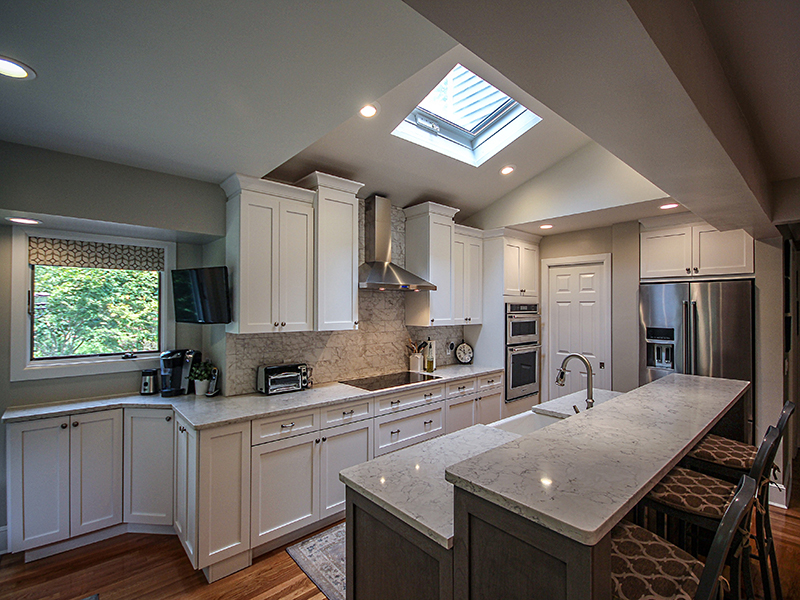 Declutter the Sides
Do you have lots of things lining up your counters and making for an overall cluttered effect? Things like a toaster, microwave and other useful kitchen appliances? If this is the case, then you might consider tidying these things up a little bit in order to ensure a much more attractive look overall. And tidying costs nothing, so it's great for those with a tight budget! And you may be very surprised how much more room and better looking the whole space is once you've cleared it away effectively.
Upgrade the Walls
If you want big changes that are incredibly noticeable and transformative, then one final change you can make is to the walls. Often, this can be a simple coat of paint for quite an effective transformation. This can be a simple re-painting, or something more extensive–but, paint can be incredibly budget friendly and the change can be stunning in all of the best ways.
Final Touches
At the end of the day, it's important to understand that budget isn't everything. You can transform your kitchen space in lots of big and small ways, especially with so much contemporary furniture available, without necessarily breaking the bank. So, it's important to make sure that you are well aware of this and plan out your kitchen transformation in a way that achieves the best results.
Get to work now and enjoy your transformed kitchen!
About The Author: Jennifer is a student, originally from Manchester, but studying at the Chelsea College of Arts. She's currently studying in Product and Furniture Design and is utilizing what she's learning on the course to create a writing a portfolio. She's hoping to become an interior design writer in the future as she has a great passion for being creative within home interiors.