How To Maintain A Clean And Sparkling Kitchen

The kitchen is the engine room of the home and its importance in a home can't be over emphasized. It's a place where you cook and store your meals which means you spend a lot of time in there apart from the bedroom. As a result, it gets messy. Most times, a lot of people pay less attention to it or are lazy about the cleaning process. We pay more attention to certain areas leaving others grimed and mold infested, or we don't clean at all. When was the last time you cleaned your microwave or cleaned out your pantry? This decreases the working condition of such appliances and your kitchen looking untidy. What kind of meal will you prepare in such an atmosphere? I bet your answer is as good as mine!
Besides, you can decide what gets cleaned and when. That's whether on a daily, weekly, monthly or seasonal basis depending on how often you use them and what it's used for. The floor, counter tops, sinks, used kitchen utensils, and microwaves should be cleaned daily or weekly. While cabinet, pantry, oven, gas burner, dish washer, and refrigerator should be cleaned monthly or seasonally. It's advisable to clean as you go, that way a bulk of the work reduces. Washing used kitchen utensils immediately after use is a step in the right direction. Don't you think?
Here are some tips to get this going…
Cleaning the Floor
Sweep the entire floor area of dirt and debris. Then clean using your vacuum cleaner after cooking or at the end of each day. This reduces accumulation of dirt and grime. Pay attention to under surfaces of cabinets and other areas that are a few inches above the ground. But make sure the vacuum cleaner of your choice is the right fit for your floor so as not to expose it to wear and tear. This robot vacuum suction power comparison will help you make the right choice. For greasy stains on the floor, you can clean using water and vinegar and vacuum or mop afterwards.
Pantry and Cabinets
The pantry is one of the most neglected portions of the kitchen because we assume it doesn't need cleaning. As a matter of fact, it does! Remove all items in your pantry and clean all shelves and edges of dirt and stains using water and soap. Thereafter, sort out items you don't need any more like expired food products. Re-organize your pantry afterwards. Each shelf should be for a category. For example, all cereal products on one shelf, and biscuits and cookies on another. That way, you don't have to search each time you need an item. Clean and organize your cabinets as well. Often, this is a good hideout for rodents. Hence, using the right method in storing these foods help to prevent spillage and spoilage as well as keeping it clean.
Counter Tops
This is the most prone to dirt area and is also an area in the kitchen that catches an eye. Wipe counter tops of debris and leftovers and clean with water and soap. Use water and vinegar to remove grease and oil spills. Remove stains by applying a solution of water and baking soda paste on the affected surface. Leave for a few minutes depending on the type of stain and finally use water and soap for a final cleaning.
Oven
Remove all racks in the oven and use a water and baking soda solution to clean tough stains. Be careful in your choice of cleaning agents to avoid leaving a characteristic smell in the oven. You can check your product's manual for the best cleaning method suitable for your oven.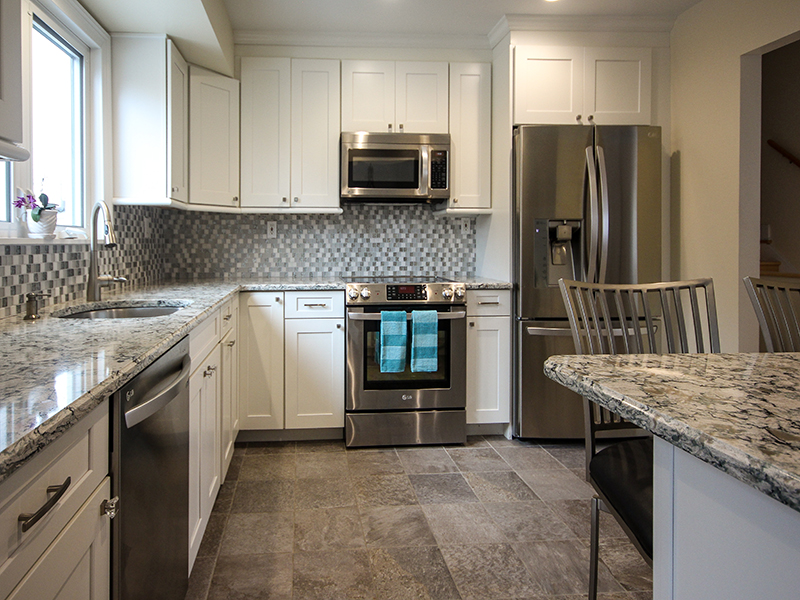 Microwave
Ever opened your microwave and an offensive smell oozes out? Well, spilled foods and dirt accumulated over time can cause this. To prevent this, cover your food before microwaving and clean immediately after use. To loosen caked-on lumps within the microwave, heat up some water for a few minutes in it. Then remove the water and clean the microwave using water at room temperature and soap. Thereafter, use a water and baking soda solution to remove remnant stains and smells. Using a wet cloth, also clean the regulators on the outer part and all sides of this appliance.
Gas Burners
Remove all burners and wash with soapy water and a sponge. Clean stove top with a damp cloth. Be careful while cleaning to avoid scraping surfaces made from stainless steel.
Sinks
To remove stains caused by regular use and to prevent a stench, always clean the sink. Use a sponge and soapy water to scrub the sink and rinse off. To remove a stench and stain, pour vinegar down the sink and sprinkle baking soda. Leave for a few minutes and then pour hot water into the sink. Also, check the cabinet under the sink and ensure that there's no leakage that can lead to mold and bacteria growth.
Dish Washer
Clean the dish washer occasionally to ensure an optimal function of this appliance. Remove particles of food and waste matter from the filter and clean racks with a clean cloth. You can use baking soda to remove stains embedded in the machine.
Refrigerator
Many things make your refrigerator dirty, one of such is leaving spoiled food in there for a long time. Always check your fridge for foods that are about to spoil and remove them. Make sure to cover containers containing liquid such as a milk jar, soup bowls and so on to avoid spillage. Store foods in right temperature to prevent spoilage, stubborn stains and dirt. Remember, this is a perfect condition for mold growth. Each food item stored in the correct compartment will help achieve this goal. To clean this appliance, remove all food and store in coolers to prevent defrosting as well as removing all racks. Turn off appliance to stop freezing effect before cleaning commences. Then clean with soapy water and dry with a clean cloth afterwards. Leave the refrigerator doors open to allow proper drying before returning food. Also, clean outer part of the refrigerator with a damp cloth. Check product manual for more information on the best ways to clean this device.
The Walls
Surprised? The kitchen walls need cleaning too. The splatter of sweet potato porridge and smoothies, can find their way to your walls and ceiling. Clean walls and tiles using water and soap. For tough greasy stains, use a solution of water and baking soda.
Window
Clean kitchen windows using water and soap. Ensure you use a screen or drop cloth to cover the floor before cleaning the windows to protect the floor from stains. Also, drapes should be removed, washed and dried to remove dirt. This brings freshness and a sparkling look to the kitchen.
Garbage Can
It's easy to throw trash into the garbage can but more difficult to clean it. The resultant effect of this is a foul-smelling trash can and kitchen. Empty garbage can often at least three times a week depending on the volume of trash that goes in there. You can use hot water and soap to wash it and allowed to dry before use.
In Summary
Cleaning your kitchen should be part of your cleaning routine and doing it right should be the goal. Cleaning as you go as mentioned earlier is one way of maintaining a clean and sparkling kitchen. Remodeling your kitchen might be what you need to improve its look and make cleaning easier. The style or model might be old and so effort put into cleaning and organisation might not yield the desired result. There are several designs (color, style, materials, and fixtures) to help you make a choice.
Finally, green life can give your kitchen a beautiful, fresh and radiant look. Flowers from your garden or a horticulture shop close to you will add some coziness to your kitchen. Keep them in vases with water and replace every day to maintain their freshness. I hope you found these tips helpful. You can like or drop your comments and questions below to keep the conversation going.
Author Bio: Ohioren E. Aigbokhaevbo is a staff writer at vacuumcleanersdvisor.com. She loves to write on all things vacuum cleaning and is very excited about sharing her vast knowledge about new equipment and vacuum cleaning best practices to you! You can send her an email via this address: [email protected].