Remodeling your kitchen? Here are a few tips!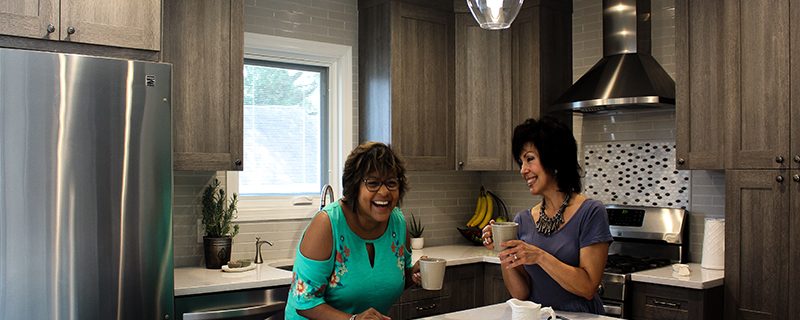 Remodeling your kitchen? Here are a few tips!
More than just a place to brew your daily coffee, it's a place that brews memories of all the joyful suppers that you have with your loved ones. The kitchen is the most cherished place in a household, which is why taking care of it is as necessary as any other errands are for you. A smoothly functional kitchen can be refreshing to work inside. Everyone dreams of owning a big kitchen to produce the most delicious delicacies and feed their loved ones with pride. Though the idea of remodeling and expected budget ready to dig a hole in your pocket often leaves people to sweat profusely.
More hassle of the workload that comes with it, remodeling your kitchen is expected to be a trouble for your budget. From getting new furniture to changing the appliances accordingly, remodeling is a task that needs patience, love and more than that creativity to fit into the budget.
A beautiful kitchen can motivate you to cook for your loved ones profoundly as well as flaunt itself with its aesthetics too. So if you are willing to get your kitchen renovated, then we are more than happy to help you with these fantastic remodeling tips. It will provide you with a better insight as to what are a few of the significant changes that you can make to give your kitchen a new and stunning makeover.
Compose a budget
The first and most crucial step before renovating or remodeling any part of your house is to plan a budget. You must have a precise idea of what are the things you need for remodeling and not to spend money on unnecessary stuff. Sit down weeks before the renovation and thoroughly inspect your kitchen to know what it lacks and which parts need modification.
Don't dwell on the things that work fine just for the sake of changing all of it. Leave the parts that work efficiently well and choose the ones that bother you or your work the most. Renovation is not a struggle anymore when it gets completed within the stipulated budget, so plan your expenses wisely.
Look over the plumbing system
A plumbing system is the backbone of your kitchen, so make sure you prioritize it more than any other aspect. Check if the water and gas lines need fixing or not. Get high-quality faucets and sinks installed in your kitchen that promises a long life.
Kitchen cabinets
Cabinets help to maintain your kitchen and keep it neat for accommodating all the ingredients and tools of your daily use. If you are willing to improve the aesthetics of your kitchen to an appealing one then, replacing your cabinets is the first step. Speak with a kitchen designer to see if you have the best layout or if there is a better way to maximize the kitchen space and storage capabilities.
Update your lighting ideas
Appropriate lighting provides you with a comfortable atmosphere that improves the aesthetics as well as the focal points of your kitchen where the main work has to take place. You can use high hat lights, task lighting over your kitchen counters or, pendant lights that hang from the ceiling. If you are looking for some trendy lighting option that can make your kitchen bright in all its beauty, then LED wall lights can be a great option to try out. It is easily available in many shapes and sizes that fit well while enhancing the overall appearance of your kitchen.
Getting the perfect set of appliances
Your kitchen is the home to all the appliances that you regularly use, so why not have a matching set of them according to the look and decor of the kitchen. It is essential to buy high-quality kitchen appliances though make sure you buy them in sets or pieces of a set, available from the same brand. It will allow your kitchen to have a sorted and synchronized set of tools to work on, making it look pleasing and neat. Purchase the ones that have the best rating and are energy efficient for the best results.
Flooring
Flooring plays a vital role in the look and smooth functioning of your kitchen. You cannot work fluently over an extra slippery tiled floor that does more harm than good. Often a good scrub is all you need to make your kitchen flooring look as new as a product of renovation. Clean the floors and carpets thoroughly or, you can reach out to Safe-Dry carpet cleaning for doing the work for you with utmost proficiency. Get hardwood floors installed if you are aiming for durability though, cheaper options such as vinyl and floor paints are also available that are more inclined towards the look and not the sturdiness. Remember to maintain the flooring while cleaning it at frequent intervals to sustain its look and condition.
Work with patience and love to get a fantastic makeover for your kitchen. Make sure you scrutinize every corner before the renovation so that it has a part in the fluent functioning of your kitchen. Remodeling can be a great struggle when things are not sorted out from the very beginning, which is why we suggest you go over and plan stuff way in advance. Start saving up if you are low on expenses. These tips will surely help you to obtain the kitchen of your dreams!
About The Author: Kimberly Clark is a content marketing specialist in the Business niche. She is a knowledgeable authority in print marketing and graphic design for businesses. She can be reached at

[email protected]

.