5 Trending Ways to Remodel Your Kitchen in 2020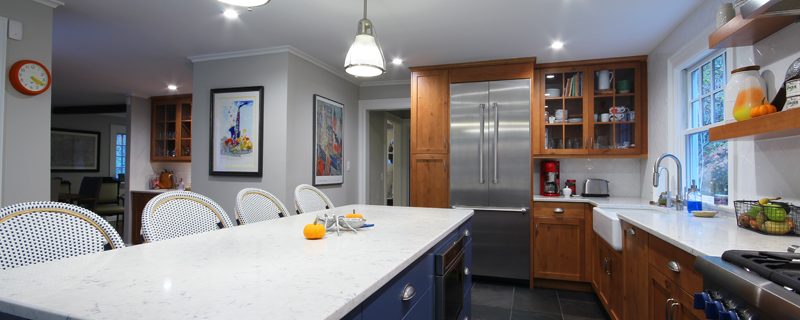 Three Toned Kitchens
Three tone kitchens incorporate three unique colors into your kitchen design. There's several ways to customize your three-toned kitchen.
You can try different colors for your:
Kitchen island, Flooring, and Cabinets
Base cabinets, Upper Cabinets, and Flooring
Cabinets, Flooring, and Countertops
Wall color, Cabinets, and Flooring
Flooring, Counters, and Wall Color
Need help with your kitchen remodel? Meet with a company who has kitchen designers on hand that can help you design the kitchen of your dreams.
Elegant Island Range Hood
An island range hood is the centerpiece of your kitchen. It is a modern kitchen appliance, guaranteed to impress your guests. Not to mention it's a great conversation starter. Tell all your friends, invite them to your home, and give them a demo!
Beyond an island hood's modern beauty, it's also powerful. Island range hoods pull several hundred CFM of air, able to clean your kitchen air efficiently. If you cook often or love to make spicy foods, an island range hood is the perfect fit.
Floor-to-Ceiling Storage
The kitchen is one of the most high-traffic rooms in your home. Between all the cooking and cleaning that has to be done in your kitchen, it's important to keep the counters and floors clear and the cabinets organized.
Are you running out of space in your kitchen? Consider floor-to-ceiling storage. If you have the space, open shelving is one of the most popular – and it can be eye catching for your guests.
Another attractive option is to add shelves below your kitchen island for additional storage! This is a great place for your dishware, cleaning supplies, or towels – whatever is most convenient for you.
Farmhouse Kitchen
Farmhouse design has been in and out of style, but it's been making a comeback in recent years! The look of light and airy brightens a kitchen naturally without the necessity of large windows. There's a sense of cleanliness that light brings out these whites, tans, browns, yellows, light blues and greens.
Darker colors can be added as well, but these work better as accents. Potted plants, pans and other cookware and stainless steel appliances will work for this category.
Modern farmhouse design incorporates elements of original farmhouse design and contemporary style architecture. These can be blended seamlessly! One major renovation to achieve the farmhouse look is adding an apron sink; these are very unique to farmhouse design and not used in many other designs.
Adding some shaker-style cabinetry is sure to sell your farmhouse kitchen immediately. Add in some open wooden shelves. Plates, bowls, mugs, or other decorative items, such as plants, will bring out a rustic vibe. Adding wicker baskets on your countertops to store your fruit provides flair as well. Finally, hanging units with kitchen utensils, oven mitts, and even some pans is a wonderful look.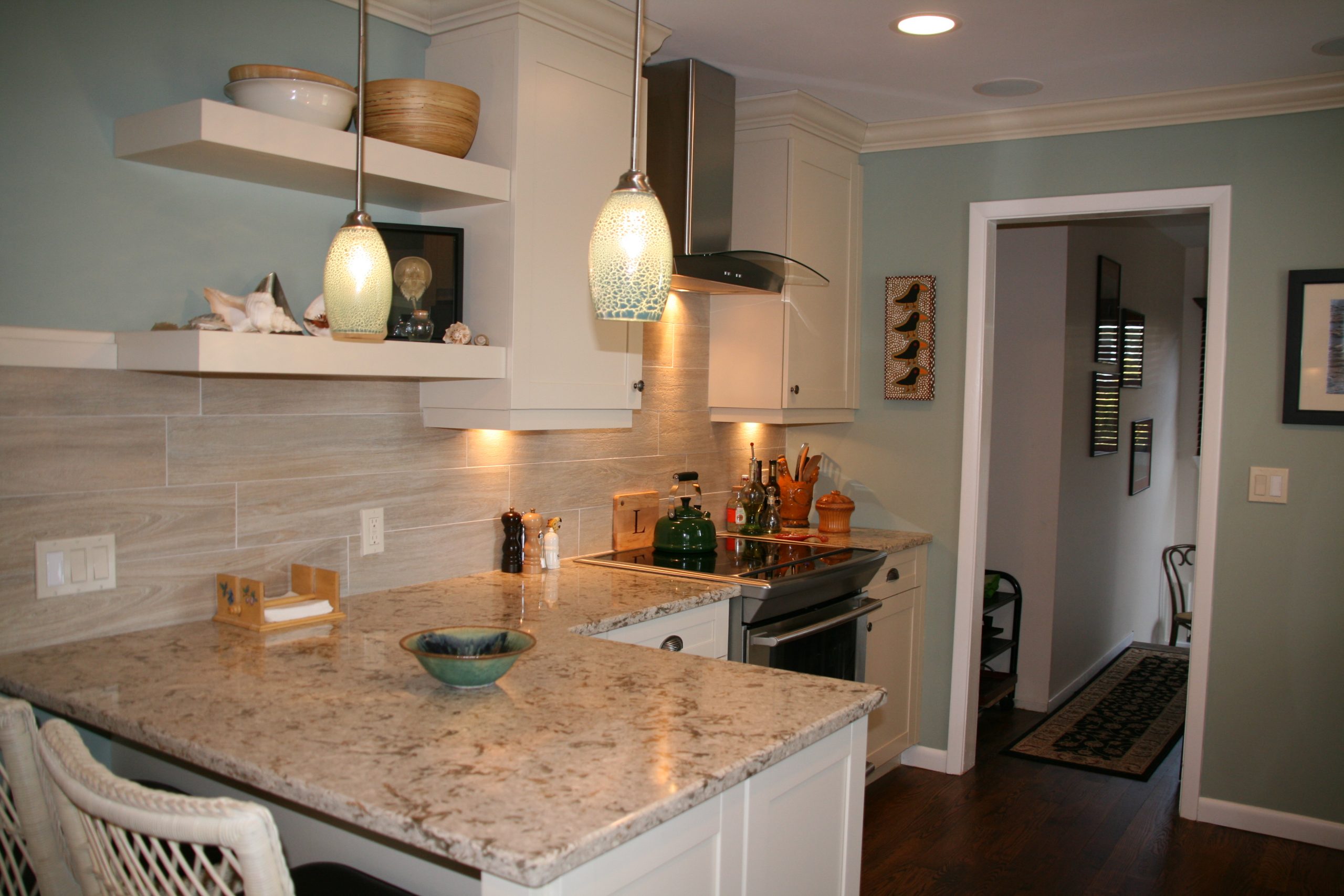 As far as dining is concerned, adding weathered wooden stools to a kitchen island will spruce up the place. And, speaking of islands, add some weathered wood to accent the features of the island. Furthermore, a wooden "x" on the end of the island is a trendy addition. For your kitchen table, consider finding older lighter wood to complement the rest of the room.
Tile Flooring
In the past few years, hardwood floors have dominated kitchen flooring trends. However, tile flooring is gaining back some popularity. It is much easier to maintain than wood flooring, and is less porous, making it more durable.
Depending on your kitchen design you can choose between stone, porcelain, and ceramic tile; within each of these categories, there are several variations. As you choose your kitchen tile, consider the color, size of each tile, and tile texture. If you're really passionate about your tile, you can even consider the color of your tile grout.
Before you finalize your remodel, map out several color, texture and size combinations to find the one perfect for you!
About The Author: Eric Mellmer is the Marketing Manager at Proline Range Hoods. He runs the Proline blog, conducts email outreach for backlinks, and optimizes website content. If you're interested in collaborating, feel free to email him.