10 Best Kitchen Improvement Ideas for Your House
Remodeling a kitchen to look as good as new does not have to be expensive. The alternative is to use some innovativeness and creativity in refurbishing the whole space. These little changes pack a lot of ingenuity in a little space. They are not only inexpensive, but they are also elegant and bold. Whether it is muted style or extravagance that you're looking for, you can use these hacks.
Try changing the look of the sink
It is easy to refashion chrome sinks because of their durability. Even if you don't have a chrome sink, you can always use sandpaper and paint spray to have a rugged finish. If your sink can't be remodeled, you can always try changing the faucet. Install a faucet that is stylish and has a modern look about it and you'll notice that the whole sink has a different appearance now.
Adjust the lighting
Lights make a world of a difference when it comes to presentation. You can find fixtures for all your style needs — rustic or modern, classical or neo-classical, traditional or contemporary; whatever your style choices, lighting can make a great impact on the way your kitchen looks.
Deep cleaning
There is nothing like a clean kitchen and spotless cabinets. Just wiping down your countertop with soap can make the kitchen look pleasing on the eyes. Prolonged use without sufficient care can cause unwanted pests and rodents in the kitchen. This infestation can result in dirtier floors and walls. Deep cleaning can help in maintaining the spruce look in the kitchen. This is one of the things where you need to spend. Go for a cleaning contract with professionals if you can't do it yourself.
Beautiful cabinets
Cabinets occupy a significant part of the kitchen. Just repainting them can give the kitchen a new look. You don't even need to repaint entire shelves. You can always modify the color and texture of the cabinet doors. This could be by using abstract paints, rustic concepts, timeless structures, or any combination of all of the above. Make sure all your cabinets are in good condition. Sometimes, you can rebuild cabinets entirely to suit the style of your refashioned kitchen. In that case, a remodeling contract might help you because such refashioning can be done by professionals.
Get creative with heavy appliances
Fridges and ovens catch your glance the moment you enter the kitchen. After a time, they may become monotonous and boring even though they are highly efficient. You can get creative with them. Feel free to change the fridge door into a wall magnet or a mood board. Convert the oven to a chalkboard for recipes. You can use them for indulging when you're in the kitchen.
Outlets
You'd be surprised at how many places you can fit electronic outlets in. You can put the outlets under innocent-looking faux-drawer handles to hide them. You can put outlets inside actual drawers to serve multiple purposes. Use outlets under the cabinet structures.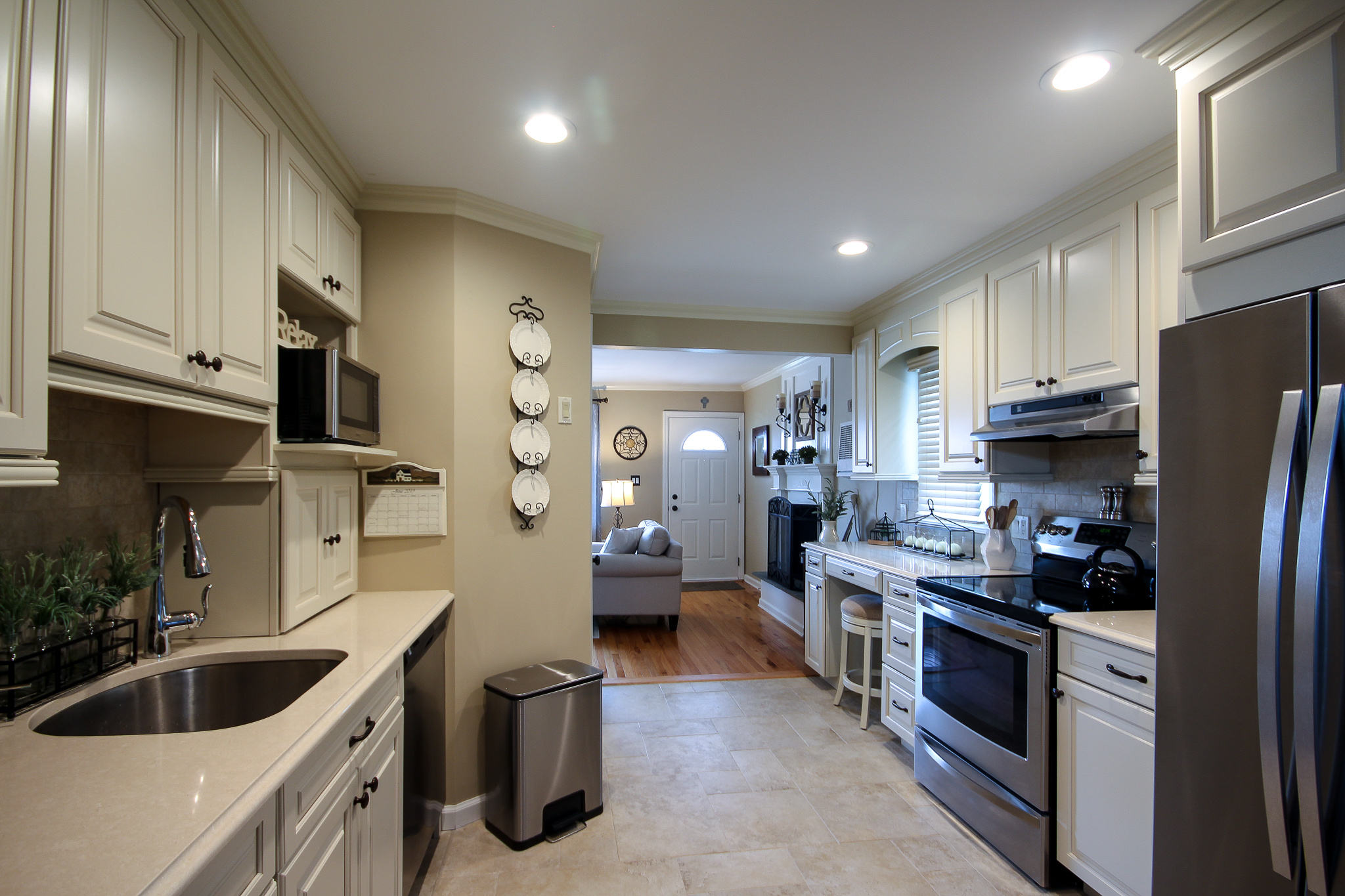 De-clutter your kitchen
You'd be surprised what a simple wipe-down can accomplish. Use furniture that can not only serve your purpose but can fit in small spaces. Foldable dish-drying racks are one option. Creative pieces of furniture like that can help you save on space and money — both of which are valuable resources. You could always use sliding panels for your crockery and cutting board with a hole in it for chopping your vegetables. This hole can be placed directly over your sink. You won't have to deal with the mess of cleaning your kitchen of wet tomato seeds, slimy peppers, and slithery onion skins after chopping the vegetables. A clean kitchen gives a sense of satisfaction and peace, allowing you to focus on cooking what you love most.
Change the decor
The decor makes a huge impact. It has been proven that colors impact our psyche. Some colors produce mellow and peaceful emotions, while others make us feel chaotic. There are colors, textures, patterns that can lift or ruin your mood. All of this can impact how you feel when you enter the kitchen. Choose your decor wisely because the quality of time you spend in the kitchen affects the quality of the food you eat. Your decor should not make you want to leave the kitchen as soon as possible. Cooking is a stressbuster, and we need to keep it that way.
Arrange your supplies
The more chaotically arranged your kitchen is, the less you'll feel like cooking something wonderful. Make room for all your supplies and your crockery. Arrange them so that you don't have to wonder each time if you have some supplies or not. Make sure you can grab them when you want, or you know you're out of those supplies without having to scourge the entire pantry.
Remaking your kitchen is an easy task. It just needs some dedicated time and an understanding of what you'd like to go where. Spend some time in designing this room, and you'll get to enjoy the fruits of that labor every day.
About The Author: Jessica is a writer by calling and an academic. She has created scintillating and remarkable content for dozens of websites in the Business Sector. She possesses a fair understanding of the inner workings of several business establishments, making her the foremost expert in this field.