Sal Ferro – Long Island Press Powerlist Hall Of Fame
On Tuesday, June 14th, Alure Home Improvement's President & CEO Sal Ferro was inducted into the Long Island Press' PowerList Hall of Fame for making the Top 50 Most Influential Long Islanders list for the 5th consecutive year. He joins an impressive list that includes Charles Wang, Bishop William Murphy, and New York State Comptroller Thomas DiNapoli among many others who have truly made a difference on Long Island.
Sal Ferro is President and CEO of Alure Home Improvements, the 10th largest home remodeling company in the country, and eight-time featured remodeler on ABC's Emmy award-winning Extreme Makeover: Home Edition. Alure plays a vital role in the Long Island economy by employing more than 200 employees and installers, while continuing to support numerous other charities and organizations across the Island. In addition to supporting myriad charitable endeavors, Ferro was instrumental in developing startup funds for Empire National Bank, of which he is a board member.
When the producers of Extreme Makeover: Home Edition reached out to Ferro to ask for Alure's help in early 2010, Ferro insisted the show select a family on Long Island. While Ferro has led Alure on eight remodels for ABC's Emmy award winning, 2010 was a special one for the local community. The show chose the Lutz family in East Setauket where thousands of volunteers came together to help work 24/7 for a week straight to help build a home for a needy family with several adopted children with Down Syndrome. Of the 8 builds Alure participated in, this was only the 2nd on that took place on Long Island.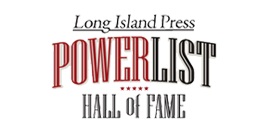 "I've often said that one contractor or one person can't do it all," said Ferro, "but that the national spotlight of Extreme Makeover provides us the platform to inspire others and show that there are good people in an industry that often gets a bad rap." Most recently, DeBlasio and Capo from St. James, a group that Sal befriended at the St James makeover back in 2005, were themselves inspired to recently start Building Hope for Long Island recently completing their first project for another needy family. Its pay-it-forward moments like this that most satisfy Ferro.
"To see so many people so touched by the experience of volunteering on a week-long makeover get inspired to continue, or get involved in other new philanthropic causes, is truly amazing. It's unbelievably rewarding" said Ferro. Recently, Ferro skated with New York Islanders legends Clark Gillies, Bobby Nystrom, Billy Guerin, Pat LaFontaine and others in a charity hockey game to benefit the "The Sarah Grace Foundation" and "The Frank J. Rizzo V Memorial Scholarship Fund". "His skating skills might not match his skill for uniting a community, but it's his heart that makes Sal so special", said New York Islanders Hall of Fame legend and close friend of Ferro, Clark Gillies.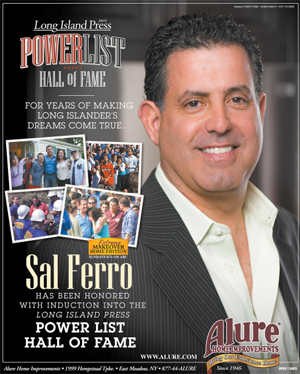 On being inducted in the Long Island Press Power List Hall of Fame, Ferro called the experience "incredibly humbling. My goals have never been about power or influence. They have been about making a difference and taking pride in doing the right thing for the right reason. Not only is Long Island the home base of my business, but it's also home of my friends and family. I always said that what's good for Long Island is good for all of us."
Alure Home Improvements has been building dreams since 1946, and specializes in kitchens, bathrooms, finished basements, siding, windows, roofing, sunrooms, handyman services, home energy performance, dormers, extensions and new home modular construction. Alure's Long Island showroom is located at 1999 Hempstead Turnpike in East Meadow, NY.