Different Ways to Update Your Living Room

Different Ways to Update Your Living Room
If you like changing the style of your home and following the trends, you've probably changed the look of your living room a thousand times. Sometimes it can be pretty expensive and leave you with an empty wallet, but there are lots of frugal ways to achieve a modern look. The living room is a place where we gather with our family and spend the most of our free time, so you need to create some good vibes. Transforming the entire living room can be mentally exhausting, tiring and time-consuming, but focusing on just one feature can make this entire process easier. This will allow you to change the look of the room and still have space to change other parts in the future. You'll see the power behind small changes and how one smart makeover can completely change the flow in the room. Here are some examples to help you with these improvements.
Change the wall color
This is probably the easiest and the cheapest way to change the look of any part of the house and it can be done in one day. From changing the complete wall color or doing a color blocking and leaving one wall in a different shade, you'd be amazed how this easy task gives you an entirely new room. The safest way is to use neutral and soft hues and then play with decorative elements and the furniture. Creating a soft base will give you a chance to change the look with some smaller improvements without worrying about the color combination.
On the other hand, if you're willing to take risks, find a bright or even dark color you like and use it to accent your walls. Make them stand out, but remember to tone down other elements in the room to avoid creating a crowded space. Also, you can find interesting patterns and make a wallpaper out of them, giving your design a more personal touch.
Rearrange the furniture
You'll be happy to hear that this is a project that you can accomplish without spending a dime! This free room update will surprise you with the impact, and you just need to find an arrangement that works for you and your family. By moving the furniture, you'll be able to create a new focal point, add different zones and give hidden parts of the room a new purpose.
A new layout will also create a sense of a much bigger space so you need to plan everything carefully and consider organizing your furniture differently. Keep in mind that certain furniture can't be placed in certain parts of the room because it will take too much space. Find a layout that will open up the room and leave you with enough maneuvering space. If you don't have enough space to move the furniture or don't have an idea for a new display, try to move your coffee table, bookshelves and accessories first and see how you feel about it.
The artwork is a great addition
You don't have to be amazed by every painting you see or pretend you like art at all, but art pieces can be a great addition to your interior. Your walls are a great base for artwork and you can choose one big painting that will produce that wow effect we're all looking for. Use a theme that is close to you – from a soothing natural setup to a huge combination of vibrant colors. Whichever option you choose, this is a great way to emphasize your walls and make them really stand out.
Alternatively, you can show your creative side and add a bunch of smaller frames and display your family photos. On the other hands, even empty photo frames can be an artistic addition to your interior, so add a few of these to cover a major part of your wall. Also, you can frame your favorite book covers, front pages of magazines or create your own travel bucket list and keep it as a reminder of all the places you want to visit. Display some art pieces on your shelves and you'll get an instant change of the interior, but also a great conversation starter when people ask you about certain pieces.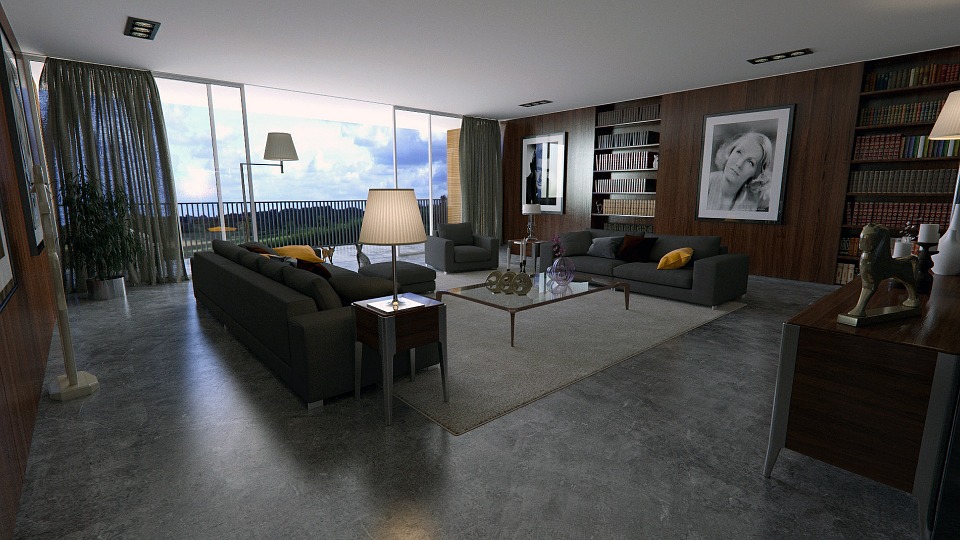 Change the flooring
There are two ways to execute this update – one is an expensive change of the flooring which means you need to replace the whole thing, and other is a much cheaper and it includes adding new rugs. If you opt for the first idea, there is a cheaper option of installing laminate flooring which is durable and comes in many colors, shades and patterns. If you want real hardwood flooring, need to think about the quality and durability of the natural wood and create a budget for this investment that will definitely pay off in the future.
Layering rugs is a trend that has been popular for several years now and interior designers adore this technique. You can add colorful round rugs on top of your existing rug and enjoy this amazing way of giving your room an additional depth. This will add a warm and welcoming feeling to your family space providing a safe environment for all your gatherings. You can play with different styles and combine modern and traditional rugs to create a perfect mixture of old and new.
Light up the space
Adding a new shade to your living room can change its look instantly and make you really realize there's something different. By adding new lighting, you'll create a new focal point, especially if you set fixtures in different places. You can play with different types of bulbs and create different zones – add more light near your reading chair and less light by your sofa. In addition to that, get a lamp you'll be able to move around where it's necessary and you'll always have an additional source of light where it's needed.
A great way to control your living room light is to install a dimmer which will come in handy on almost every occasion. You can use bright light when you're playing board games and tone the light down during movie nights. This will create a perfect ambiance for any type of gathering you organize and you'll see how setting up a mode will add a great tone. The most important thing you need to have in mind when it comes to lighting is to provide different options and be ready to use your living room in every way.
We all need a change from time to time and the same goes for our living space. Updating the living room will bring a new look to your home and the changes you make will create a new flow. There's no need to stress if you don't have a budget because there are so many great ideas that require nothing else but some free time. Take a look at all the problems you've been dealing with for the last couple of years and try to change that with these updates. Sometimes a fresh new look can make you feel much better, so get started on making plans and enjoy your new home and all the changes.
About The Author: Emma Joyce is a blogger based in Australia. She is a true home decor and DIY fanatic. Emma is interested in music and also is a big reading enthusiast. Finding new designs and patterns is her daily task.