The Alure Extreme Story – The Vitale Family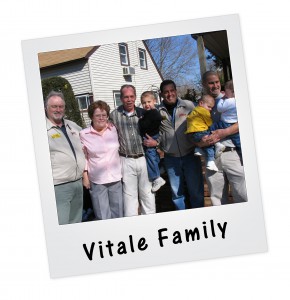 As we headed into the Lutz Family build for Extreme Makeover: Home Edition last year, our friends at the Long Island Press printed a series of stories re-living each episode and family we helped prior to the Lutz Family. We were inspired to share each piece with you after the Season 9 premiere of Extreme aired on Sunday night. Here is the story of our third episode for the Vitale family.

Having been moved by the experience in helping the Ali family and the powerful impact following hundreds of emails from all of the country moved by Alure President Sal Ferro and his team, Ferro was quick to recognize another opportunity. This time, not only to help a family in need, but to do so on Long Island, where Alure's resources and friends would help provide yet the greatest opportunity – to bring a community together.
In March of 2005, a Long Island family stricken by grief and financial woes was given a second chance thanks to Alure Home Improvements. John and Anne-Marie Vitale of St. James were a young couple in love with three beautiful little boys. As their family grew, they decided to move out of their small, two-bedroom home and into Anne-Marie's parents' house while they added onto their tiny abode. But soon after they moved out, tragedy moved on. Anne-Marie, at only 28 years old, was diagnosed with an aggressive form of Leukemia. She died on August 3, 2004. Anne-Marie was buried on what would have been her 29th birthday.
Medical and funeral bills from Anne-Marie's illness drained the family's savings. The Vitale's were never able to renovate their tiny home. John was still paying hospital bills while changing three toddlers' diapers and keeping bad guys off the streets as a Suffolk County Police Officer.
Even though it was difficult, John wanted more than anything to bring his young sons home, to the little house on the tree-lined street where Anne-Marie wanted to raise their family.
"Your hear just goes out to this family," Alure President Sal Ferro said. "I'm a parent and it's every parents worst nightmare to know that you won't be able to be there for your kids. We're privileged to have the opportunity to help the Vitale's rebuild their home and their lives. We want this to be the first step for them into the happy future Anne-Marie dreamed of."
The Alure Home Improvement team overcame frigid temperatures and the unexpected need to tear down the entire frame of the house. The local outpouring of support was amazing and it was during this week that Ferro truly could see the impact this experience had on others and how it inspired a community to come together.
"People see my Alure shirt in the street and tell me "if your ever do another makeover on LI, how can I help." It's a great feeling." – Alure President, Sal Ferro
During the Vitale Family makeover, Alure heard that the house next door to the Vitales had a bathroom that was in disrepair. Wanting to help, Alure took the spare time and remodeled that bathroom while in the midst of the Vitale makeover next door. Alure has done several similar things that they purposely do not publicize because they're done for a deeper reason – to lead by example so that others will get involved and help out someone in need. Alure believes in the saying, "You never stand as tall as when you stoop to help someone in need."
John Vitale's smile was broad when he went inside. He acknowledged the bittersweet reward of his new home, "The kids are adjusting… I'm adjusting. This is where my wife wanted us to be and Alure made it happen. It's wonderful to know that people really do care and were so willing to give up their time to do something good for someone else. It was just unbelievable."
Before she passed away, Anne-Marie made John promise to move their family back into their house so she would "know where to find them." A "V" cut from stone hangs above the front door to help find her way.