The Alure Extreme Story – The Ali Family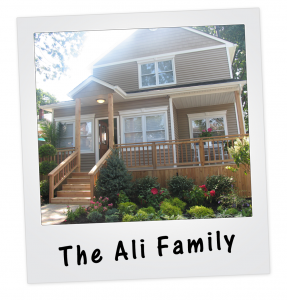 As we headed into the Lutz Family build for Extreme Makeover: Home Edition last year, our friends at the Long Island Press printed a series of stories re-living each episode and family we helped prior to the Lutz Family. We were inspired to share each piece with you after the Season 9 premiere of Extreme aired on Sunday night. Here is the story of our second episode for the Ali family.

In August of 2004, a few months after the "Friends Helping Friends" Makeover, Conrad Rickets called Sal again and mentioned he had another family that needed help in the New York area. Sal met Conrad for lunch, and still reeling from exhaustion of the city makeover, said in jest, "Conrad, I'll write you a check for $20,000 for the family if you leave me alone." Conrad laughed, and explained to Sal how he really wanted to highlight remodelers in a positive light.
Conrad followed up by sending Sal an application tape of the Ali family of Queens, NY that the show wanted to help. Unlike the unusual New York City project, this request to help was in the traditional format of the show…helping build a new home for a deserving family in need, with a specific focus. This is a family that has an extreme situation where a new home and living space will make a tremendous impact on the quality of their lives. The Ali family not only fit that profile, but they were put in the situation by a remodeler, providing Alure an opportunity to correct a remodeler's wrong.
Alure's team worked non-stop for five days, revising plans when unexpected structural problems in the home were discovered. It was a huge job, but everyone agreed that the looks on the Ali family's faces at the reveal made everything worth it. And, to top it off, Alure was so moved by the Ali family that the company set up a scholarship fund to send the two boys, Paul and Kuran to college.
Lucy Ali's home improvement dreams were to expand her tiny one-bedroom home so that both of her growing boys could have their own rooms. After hard work and struggle, Lucy got a home improvement loan that she thought would make her dreams come true. What it became was a living nightmare. A contractor to her $72,000, ripped the roof off her South Ozone Park home, and started work. Then, he fled with the money, leaving the home uninhabitable – exposed to the ravages of the weather, rodents and insects. For two years the Alis were literally homeless homeowners, living on caring family members' couches, moving from hotel to hotel, and even staying at a homeless shelter. All the while, they continued paying the mortgage on a home they couldn't live in. Desperate, Lucy and her attorneys from a St. John's University legal aid project reached out to Extreme Makeover: Home Edition. The show contacted Alure, and everything changed forever. There wasn't a question about whether Alure would take on the challenge. Sal Ferro, Alure's president said, "The biggest outrage for me is that someone in my business took advantage of this hard working family, stole their money, and left them homeless. When Extreme Makeover asked us to step in and undo the damage this contractor did, we threw ourselves into the job, body and soul." Alure's team worked non-stop for five days, pulling all-nighters and revising plans when unexpected structural problems in the home were discovered.